By Siddhant Mohan, TwoCircles.net
The decision of Jamia Millia Islamia to confer honorary doctorate degree to Turkish president Recep Tayyip Erdogan has not gone down well with a number of its students and alumni.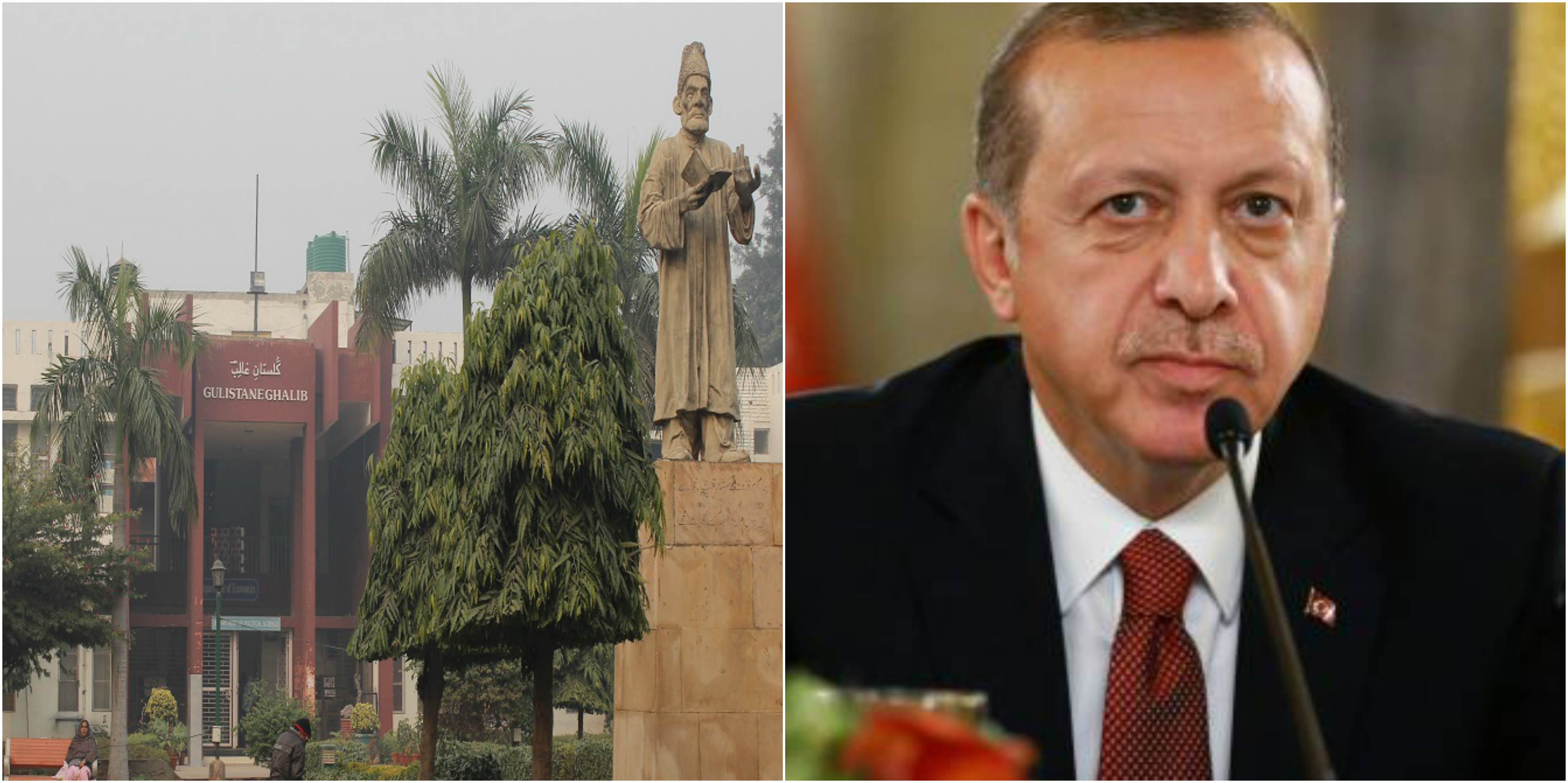 The step has been taken with regards to Erdogan's visit to India and JMI as well, where he is likely to announce some bilateral academic relations between Jamia and Turkey. The welcome and doctorate ceremony is planned for May 1, 2017.
As for now, Jamia is the only institution which offers courses in Turkish languages. Dr. Mujib Alam, Coordinator of Turkish Language and Literature Program, welcomed the Turkish president and said, "The visit of the president will be very fruitful for the education sector and other sectors, so that further collaborations may be made between India and Turkey in future."
However, the step to confer doctorate to Erdogan has not gone down well with alumni and students of the university.
Shuddhabrata Sengupta, a JMI alumnus, and social activist wrote on his Facebook timeline, "As a Jamia Millia Islamia alumnus, I am ashamed to see my university grant an honor to a cheap, fascist scumbag like Erdogan. He is destroying Turkish universities, and stifling political, intellectual and cultural life in Turkey and pursuing a war on Kurdish people, that is comparable to the brutal assault on Kashmiri people by the Indian state."
It further reads, "JMI might as well garland Modi, Amit Shah and Yogi Adityanath while they're at it, and confer posthumous honors on Saddam Hussain, the erstwhile Shah of Iran, Zia Ul Haq, Yahya Khan, Hafez Al Assad, Ruhollah Khomeini, Enver Hoxha and every other hangman head of state with a Muslim sounding name. Disgusting."
While making the remark 'Beyond disgusting', Sengupta further wrote, "Oh wait, I forgot that they named their library after the King of Saudi Arabia. Beyond disgusting. I hope the students and faculty of JMI make this process of sucking up to yet another tyrant simply because he is Muslim deeply difficult and embarrassing."
Sengupta has also started a petition named 'Jamia Millia Islamia University, Delhi, Must Not Honor Recep Tayyip Erdogan' on Change.org.
Notably, the Turkish president is widely considered as Fascist in his approach of working under various circumstances. The condition of Press has severely declined during Erdogan's regime as President as well as Prime Minister. His government is known for cracking down on newspapers.
Moreover, Erdogan rules in a way that his critics call him a throne bearer rather than a democratically-elected president. Erdogan has openly challenged constitution court and said he did neither respect nor accept the constitutional court ruling.
Erdogan regime in Turkey is also accused of funding of IS fighters, a charge that Turkey denies. Also, Turkey government is accused of military crackdown on ethnic Kurdish towns and neighborhoods in the east of the country which has led to massive bloodshed in past couple of years. When academicians of the country signed the petition and asked to end the violence or Kurdish people, they were arrested from their homes in broad daylight.
Mahtab Alam, a journalist, JMI alumnus and activist, writes on his facebook, "Jamia is conferring an honorary doctorate to Recep Tayyip Erdoğan. I won't be surprised if tomorrow it's Narendra Modi's turn. With likes of Talat Ahmad at the helm of affairs, nothing is impossible."
JMI campus is also filled with protest against the university's recent move to confer Erdogan. The protest has gathered support from student leaders and activists from JNU and DU as well.
SUPPORT TWOCIRCLES
HELP SUPPORT INDEPENDENT AND NON-PROFIT MEDIA.
DONATE HERE