By Amit Kumar, Twocircles.net
On March 29, 2016, when the news of the brutal murder of Delta Meghwal first flashed across TV screens and websites, the outrage was both visible, and for some, a proof that Dalits across the country wanted their anger to be seen, heard and acted upon. The death of Delta, a 17-year old, raped, murdered, and her body thrown inside a water tank in Nokha Rajasthan, came just two months after the institutional murder of Rohith Vemula. But it seems that while Vemula's legacy remains intact and his mother's fight for justice well documented, the case of Meghwal has fallen out of public memory. At least this is the view of Mahendra Ram Meghwal, Delta's father.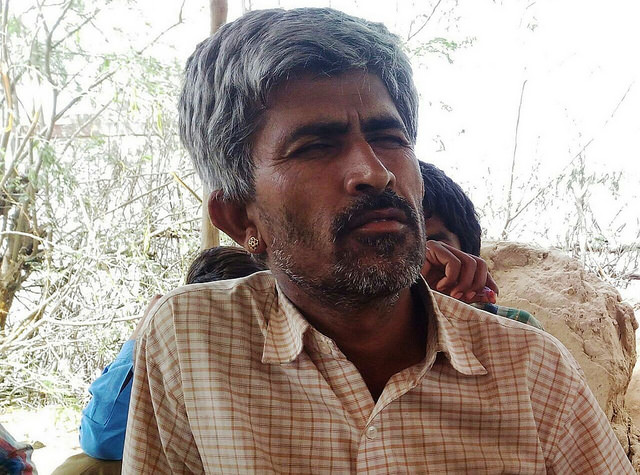 On January 22, when Twocircles.net called Mahendra Ram, he sounded tired, scared and weary of the terrible turn his life took in March last year. "I wanted her to study, become self-sufficient, and help her family and community. All her life she worked to help the Meghwal community, yet after her death, her own community members have deserted my fight for justice," he says.
The only small ray of hope that has emerged for the Meghwals is that on January 6, the case was moved to the SC/ST court in Bikaner. On January 24, the first arguments in this court was made, and Mahendra Ram's lawyer Madhuran Chimpa asked for the accused-Priya Shukla, Pratik Shukla, and Vijendra Singh-to be booked under Section 395 of the IPC (Indian Penal Code); Section 5 and 6 of (Protection of Children from Sexual Offences Act) POCSO and Section 110 and 6 of SC/ST (PoA) Act.
Speaking with Twocircles.net, Chimpa said that the fact that the police had named these three in their charge sheet was the first step towards justice. "They had initially tried to portray it as a suicide; but thanks to agitations and protests, they have finally put the names of the accused. This is small, but an important start," he added.
However, Chimpa says that the battle for justice is likely to be an extremely difficult one. "While protests and agitations can create awareness, they do not win you cases. Mukadma to court mein chalta hai, aur court bhavnao ko jagah nahi deti (The case is fought in courts, and the court does not give space/importance to emotions."
"While a lot of people came in solidarity, we did not and still do not have a lot of witnesses in our support. The paperwork was compromised, and the case is not as strong as it should have been. However, we still have a lot to argue for and the fact that the case will now be argued in the SC/ST court gives us hope," he added.
Mahendra Ram meanwhile, says even this announcement (the case being moved to the SC/ST court) offered him little hope. "I am tired…we have been left alone. I am a government employee, so I need to do my daily job too and feed the rest of my family. There is not a day when I do not think of my daughter and what happened to her. But all promises have evaporated, no one cares about the outcome. Even the Meghwal community, which stood with us, is now divided on the issue," he added.
According to a local source, Anil Meghwal, the MP of Bikaner has close ties with the owners of the nursing home where Delta was killed. This, and the fact that the police has continuously tried to shield the suspect (they were bailed out within a month of the arrest) showed that they would do all that is possible to save the accused. The source added that Mahendra Ram was indeed left alone to fend for his family.
But it was not always so.
Days after Delta's death, even as the police tried to cover it up a suicide, support for justice poured in from all quarters. Social activists, political leaders jostled to express their views on the matter, and everyone seemed to be firmly standing with Mahendra Ram. "I lost count of how many people came up to me and said they were with me; that I shouldn't lose hope, and that they would everything possible to ensure that he gets justice." Even Rahul Gandhi, who is ever-s0 ready to jump in cases where he can target the BJP (the Rajasthan government is under the BJP), said he would 'fight for Delta until his last breath'. Except of course, he wouldn't. He made this statement in April; by September Mahendra Ram had made it clear that Gandhi was lying. He felt cheated by the false promises made by the Congress leader.  "So many people said they would never let another Delta happen again. But in the last year alone, more than 28 girls and women from our community have been raped, and killed. But I do not see anyone raising that issue," he added. He said that in December 2016, some people who claimed to be lawyers from the Supreme Court had offered help, and said that they would try moving the case to Delhi to ensure that local politics does not deny them justice.
Hearing this, Mahendra Ram handed them a copy of the case files. What happened next?
"I am yet to hear from them. Maybe they have forgotten," he says.
The same could be said about everyone else too.
SUPPORT TWOCIRCLES
HELP SUPPORT INDEPENDENT AND NON-PROFIT MEDIA.
DONATE HERE