By Amit Kumar and Shafeeq Hudawi, Twocircles.net
The state of Kerala is not short on tourist attractions. Every district boasts of something that separates them from the others; whether it be the beaches, forts, the backwaters or the waterfalls. Nevertheless, among all these, the town of Kodinhi in Malappuram has its own claim to fame, and not all of it is because of its landscape. As you enter the town, you are reminded that you are stepping into "God's own Twins village." This small village with a little over 2,000 families boasts of over 200 twins, a feat achieved nowhere else in the world. This phenomenon has meant that over the past few years, a number of people visit this tiny village to marvel at the twins.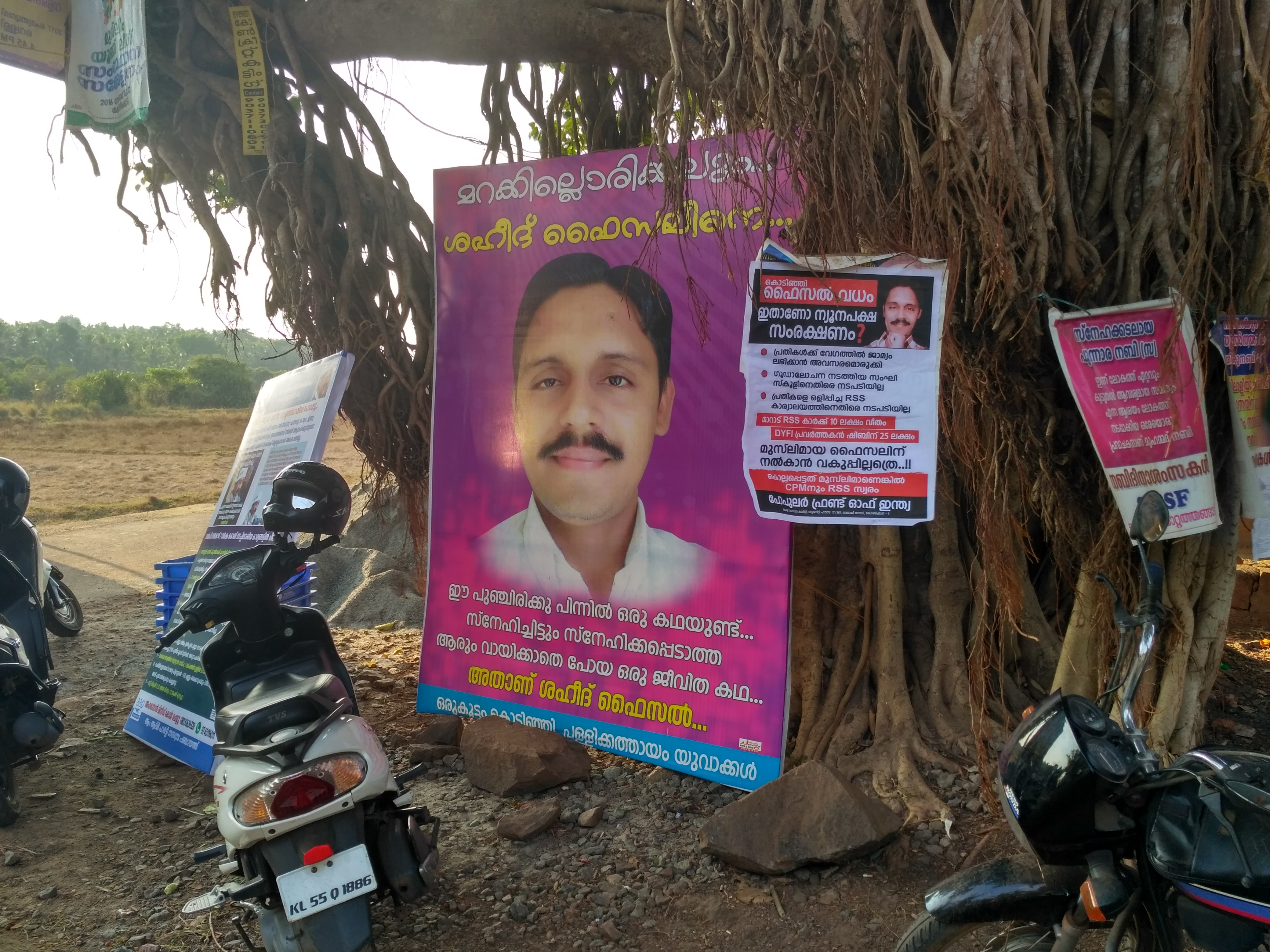 But if you were to visit Kodinhi now, more than the twins it would be flex boards with the picture of a smiling man that will catch your attention. The picture is that of Faisal P, a recent convert to Islam who was hacked to death in the early hours of November 19 near the Farook Nagar market in Kodinhi. The flex boards are peppered across the village, reminding the residents as well as the visitors that nearly four months after Faisal's murder, his memory is well and truly alive in the village and that they will continue to fight for justice.
After travelling for a little over 2 km on the main road, a small right turn takes you near a bridge. Faisal was murdered a km away from this spot, and he is buried in the premise of a local mosque located on one side of the bridge. When we arrived, the bridge was undergoing maintenance work. A slight detour from the bridge takes us to a tea shop located on the other side of the mosque, and a short hike by the side of the tea shop takes us to the house where Faisal's family is currently staying. It is a modest building, owned by Faisal's uncle, and is inhabited by Faisal's two children, wife, mother and aunt.
Faisal's aunt welcomes us to the house, offering us a glass of refreshing tea. Although born as a Hindu, Faisal's aunt and her husband (Faisal's mother's elder brother) converted to Islam over 40 years ago. The whole family of Faisal is 'split' between Hindus and Muslims. Faisal, who worked as a driver in Saudi Arabia and was home during holidays, had converted to Islam in Saudi Arabia, where he worked. Shortly after, his wife and children too converted to Islam, even as his father and mother remained Hindus. So did his two sisters, and their respective families. In the wake of Faisal's death, however, Faisal's mother-Meenakshi-converted to Islam too and took the name of Jameela. In a conversation with Twocircles.net, Jammela said she had done so as a mark of respect for her son. She says that ever since his death, her family has been in a lot of pain, and suffering. "Can you imagine losing a son when he had done nothing? How could he be killed, a km from here in his own village? He had never harmed anyone and his choice to convert was to be respected, not debated over by other people," she says, holding back her tears. She, however, thanked the support from the locals. "As you would have noticed, his poster is present everywhere in the village. The local people and leaders have been very kind to us and supported us in every possible way. Thanks to them, the children continue going to school. Another gentleman donated 5 cents of land for a house for Faisal's family, and construction work has already started," she adds.
In addition, the Kerala Muslim Cultural Centre (KMCC), the expatriate outfit of IUML said it would distribute a monthly pension for Faisal's family and will support the education of Faisal's two children.
The family is currently living in Faisal's aunt's home.
But the pain of Faisal's death does not end here. What has been most painful for them to deal with is that the main conspirator, Pullani Vinod, is the husband of one of Faisal's sisters. Besides Vinod, the accused included the victim's younger uncle's son Pullani Sajeesh. The mention of this brings Jameela to tears, and she is unable to say much. "What can I say? A lot of family members had strongly objected to Faisal's conversion, but I never thought it would lead to his death at the hands of RSS people, some of whom also happened to be family," she says.
Dozens arrested, dozens bailed: The aftermath
Although the atmosphere and Kodinhi remained tense after Faisal's death, there was no incident of untoward violence and the district remained peaceful. The police, to its credit, made a number of arrests within a week, some of whom were members of RSS. The residents also organised themselves and formed a Joint Action Committee with members cutting across party lines. Shamim, a member of the Committee, spoke with Twocircles.net. "A total of 14 persons were arrested in connection with the case. But, what saddened us is that 11 of them were granted bail within three months of the heinous crime. This is giving clear indications of lapses on the part of the police. We are scared of denial of justice to the family as it happened in the case of Yasir, a Muslim convert, who was killed twenty years ago by RSS," Shamim said.
He also pointed out that one of the accused, Madathil Narayanan, had only been recently acquitted by the Supreme Court in relation to the murder of Yasir in 1996.
According to Abdul Latif, the legal advisor to the committee, the committee will leave no stone unturned to ensure justice for the victim's family.
"The committee, with the support of all parties, local residents and legal experts, will fight for justice. The case shouldn't be repeated," he said.
The stand of CPI (M) has also come under heavy criticism from locals. "The local leader of CPI (M) was deputed as the chairman of the local All Party Committee. The party was offering us all support by the looks of it, but a month after the committee was set up, nothing had been done to help Faisal's family. Finally, the leaders from other parties decided to stage a district-wide agitation after it became clear that the CPM people would not protest against its own government," Latif added. Following the agitations by the action committee, a probe by State Crime Branch was announced and soon after the key conspirator and RSS leader Madathil Narayanan was arrested.
Saying how the government was partial in giving compensation, Latif said that the government was defiant to give financial aid for the family even though compensation was announced in such cases, in which political persons were murdered.
The committee said that along with the strictest punishment to the accused, they were also demanding that a member of the family is given a government job and that the government appoint a special public prosecutor to ensure justice in the case.
Faisal's family may never come to terms with the death of their only breadwinner, but for Kodinhi, he will remain a 'martyr'. Just as we were about to take leave from Jameela, a group of well-wishers were arriving, carrying bags of fruits and other essentials for the family. In the village of twins, the unfortunate murder of an innocent for practising his right to convert has brought its residents together like never before.
SUPPORT TWOCIRCLES
HELP SUPPORT INDEPENDENT AND NON-PROFIT MEDIA.
DONATE HERE