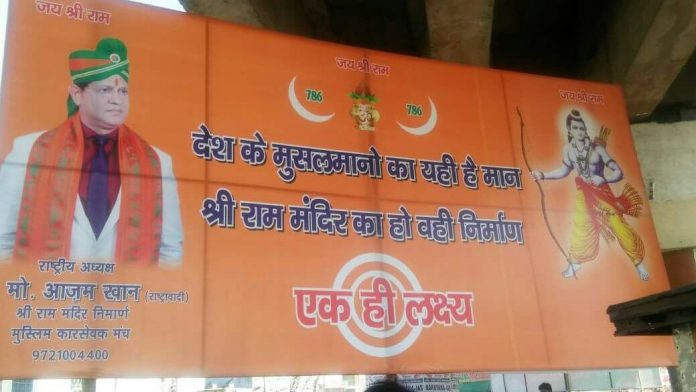 By Siddhant Mohan, Twocircles.net
'What's in a name?' asked William Shakespeare centuries ago. Azam Khan will disagree.
As journalists, we are used to making calls and taking notes. But the first sentence uttered by Azam Khan left me slightly baffled, but not enough to disrupt my professional duty.
"Before you talk, I must say that my full name is Rashtrawadi (Nationalist) Azam Khan. I don't use Mohammad anymore. When you write, please write my name as such."
The reason why Twocircles.net had called Rashtrawadi Azam Khan was to follow up on a poster installed in Lucknow and Faizabad districts of Uttar Pradesh. In a country obsessed with installing giant posters over any and everything, Azam's posters had managed to stand out. And there is a good reason for that.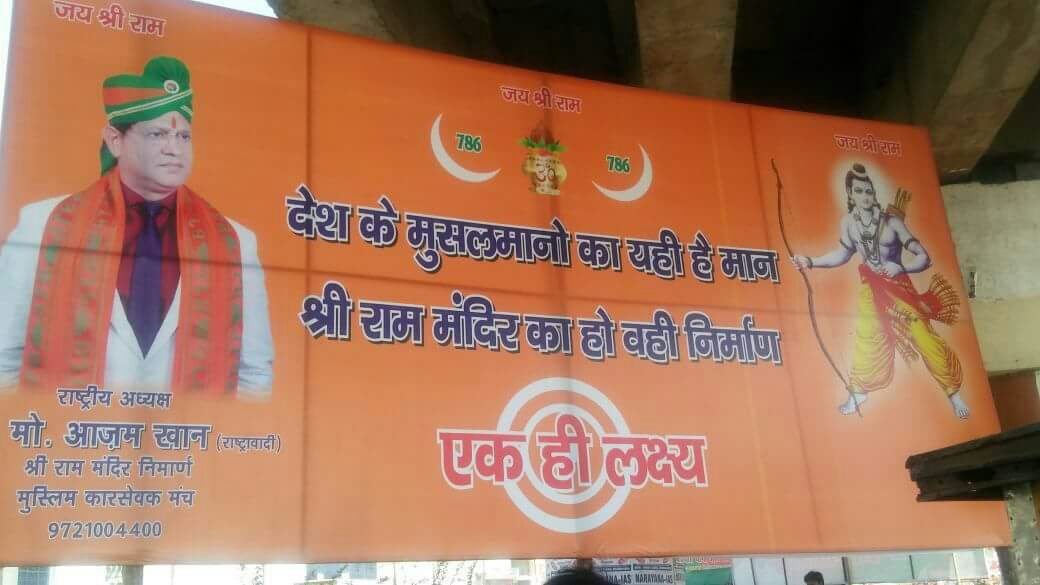 The saffron-coloured poster being circulated over various Whatsapp groups will surely catch the attention of almost everyone who sees it. The center of the poster has a striking message: Desh ke Musalmaanon ka yahi hai maan, Shri Ram Mandir ka ho Nirman (The Muslims of India have only one belief, the Ram Temple must be constructed). Below the message is a one-liner:  Ek hi Lakshya (Only one target). On the top of the poster, Jai Shri Ram is written with one holy vase with Om in middle of two moons labeled with 786.
He said, "Don't confuse me with another Azam Khan who talks about breaking up the country into pieces. I am uniting the country." With such views, however, it is unlikely that anyone would confuse with the Rampur leader from Samajwadi Party.
Azam Khan is national president of an organisation called Muslim Karsevak Sangh, a one-year-old organisation which has been formed, as the name suggests, to mobilise Muslims in favour of construction of Ram Temple at the disputed site. This group was constituted under the patronage of Indresh Kumar and Muslim Rashtriya Manch(MRM), an outfit of RSS which works within Muslims and projects them as someone favoring and endorsing the Hinduism. Its founder and convener Indresh Kumar was accused in Samjhauta Express bombings in 2007.
Azam's organisation boasts of 45 members, which is not a high number by any stretch of imagination, but he does claim that there are much more volunteers. The organisation had its 'Eureka' moment following the controversy around Jallikattu, a bull-taming festival from Tamil Nadu. On first impressions, it is difficult to see what is common between a bull-taming festival and a destroyed Mosque in Ayodhya, but Azam explains. "The central government passed a law overnight to conduct Jallikattu, thus surpassing Hon'ble Supreme Court's order which had banned this festival. So, we got the idea that same action is possible in case of Ram Mandir in Ayodhya."
With the help of MRM, Azam Khan's organisation is proposing that disputed site was once the site of Ram Temple and has no historical evidence of any mosque. "Now we have got the idea that government can pass a resolution overnight for construction of temple. It is a good thing that the Supreme Court has decided to step aside in this matter. Supreme Court cannot decide the fate of a god like Ram", said Khan.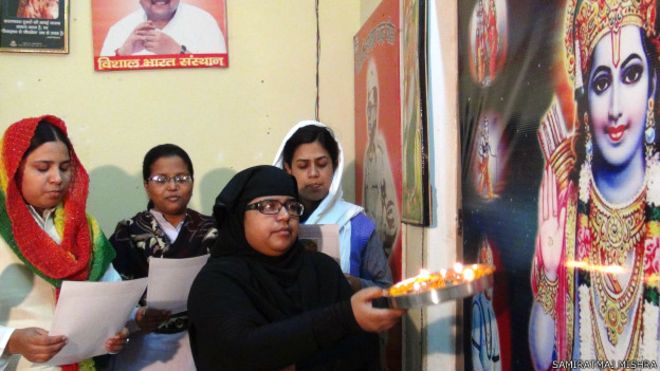 Azam's organisation is not the only one trying to mobilise Muslims on this matter. Muslim Mahila Foundation is also creating an environment in favor of Ram Temple. It's national president Nazneen Ansari lives in Varanasi and is famous for translating Hindu texts such as Hanuman Chalisa and Ramcharitmanas in Urdu.
Nazneen said, "Ayodhya is the land and birthplace of Ram and he was born there. So Ram Mandir should be built in Ayodhya without any confusion."
Girish Juyal, the Convener at MRM, talked over out-of-court settlement but batted softly in favour for Ram Mandir. He claimed that MRM is just trying the bring both the parties under one roof and get them to talk and MRM itself holds no opinion on the matter.
But when poked a little, he conceded that Muslims would support the decision of the RSS, "Somewhere, Muslims are with Mohan Bhagwat. They are seeking a way forward in these disputes."
"Various Muslim organisations are confusing the Muslims. They are trying to make them to move their head away from the historical facts. But Muslims are not going to do that. Even the real petitioners and party had passed away, this is just a ruckus and Muslims are well aware of how to get out of this," he added.
On March 23, a meeting was organised in Lucknow immediately after the Supreme Court verdict under the banner of Muslim Karsevak Sangh where representatives of many such organisations took part. The main agenda was to gather Muslim support for temple construction in Ayodhya. Azam Khan coordinated the meeting and had said, "This is the process of talk that is supposed to happen. We are trying to come upfront with Muslims who think forward and understand integrity of India."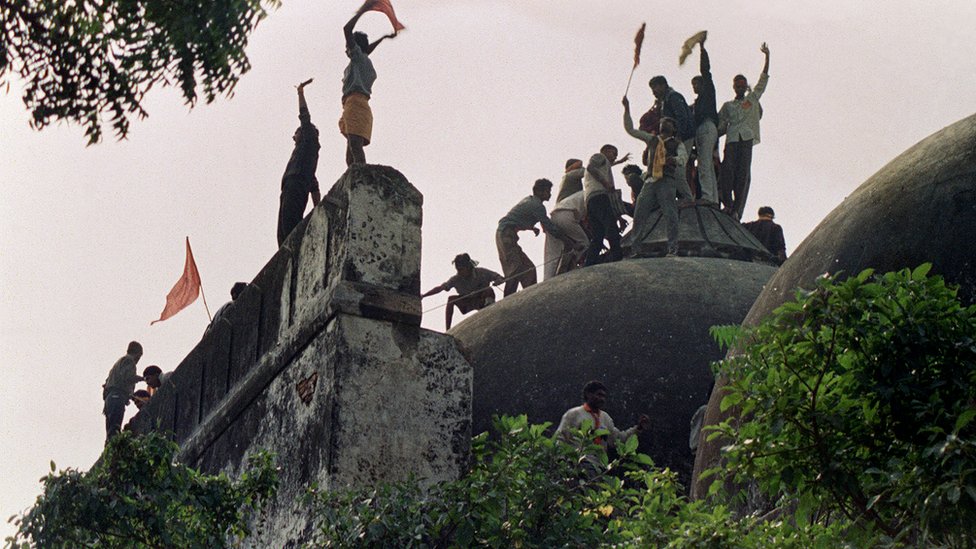 While MRM and allied organisations trying to create a Muslims-want-Ram-Mandir mindset, BJP's minority wing has chose to remain idle and watch from the side.  Haider Abbas Chand, state President of BJP Minority wing, said they would support whatever decision that emerges from the mediation process. He also informed that party has not issued any kind of instruction regarding their role in the mediation process.
The underlying agenda that binds these Muslim organisations is their attempt to present Muslims (or at least themselves) as 'forward-looking'. The people we spoke to from these organisations claimed that Muslims are thinking forward and thus they want Ram Temple in Ayodhya.
It is no wonder that such tall claims made by these organisations have come under sharp criticism from other Muslim organisations. Navaid Hamid, President, All India Muslim Majlis-e-Mushawarat, strongly objected to the comments made by Azam. "Do they mean to say that Muslims going to mosques or the ones who wish to see a mosque over the disputed land are backward?" he said while speaking with Twocircles.net
Hamid pointed a key feature in the whole out-of-court settlement fiasco. He said, "No Muslim organisation is asking for Mosque since the recent decision came. All they are saying is let the Supreme Court decide. Even a few RSS people said that Supreme Court's judgment will be complied, yet they are accusing Muslims that these people are not ready for talk."
There often comes a point where one side of this whole argument brags upon Muslims to show a bigger heart. Navaid Hamid said, "Is it legitimate to ask those who doesn't even have an upper hand in this whole process to show a bigger heart? We are always saying that we will agree to Supreme Court decision, whatever it will be."
Hamid accused MRM of showing a false sympathy in favour of Muslims. He said, "They are trying to claim that they represent nationalist Muslims. But they forget Muslims have been nationalists for a long time. "