By Mahtab Alam
New Delhi : In rare show of solidarity, Manipuri peace activist Irom Sharmila along with a representative of North East students addressed a joint press conference organised by the Association of African Students in India (AASI) in the national capital on Monday. "I am here to extend my solidarity and support to my African brothers and sisters, who want nothing but justice," said Sharmila, often referred as the Iron Lady of Manipur for her long struggle to repeal Armed Forces Special Powers Act (AFSPA). Referring to the racial discrimination faced by the African students and people from North-East she said, "The problem is the same."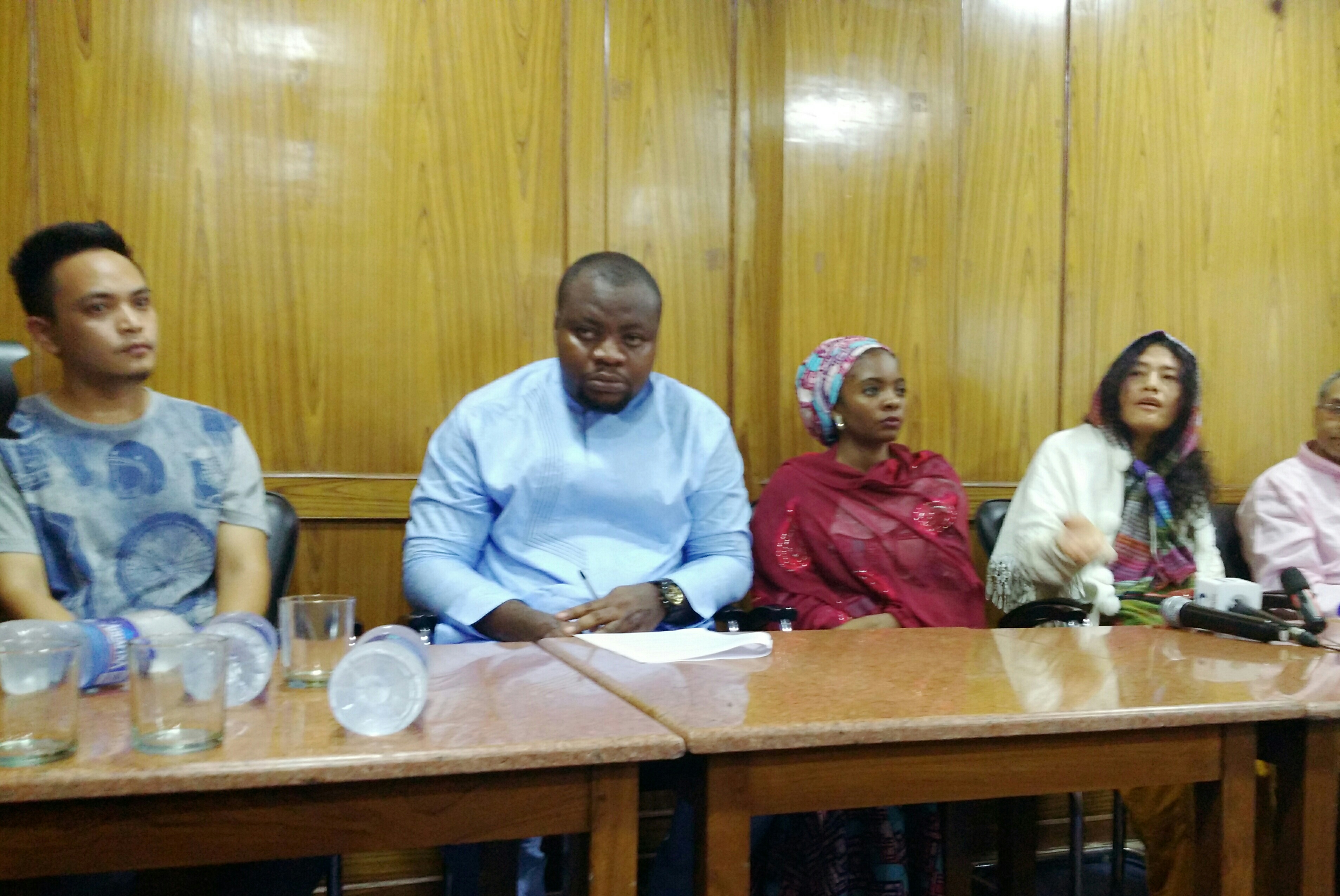 "And this", said Shamila "can be only solved when we start seeing each other as human beings," she added, emphasising "we human beings don't need to imitate the nature of beast". She hoped that justice will be delivered soon. The conference was organised in the wake of recent attacks on African students in different parts of India, and to build a newer solidarity of all those who are facing similar situation.
Addressing the press, Samuel Jack, president of the Association claimed that almost two months "after the mob attacks on African students in Greater Noida on March 27, 2017, the passports of Said Kabir Abdullahi, Said Abubakar Abdullahi, Adamu Usman, Mohammad Amir Zakari Yau and Abdulkadir Usman still remain withheld by the Noida police." According to Jack, these students were charged with cannibalism and murder even as the victim appeared the next day.
"The investigating authorities are yet to come up with a conclusive detail of what transpired as the cause of the incident. However, within the span of 12 hours after the Indian victim's sad demise, National Capital Region witnessed one of the ugliest crimes committed against persons from African origin," read a statement released by the association. Terming it a false case, the association demand that "the authorities should immediately return the International passports of the students."
It was also noted in the statement that, as "If the mob attacks on the streets was not enough, the Government both at the Uttar Pradesh state level and Central government level went on a denial mode. From downgrading the racist crimes to a narrative focused only on 'degrading law and order' to making racist remarks on social media, state and non-state actors have shown that no one is serious about addressing the problem of racism from the government's side."
Narrating a series of incidents of racial discrimination and violent attacks the association called for "decisive actions to bring to book those involved racial attacks on Africans and people from other minorities in India." A 12-point demand charter included a special law, "to keep a tab on erring locals who capitalise on the vulnerability of Africans and minorities by subjecting them to continuous racial slurs, profiling, prejudice and discrimination to serve as deterrent to others" and "crack down on all fake and non-accredited UGC and AICTE Universities who make fake promises to African students who eventually get trapped in India."
Welcoming the support of Irom Sharmila, the association said, "The path of struggle that Irom has taken is synonymous with something that we draw our inspiration from and her solidarity will go a long way in asserting our rights. We appreciate her decision to join us in our quest to build a society void of any form of racial discrimination. We wish that in the coming days more groups will join us and we hope that a common platform can help us achieve our goals."
The joint press conference was also addressed by Seilienmang Haokip, a representative of North East students and office bearer of Kuki Students' Organization, apart from several members of the ASSI from different African countries.
SUPPORT TWOCIRCLES
HELP SUPPORT INDEPENDENT AND NON-PROFIT MEDIA.
DONATE HERE