By Siddhant Mohan, TwoCircles.net
Prime Minister Narendra Modi once called Lord Ganesha as the pioneer case of Cosmetic Surgery, and the Hindu right-wing is overwhelmingly trying to present Naarad as the first journalist of human history. Is it surprising, then, what the most well-known institute of journalism in the country is following the same path?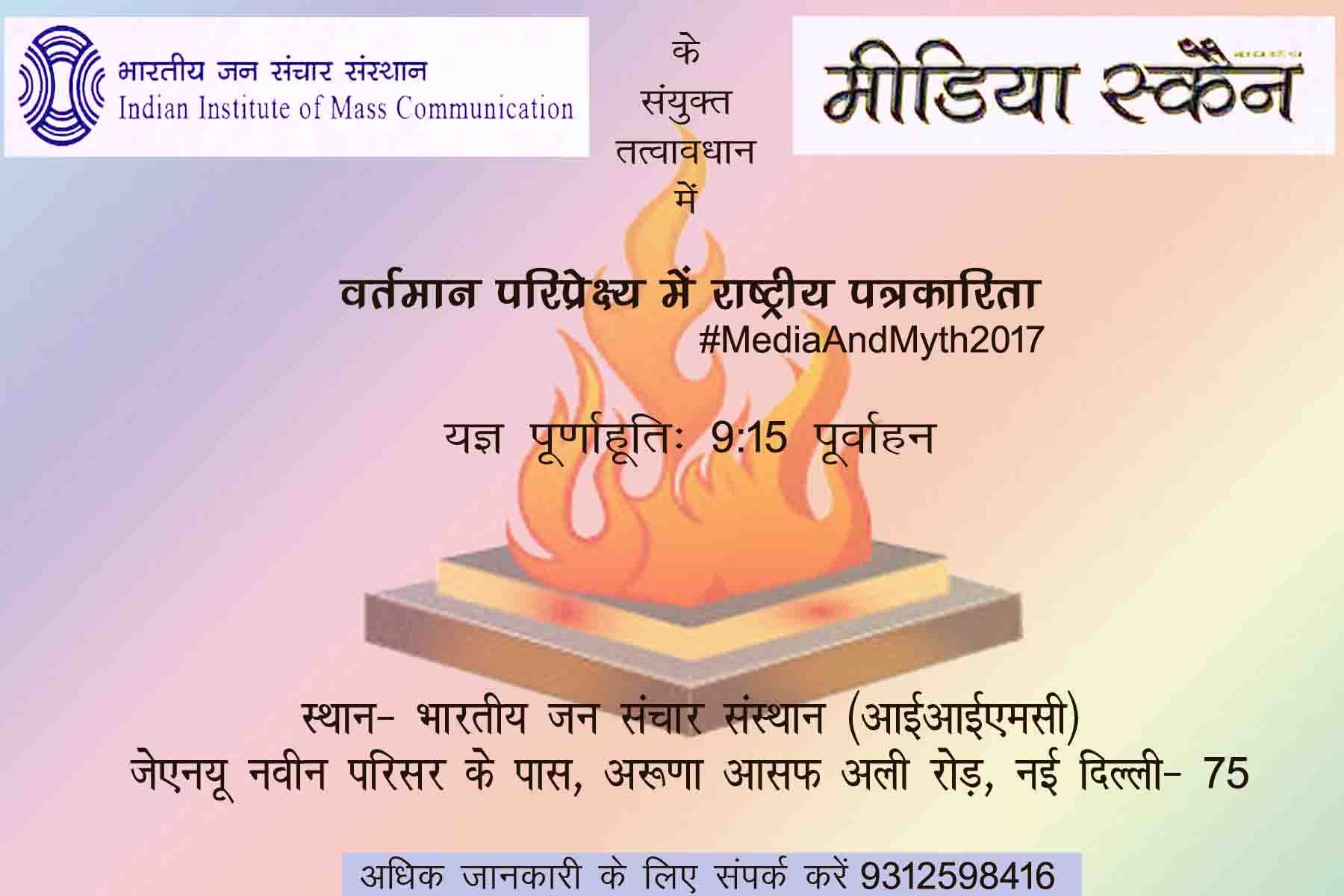 Indian Institute of Mass Communication (IIMC), New Delhi is organising a media discussion and seminar on "Nationalistic Journalism in Current Perspective" and more importantly a 'Yagna', which will be held at the start of the event on May 20.
The event, which is being organised in collaboration with IIMC and an organization called Media Scan, has not just included 'Yagna' in the program which could disturb the media personnel countrywide, but it has also called Ex-IG of Bastar SRP Kalluri as part of the program. The same Kalluri who has been accused of flaunting stars on his shoulders which he got with the alleged murder of tribals, accusing them as Maoists.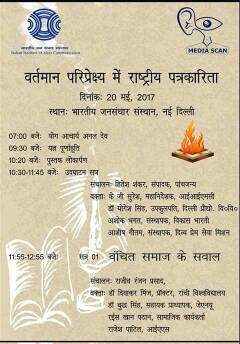 Kalluri had made his way into headlines in January this year, with his sexist remarks like, 'the drama has just begun dear', 'stop bitching', 'f u', 'if you come in front of me, I will chappal you, idiot', and, 'Yes, very soon Maoists and their dogs will be thrown out of Bastar. We will take strong action'. Such messages were sent to activists who were trying to reach him to get security to activist Bela Bhatia.
The event will end with a discussion on Kashmir insurgency.
But there is a glitch that makes this dramatic 'media discussion' even more confusing. The right-wing organisation 'Media Scan', which is co-organising the event, has published four different sets of invitation, and the name of Kalluri is mentioned in just one.
Moreover, the Yagna is also matter of surprise for many. IIMC officials are denying any knowledge of the Yagna, and Media Scan is also not very vocal about the same. But when journalist and IIMC alumni Arvind Das called the organisers, he was told, "There is no such thing like two-and-half-hour long Yagna." But the other side also told Arvind, "Yagna can be of of whole day or just for ten minutes. It depends." The current students of the IIMC are also not much familiar with the format of the program.
To get clarity of the situation, we called Ashish Kumar Anshu of Media Scan, who was not very forthcoming in discussing the topic. He said, "The event is so big for us that the whole event can be termed as a Yagna." But when we asked him specifically about the same, Ashish said, "Yes, it is planned, but we don't know yet if that is going to materialize on the day."
Ashish said, "Most people think this should not happen or that should happen. Who are these people? Do they have any name? Who is going to decide if Yagna will happen or not?" We replied, "You, the organizer will decide." He said, albeit hesitatingly, "Yes, and I'm of the opinion that it should happen."
The event, in its all perspective and confusions, has gathered sharp criticism from the students, alumni as well as the journalists working in various mediums, but that bothers Anshu the least. He asks, "Isn't that intolerance now? Not allowing something which a large group favours?"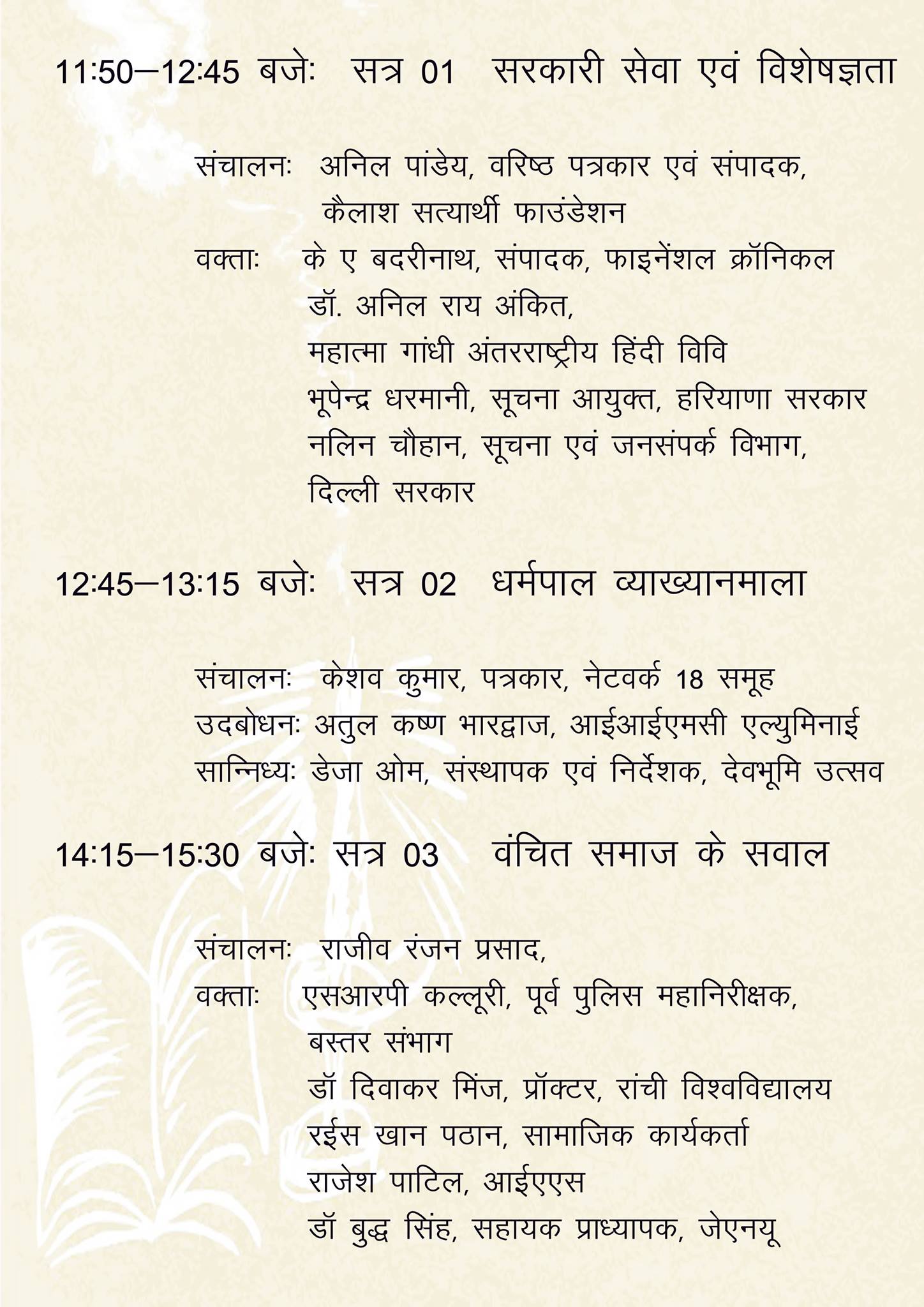 The lack of communication is also visible between IIMC and chief organiser of the event Media Scan. While talking to Hindustan Times, Director General of IIMC KG Suresh denied IIMC's involvement in the event as organiser. But Suresh told TwoCircles.net about his stand on the involvement. He said, "We gave space to Media Scan for no cost. But What we would show in our audits? So we agreed to be a partner in the same. But that is the limit of our partnership. Now, whether they do Yagna or Namaz on the day, I do not have any issues. That is the matter of faith."
Whatever explanation KG Suresh may give, his actions during the current government have always been a matter of concern for liberal students of the institute, such as appointing three public information officers back to back within ten days.
With four different sets of invitations and brochures, the organisers have tried to hide the presence of Kalluri in the event, may be to minimise the possible protest. But Ashish Anshu of Media Scan accepted the invitation to Kalluri and said that his attendance is not confirm yet. Still, organisers have the name of Kalluri on the invitation with no possible explanation.
Journalist and IIMC alumni Abhishek Srivastava wrote in National Herald on Kalluri's presence, "The gentleman also went on record to say that in 2017 he would go after "white-collar Naxalites". On Saturday this week, he will finally get a podium to expound his views…..With barely three days to go for the event, there is hardly a murmur of protest at the blatant attempt to accord legitimacy to the man in uniform. Barely months ago, Kalluri was instrumental in framing a false case of murder against eminent sociologist Nandini Sundar and a JNU faculty member, Archana Prasad."
Journalism worldwide has gave out a notion where it should get free from any kind of rituals or conservative approaches, but it seems that IIMC has all set to start a new trend in Media. Alumni Arvind Das raises a basic yet important question on the matter, "If my good or new works start with sacrificing of an animal, which it does in the region where I come from, will IIMC allow that in the premises?" KG Suresh called it as ridiculous argument, but said, "It is Hawan, you know. Why do such holy things bother people?"
SUPPORT TWOCIRCLES
HELP SUPPORT INDEPENDENT AND NON-PROFIT MEDIA.
DONATE HERE