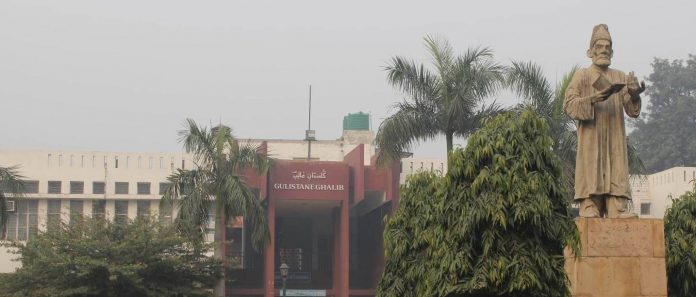 By Raqib Hameed Naik, TwoCircles.net
New Delhi: Two Kashmiri students from Jamia Millia Islamia have alleged that Jamia authorities have canceled their hostel allotment after they complained about the food served in the hostel mess.
The two students were served with a notice of cancellation on January 24, 2017, after they had submitted their reply to the show-cause notice issued by the Jamia authorities. The show-cause notices were issued in the month of December to three students out of which one was let off with a warning.
According to one of the Kashmiri student who has been expelled from the hostel, on November 26, 2017, an application addressed to Vice Chancellor signed by more than 50 students was submitted after students were fed up with deteriorating quality of food served.
"They used to serve us uncooked food. Sometimes, the food had traces of blood in it..so we decided to write a letter to Vice Chancellor. On November 27, 2017, the provost office called only three Kashmiris despite the fact there were 50 signatures on it. A week before we had complained to the warden as well, but no action was initiated," said Samir Hussain, an MA Political Science student who has been ousted from the hostel.
According to show cause notice issued by Provost, JMI, Eqbal Hussain, who despite taking note of the quality of food served, alleged Samir of putting "somebody's else telephone number which created lots of problems in finding " and alleged him of instigating students against filing the complaint.
Shrugging off the allegations, Samir says, "That was my J&K number and was blocked by the company a few days back and I had applied for another number. Besides, the number mentioned there was my friend who lived with me in the same room and no student was instigated. Everyone was fed up with the food served in the Khawaja hostel," he added.
Another Kashmiri student studying BA (Honors) History in the university has also been blamed by the authorities of forging the signature of students, which he has vehemently denied.
The students have also alleged that Jamia authorities while seeking an explanation from them have used objectionable language like, "You Kashmiris deserve what is happening with you."
When TwoCircles.net contacted Saima Saeed, Media coordinator, Jamia Millia Islamia, she claimed ignorance about the cancellation of the hostel of Kashmiri students.
The move comes months after Jamia authorities had ousted Ph.D. Scholar Dhrupadi Ghosh, a student activist who has been vocal about issues related to payment of dues to workers, implementing labour laws in the university, attack on female students by male university guards and police entering the campus without permission.