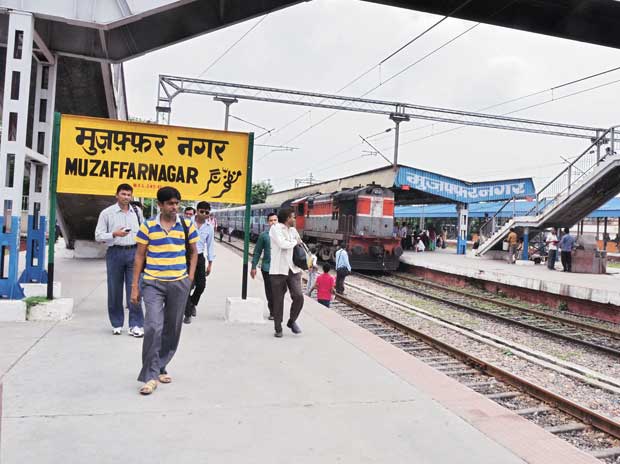 By Brajendra Nath Singh  
Muzaffarnagar, (IANS) : People in Muzaffarnagar have not yet overcome the stress and strain of the 2013 communal riots that left over 60 people dead. They fear that vested interests may try to vitiate the atmosphere ahead of the February 11 election.
"Sarhado par tanav hai kya, kuch pata to karo chunav hai kya," Faizal Jameer (30), a Urdu graduate, quoted well known poet Rahat Indori's lines to describe the situation in this town.
Muzaffarnagar, where the 2013 riots left over 60 dead and more than 50,000 displaced, will vote in the first phase of the staggered Uttar Pradesh polls.
Expressing his apprehension, Jameer, who left his studies midway to earn a living, told IANS: "We can never forget the riots. Both the BJP and SP were responsible. They are political parties and can do anything for their political gains."
Hafiz Abdul Kaddus remembers a midnight of August when a crowd set fire to a weavers factory in Muzaffarnagar district's Khatauli area and killed some of his colleagues.
Kaddus, now a daily wage earner, said, "I left Khatauli in search of work. But when I couldn't manage it, I started to work on daily wages. The riots ruined my life."
But the riots seems to have united the Muslims of the area. This was evident when most of them openly said that their best bet to stop BJP was Chief Minister Akhilesh Yadav, the new Samajwadi Party chief.
Around 8 a.m., a group of Muslim youths are locked in a discussion over tea in Khalapar area of Muzaffarnagar city.
One of them, Md. Shaukat, said: "Akhilesh has done a lot of development work. He does not discriminate. People will vote for him. SP joining hands with Congress will fetch additional votes."
Others around him agreed.
Another youth, Rasheed (35), added: "BJP is not bad but there is difference between their talk and deeds. They talk about Sabka Sath-Sabka Vikas but the reality is very different. Some BJP leaders like Sanjeev Baliyan and Sangeet Som talk nonsense but the party doesn't act against them."
The Samajwadi Party has fielded Gaurav Swaroop, son of former minister late Chittaranjan Swaroop from Muzaffarnagar Sadar seat. Swaroop lost the by-election last year against Bharatiya Janata Party's Kapil Dev Agarwal.
The by-election followed the death of Chittaranjan Swaroop. The BJP has again fielded Agarwal.
The BSP kept itself away from by-election which made the way for Agarawal, with Dalits in the region voting for him in the absence of their first choice.
Apart from Swaroop and Agarwal, the 14 other candidates in the fray include BSP's Rakesh Shrama and RLD's Payal Mahaswatri.
Incidentally, the SP, BJP and RLD have fielded Baniya candidates. Only the BSP has opted for a Brahmin.
Md. Shamshad Khan (67) of Mehboobnagar said: "Muslims of Muzaffarnagar are divided. Shias will vote for BSP and Sunnis for SP. But the final word will come from Khalapar (a Muslim-dominated area)."
The BSP has never won this seat but has cornered 20-30 per cent of total votes in the last five elections. The BJP won in 1993, 1996 and 2007 while the SP won in 2002 and 2012.
Of the over three lakh voters in the assembly, around 40 per cent are Muslims.
Like Muslims, Hindus of this assembly segment also seem divided on caste and local affiliations.
Vinod Tyagi, a shopkeeper near the Muzaffarnagar railway station, said: "BJP has an edge. It is the only choice of Hindus." Another shopkeeper, Navneet Gupta, contradicted him, saying Hindus too will vote for the SP candidate as his father had worked for both communities.
Gupta (47) also criticized demonetisation.
"What did the government achieve through this decision? It only created chaos. Our business got hit. Earlier, I used to sell two to three cycles a day but in the last two months I have managed to sell only a dozen."
However, Ravi Kakkar (38), a cloth shop owner, said: "No doubt our business got affected by demonetisation but I was ready for it. I knew there will be a drop in business but I managed it for the country's sake."
Kakkar, a Punjabi, said most Punjabis will vote for BJP but other Hindu votes will be divided. "There is close contest between BJP and SP."
Naresh Balmiki, a sanitation worker of Prempuri area, said in the by-polls his community voted for BJP but this time they will vote to bring Mayawati to power.
"If she (Mayawati) had been in power during the riots, the situation would not have been so bad. She is an able administrator," he said.
He dismissed the possibility of a large chunk of Muslim votes going to BSP.
Rajeev Mishra, a Brahmin of Prempuri, added: "Prime Minister Narendra Modi is all set to address an election rally in Meerut. The scenario will change after that."
The sizeable Hindu Jats are also split between the BJP and Rashtriya Lok Dal.