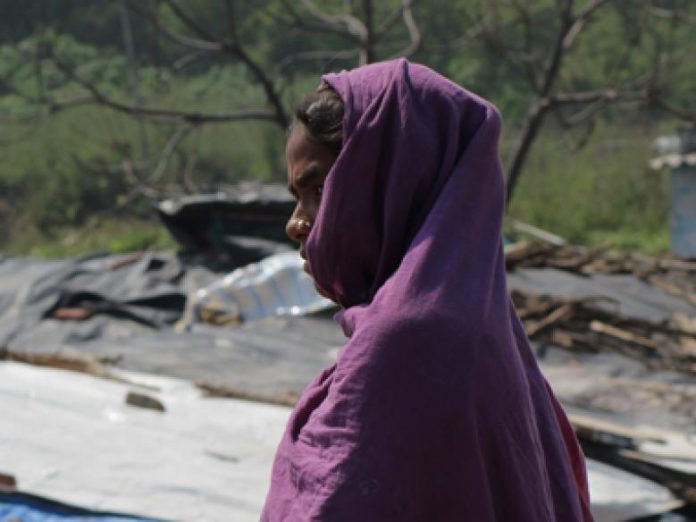 TwoCircles.net Staff Reporter
An Adivasi woman from Assam, Laxmi Orang, has filed a case against Uttar Pradesh Chief Minister Yogi Aditynath and Ram Prasad Sarma, Lok Sabha MP from Assam for sharing her nude photo on social media. The image was taken ten years ago during a protest in Guwahati.
The photograph in question was shared over a facebook page of Yogi Adityanath which is being managed by his supporters. The original post claimed that a 'Hindu woman' was stripped naked by Congress workers when she raised slogans in support of BJP and Prime Minister Modi. The post claimed that the event happened in Bengal and it also asked readers to 'share it widely'.
Laxmi Orang, the tribal women in the photograph. filed the complaint in the court of sub-divisional judicial magistrate court under various sections of IPC and IT Act. The original photo was taken during an agitation by All Adivasi Students Association of Assam (AASAA) at Beltola in Guwahati on November 24, 2007.
Adityanath's Facebook page shared the photo with misleading text without blurring the face and the private parts of the women. Moreover, Lok Sabha MP Sarma was booked for sharing the same post on his social media page.
Laxmi told media, "Yogi Adityanath, without knowing any fact, commented in the social media that the rally was on behalf of the BJP and the Congress workers attacked it."
Moreover she told Press Trust of India, "When Prime Minister Narendra Modi is campaigning for Beti Bachao, Beti Padhao at the same time his party Chief Minister (Adityanath) is doing this type of work. Is this democracy?"
Laxmi Orang was just 17-years-old when she took part in the protest with All Adivasi Students Association of Assam (AASAA) at Beltola in Guwahati ten years back. While the protest was on, Laxmi got separated from her group and approached Police for the help, the biggest mistake one could make in Assam. While Police looked the other way, the hoodlums caught her and stripped her naked. She was chased around streets of Guwahati in broad daylight. Laxmi was also beaten badly at the same time. She was rescued by her family members and a local MLA from a hospital where she hid to be saved from the goons.
Young Laxmi was terrified and traumatized after seeing her naked video and photographs on newspapers and TV channels. AASAA president Pradeep Nag in a press release said, "Yogi Adityanath's post is illegal and great injustice to the Adivasi community and AASAA."
Giving his comments on the issue, MP Sarma has claimed that he did not make any comments on the photo. He has also said to write an official letter to state's Chief Minister for re-investigation of Laxmi's case from 2007.