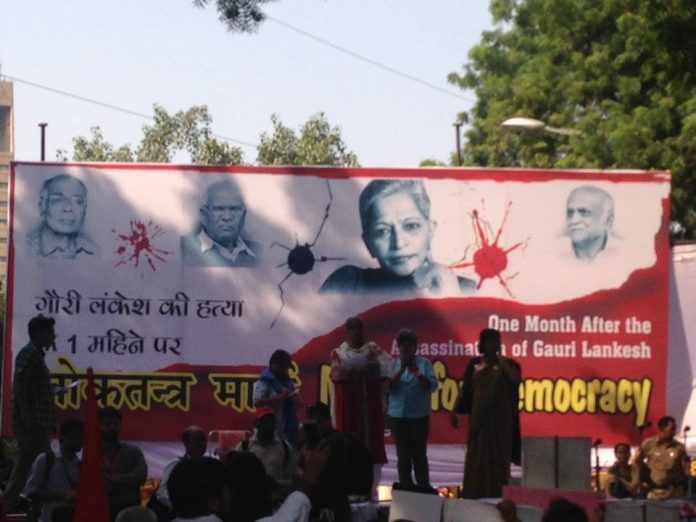 New Delhi, (IANS): A cross-sectional rally, comprising hundreds of students and activists, was organised here on Thursday denouncing the RSS and allied groups for the death of journalist Gauri Lankesh.
The protest was organised to mark one month of Lankesh's murder who was shot dead outside her house in Bengaluru.
Her supporters have since alleged that her killing was the result of a vendetta by Rashtriya Swayamsevak Sangh (RSS) for writing against the group in her tabloid Gauri Lankesh Patrike.
About 500 persons took part in the march comprising students of Jawaharlal Nehru University, Delhi University and other varsities. At least nine civil society groups joined the protest from Karnataka to demand justice for Lankesh.
"Around 150 people arrived last (Wednesday) morning. We are not here for Lankesh only but because of the ideology she stood for. We do not want such thing to happen again. We want justice not only for her but for others also," Harshita J.K., a law student, told IANS.
"We don't want only murderers but the people behind the act," she said.
Mallige, founder of Karnataka Janashakti, an organisation fighting for women's rights, told IANS that the resistance movement was started in her state and they recently decided to bring it to the national level.
"She gave up her life fighting against the fascist forces and we will not let her struggle go in vain," she said.
The All India Democratic Women's Association, All Indian Progressive Women's Association, Saheli NGO, Progressive Writers' Association, Basti Suraksha Manch, Swaraj Abhiyan, Krantikari Yuva Sangathan and National Federation of Indian Women participated in the demonstration along with scores of farmers, teachers and sex workers.