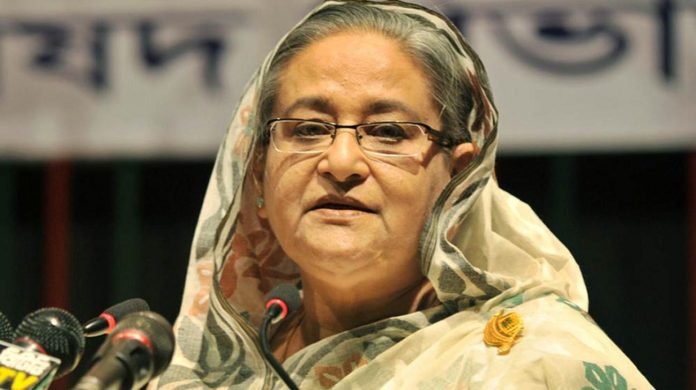 Dhaka/New York, (IANS): Bangladesh Prime Minister Sheikh Hasina has urged Myanmar to take back 420,000 Rohingya Muslims who have taken refuge in her country and also called for an end to "propaganda" that labelled the ethnic group as "Bengalis".
"We have told Myanmar that they will have to take back their citizens. Provide security for them," she said on Tuesday at a reception by her Awami League's US unit in New York where she is attending the UN General Assembly.
The Prime Minister said Bangladesh was making diplomatic efforts to persuade Myanmar to take back the Rohingyas who have fled violence in Rakhine state.
"But the Myanmar government is not responding to the calls. Rather, Myanmar is laying landmines along the border to stop the return of Rohingyas to their homeland," she was quoted as saying by bdnew24.com.
Referring to her recent visit to the Cox's Bazar refugee camp, she said it reminded her of the situation during the Bangladesh Liberation War of 1971.
"When the Pakistani forces burned down our houses and killed our people, around 10 million people crossed the border into India. Now they (Rohingyas) are in danger and we definitely need to give them shelter."
Hasina called for greater international pressure on Myanmar over the crisis which unfolded in the past three weeks.
The Rohingya refugees began fleeing Myanmar from August 25 when Arakan Rohingya Salvation Army (ARSA) rebels attacked police checkposts and killed 12 security personnel, triggering a military crackdown.
Myanmar has said its military operations in Rakhine were in response to the August attack and that the military was battling terrorists.
Hasina said Myanmar was spreading propaganda and calling the Rohingyas "Bengalis" and demanded that be given Myanmar citizenship.
She also presented a six-point proposal over the Rohingya crisis at a meeting of Islamic nations on the sidelines of the UN assembly.
The proposals included an immediate end to violence against Rohingya Muslims, creation of "safe zones" in Myanmar for them and urgent humanitarian assistance for the refugees from OIC countries until they can return to Myanmar.
Hasina urged the Organisation of the Islamic Conference to unite and resolve the crisis before it is "too late". "Bangladesh is ready to join any joint initiative on the issue."
If the situation in Myanmar's Rakhine state persists, UN agencies estimate the total number of refugees entering Bangladesh may hit one million.
Hasina is expected to speak on the Rohingya issue in her General Assembly address on September 21 and then meet UN Secretary General Antonio Guterres.