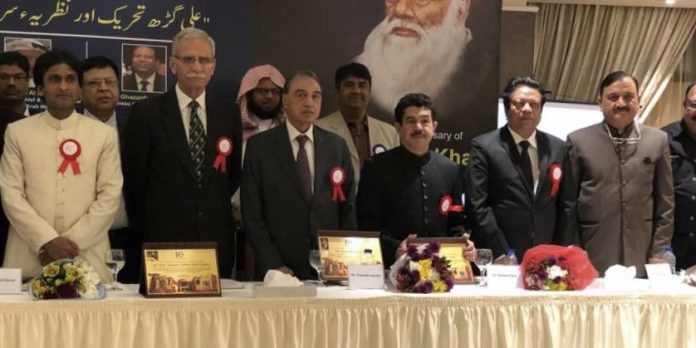 TCN News
NRIs in Riyadh Vow to Revive Aligarh Movement:
In order to enhance the educational empowerment of Muslims in India, the Riyadh Chapter of India Islamic Culture Centre organized here in Riyadh an international conference on "Aligarh Movement and Vision of Sir Syed" which was attended by over 500 Indians from all walks of life. The chief guest of the event was Lt. Gen. Zameer Udden, the former Vice Chancellor of Aligarh Muslim University (AMU). 
Refuting the theory of partiality in selection for the top executive positions in the government jobs based on religion, cast and creed, Shah said, "If one is vigorous to learn, compete and demonstrate the extraordinary skills in any particular branch of knowledge, no one can stop him from materializing his dream to become true. One should dream high. The perception of discrimination on the lines of religion is baseless. I have served Indian Army for over 40 years, but never faced such situation throughout my career".
Highlighting the importance of education and the circumstance under which he decided to establish the Sir Syed National School in Muzaffar Nagar, Shah said that it is high time for the Indian Muslims to spread the networks of Sir Syed National School across the country, particularly in the states of UP and Bihar. "The quality school education is the only ladder to marvel in the higher education. Our community lag because it is deprived of the quality school education", Shah added.
The Chairman of India Islamic Culture Center (IICC), Sirujuddin Quraishi also addressed the seminar and said, "We need to make use of Shah's experience and start the Sir Syed National School in all districts of Northern India. This will help us achieve the very goal of Sir Syed to equip the community with the modern education to let it prosper educationally and economically". Quraishi offered all kind of support and cooperation in fulfilling this noble cause of empowering of Indian Muslims. 
Renowned educationist, Dr. Nadeem Tarin, emphasized the need to revive the mission of Sir Syed at a time when the backwardness of Muslims in Indian in every spheres of life is so obvious that we are marginalized in almost everything. "Undoubtedly, the current political scenario of the country is challenging and worrisome. In this daunting situation we should focus on developing a long-term educational plan as the current inappropriate state of the affairs is temporary one, which can be overcome with proper modern education", Tarin outlined. The Burau Chief of Arab News Ghazanfar Alih Khal also addressed the event wherein he emphasized on imparting quality education and improving the level of competency in our institutions.
On the other hand, the General Secretary of BISWAS Akhtarul Islam Siddiqui highlighted the poor condition of AMU Kishan Ganj. "If the government is overlooking this very crucial AMU Campus, can't 250 million Muslims contribute to build and develop this it with their own resources for the betterment of their future generation?". Siddiqui appealed.
 Earlier, in his welcome speech, the Convener of IICC Murshid Kamal highlighted the objective of the conference and said, "Rather than crying over sad demolition of Babri Masjid, we should focus on building a new future. Remember, past is to learn not to live in it. It is time to re-launch the Aligarh Movement. We are privileged that in our panel we have such dedicated stalwart leaders like Gen. Shah, Siraj Quraishi and Dr. Tarin who are fully capable to lead the new Aligarh Movement in the 21st century. I am hopeful, under their leadership we can spread the networks of modern education across the country for upliftment of the Muslim community". The much talked about book authored by Gen. Shah "The Sarkari Musalman" was also released in this international educational conference. The people who played vital role in successfully conducting the program include name of Rashid Hasan, Noushad Alam, Mohammad Ali Siddiqui, Shabbir Nadvi, Arshad Khan and Zakir Azmi