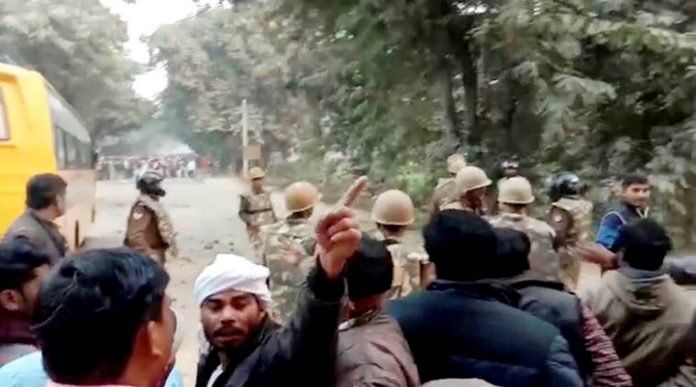 Lucknow, Dec 29 (IANS) Workers of a political party stoned an Uttar Pradesh police constable to death in Ghazipur district on Saturday, police said, adding the constable was part of a police team trying to control a crowd gathered to greet Nishad Party state president Sanjay Nishad who was on his way to Gorakhpur from Ghazipur.
The constable's death is the second such incident this month. On December 3, police inspector Subodh Kumar Singh was killed in Bulandshahr in western UP when he tried to stop a mob of right-wing activists and villagers from keeping cattle carcasses to block a road from where a large number of Muslims were to return after a religious congregation.
An official on Saturday said a police team was trying to manage traffic after Prime minister Narendra Modi's rally in Ghazipur. "Some supporters of Nishad entered into an argument with policemen trying to clear the road of vehicles," said a police source.
The workers hurled stones at the policemen and torched some vehicles. "While more policemen arrived to chase the mob away and detained a few of them, it was too late for Surendra Vats who bled to death after being hit in the head by a stone. The deceased was posted at Kareemuddinpur police station", the source said.
Chief Minister Yogi Adityanath has condoled the death of the policeman and has announced an ex-gratia of Rs 40 lakh to his widow, a government spokesman said.
"He has announced Rs 40-lakh compensation for the wife of the deceased and Rs 10 lakhs to his parents if alive", said the spokesman.
The Chief Minister has also announced "extraordinary pension for the wife of the deceased and government service for one person of his family".
He has also directed the District Magistrate and the Senior Superintendent of Police to take strict action against the unruly elements and immediately arrest them, the spokesman said.