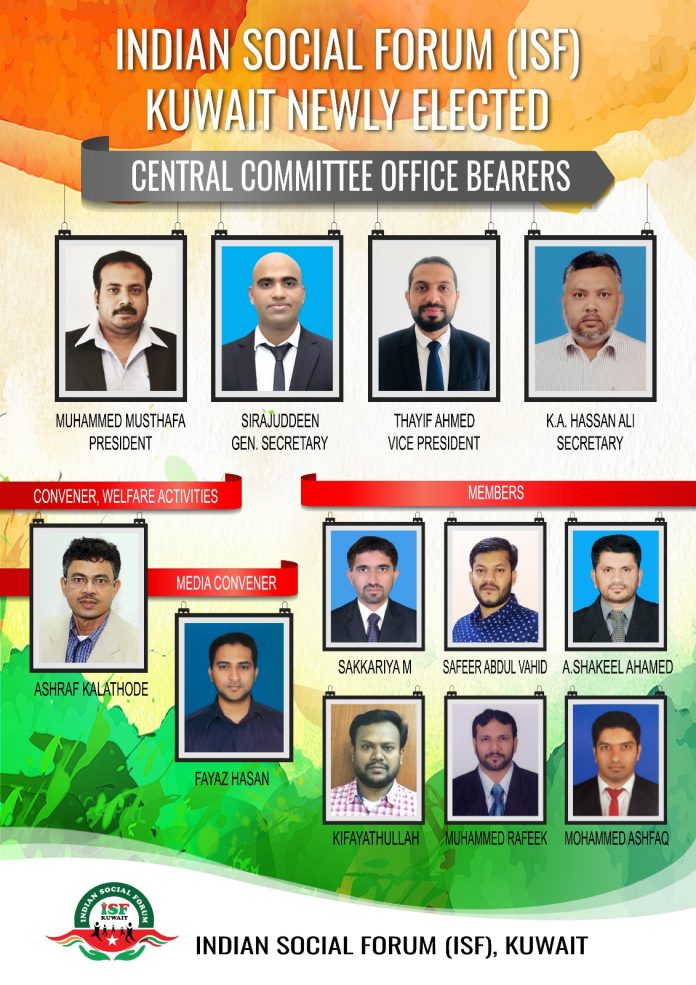 By Fayaz Hussain
The Indian Social Forum (ISF) Kuwait, a socio cultural organization of Indians in Kuwait has elected its new leaders for the term 2018 to 2021. A new central committee members and office bearers were elected during its general body meeting held recently.
The ISF is involved in social work and has recently started amnesty online services supporting the Indian Embassy with cooperation from the Kuwait government to help the expatriate community by offering amnesty period.  Together in the amnesty period they have helped thousands of Indians to repatriate to their homeland.
Representatives from all state committees and central committee members were present during the meeting. Mr. Tayif Ahmed (General Secretary) thanked preceding executive committee members/office bearers for their support and contribution. He also submitted the working report which was approved by the general body. Newly elected executive committee members and office bearers for the term 2018-2021 includes: Muhammed Musthafa, President Sirajuddeen, General Secretary Thayif Ahmed, Vice President K.A. Hassan Ali, Secretary Ashraf Kalathode, Convener, Welfare Activities Fayaz Hasan, Media Convener Sakkariya M, Member Safeer Abdul Vahid, Member A.Shakeel Ahamed, Member Kifayathullah, Member Muhammed Rafeek, Member Mohammed Ashfaq, Member.