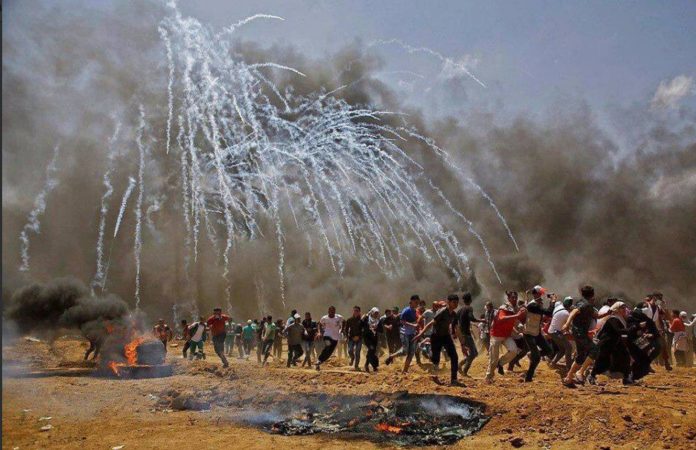 Jerusalem (IANS): At least 55 Palestinians were killed and 2,771 were injured on Monday as Israeli troops fired on demonstrators along the Gaza-Israel boundary protesting the opening of the US embassy in Jerusalem, making it the deadliest day of violence since the 2014 Gaza war.
In a statement, the Israel Defence Forces said 40,000 Palestinians were taking part in "violent riots" in 13 locations along the Gaza Strip security fence as the US opened its embassy, with an American delegation including President Donald Trump's son-in-law Jared Kushner, daughter Ivanka Trump and Treasury Secretary Steve Mnuchin attending the ceremony.
There were violent clashes between Israeli police and angry protesters who raised Palestinian flags outside the new embassy. Several protesters were detained, the BBC reported.
Despite the bloodshed, Trump hailed the move in a video message. He told the dedication ceremony that it had been a "long time coming", adding: "Israel is a sovereign nation with the right to determine its own capital but for many years we failed to acknowledge the obvious."
According to Gaza's Health Ministry, among those killed was a 12-year-old and a 14-year-old. Two hundred minors were wounded while 30 injured protesters were in critical condition.
It said 918 protesters were wounded by live ammunition and shots were fired at journalists and medical personnel, with one paramedic killed and two injured.
Palestinians hurled stones and incendiary devices while the Israeli military used snipers as black smoke poured from burning tyres. Israel said the protests were aimed at breaching the border and attacking Israeli communities nearby.
The Israeli military said it killed three people trying to plant explosives near the security fence in Rafah. Aircraft and tanks had also targeted military positions belonging to Hamas in the northern Gaza Strip.
The Palestinian Authority called for an "immediate and urgent international intervention" to stop the "horrific massacre committed by the Israeli Occupational forces against our heroic people," government spokesman Youssef Mahmoud said in a statement.
The demonstrations and general strikes had been planned to protest against the US embassy's relocation from Tel Aviv to Jerusalem, which many consider contravenes international consensus to not recognize the city as Israel's capital until its status is established during negotiations.
Palestinians see East Jerusalem, which was occupied by Israel during the 1967 Six Day War and later annexed in 1980, as the capital of their future state.
The timing of the move has also been slammed, as it is being held a day ahead of Nakba Day ("Day of the Catastrophe"), which this year marks the 70th anniversary of Israel's creation and subsequent displacement of some 700,000 Palestinian refugees.