TCN News
The American Federation of Muslims of Indian origin (AFMI) held their 28th convention last month October in Toronto.
AFMI, that is mainly concerned about the education of Muslims in India, in this convention expanded their discussion and focused on the political context in which education is being imparted. The reason for this is the present political scenario in India wherein people are being dividing on religious lines creating hatred against the minorities thus usurping the pluralistic values of the Indian society.
The strong message that came out of the conventions' talks and discussions is pluralism and democracy, both should be defended and supported against the forces that are out to divide people and spread hatred in the name of religion.
The chief speakers at the convention were Professor Apporvanand Jha of Delhi University, attorney Suhel Tirmizi, AFMI president, Dr. Khutbuddin, AFMI trustee Dr. A S Nakadar and incoming President Mr. Siraj Thakor.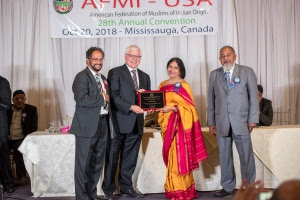 They all spoke on the rights of religious minorities and the challenges faced by them every day. The Muslims in India are always under pressure to prove their patriotism which is a harrowing experience for them. The speakers urged for an action from all civilians to defend their rights and stand up for justice fearlessly and defend causes of juctice.
Condemning the present deteriorating law and order situation, the lynchings and other hate crimes in the name of religion, attorney Timrizi said, discrimination and bias is institutionalized against the Muslim minorities and other weaker sections where the police officials either join the perpetrators or remain mute spectators.
The convention also focused on 'Youth empowerment',  the speakers for which were Dr. Iqbal Ahmed, Dr. Razia Ahmed, Dr. Akbar, Dr. Sanaullah Khan, Sr. Rabia Khedar, Sr. Farah Jhuman, Sr. Sana Uddin, Mr. S Lokhandwala.
Over 550 people attended the AFMI convention, including the some politicians from Cannada such as Natalia Kusendova , Member of Provincial Parliament (Mississauga Centre), Deepak Anand, Member of Provincial Parliament (Mississauga Malton), Peter Tabuns, Member of Provincial Parliament (Toronto-Danforth), Salma Zahid, Member of Parliament of Canada, and Asif Syed, who read the greetings from Sonia Sidhu MPP of Canada from Brampton.
The participation of so many Canadian lawmakers is a testimony to AFMI's great work.