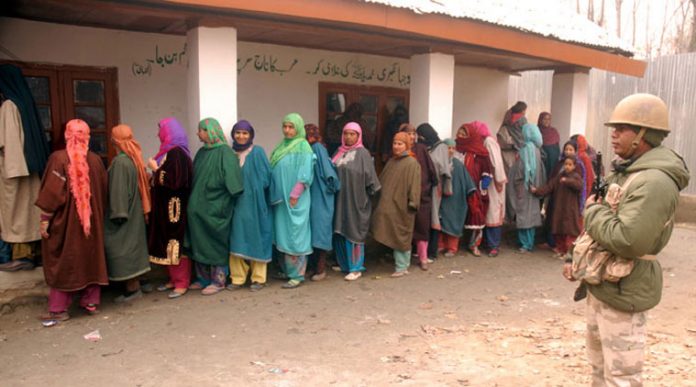 Jammu/Srinagar, Oct 8 (IANS) Brisk voting was seen in almost all the wards in Jammu region with Rajouri registering the highest votes on Monday while Srinagar in the valley saw the lowest as a shutdown-call led to subdued polling in the municipal elections that are taking place after 13 years in Jammu and Kashmir.
Amid tight security, long queues of enthusiastic voters were seen in almost all the municipal corporation and municipal committee wards in Jammu district where 34 per cent polling was recorded in five hours, as Rajouri registered 55 per cent and Poonch 47.
Voting continued peacefully in Gandhi Nagar, R.S. Pura, Bishnah, Arnia, Khour, Jurian, Akhnoor, Nowshera, Surankote and Kalakote areas and many other wards.
There was poor turnout in the Kashmir Valley in the first phase of the civic polls that took place amid boycott calls by the two key parties in the state — the National Conference and the People's Democratic Party.
Till 12 p.m., it was just 18 per cent in Kupwara, 2 per cent in Bandipora, 3 in Badgam and Baramullah, while 5 per cent in Anantnag.
Srinagar registered the lowest count of 3.5 per cent in five hours since polling began at 7 a.m.
An official said 4,000 votes out of 80,000 had been polled in the Kashmir Valley till 11 a.m.
In the three Srinagar municipal corporation wards of Humhama, Bagh-e-Mehtab and Hamdania colony, 1,001 votes were polled till 11.30 a.m.
In the Ladakh region where biting cold had kept early voters away, saw the process pick up and Kargil district registered 3,470 votes while Leh had 3,164 votes till 11.30 a.m.
A presiding officer was suspended at the Aloosa polling station in Bandipora district for allowing a woman accompany a voter to the voting counter.
Director General of Police (DGP) Dilbag Singh said no restrictions have been imposed anywhere in the valley although security has been tightened to provide a free and fair environment.
No militancy related incident has been reported from anywhere in the valley so far. Polling will end at 4 p.m.
Elections are being held in 422 of the state's 1,145 municipal wards. As many as 1,204 candidates are in the fray for the four-phased municipal polls that will end on October 16.
Counting of votes will take place on October 20.