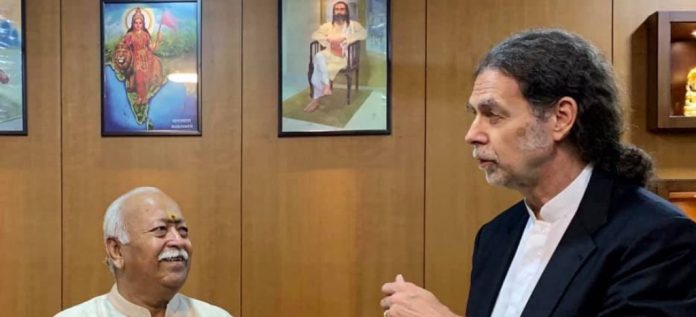 TCN News
Controversy is raging after Germany's Ambassador to India, Walter Lindner, visited the Nagpur, Maharashtra headquarters of the Rashtriya Swayamsevak Sangh (RSS) on July 17 despite the group's implication in anti-minority pogroms and heavily documented inspiration by European fascist movements, including that of Nazi Germany.
He has tweeted about his visit with photographs of himself with the RSS chief Mohan Bhagwat before the photograph of Golwalkar
Visit of Headquarters of RSS (Rashtriya Swayamsevak Sangh) in Nagpur and long meeting with its Sarsanghchalak (Chief) Dr Mohan Bhagwat. Founded 1925, it is world's largest voluntary organization – though not uncontroversialy perceived throughout its history… pic.twitter.com/B5cFUpw1ml

— Walter J. Lindner (@AmbLindnerIndia) July 17, 2019

Golwalkar believed that being Indian meant being Hindu. So he wrote, "Only the Hindu has been living here as the child of this soil." Just in case his reader misunderstood his intentions, he also phrased it another way: "We repeat: in Hindustan, the land of the Hindus, lives and should live the Hindu Nation."
And the RSS and its affiliate organisations go by this theory.
Spokesperson Arvin Valmuci of Organization for Minorities of India (OFMI) in the press release of OFMI has said that "Being pictured with Nazi apologist Golwalkar, the Guru of Hate, sends a chilling message to India's minorities. The global rise of neo-Nazism, especially its attempts to align with the RSS to promote violent supremacist goals, poses a dire threat to the peace and harmony of the whole world. Ambassador Lindner legitimizes fascist ideology, including that of the defeated Nazi regime, by engaging with the RSS on any level other than the harshest censure."
Valmuci also stated that the RSS has a stated goal of establishing India as an ethno-state. "Just like the Nazis wanted a purified Germany of Germans, where only Aryans were allowed to live and thrive, the RSS wants India to be a nation where all non-Hindus are either treated as foreigners or else eliminated,"
Demanding for strong action against the ambassador, he said "Ambassador Lindner should be stripped of his position. We call on Chancellor Angela Merkel and Foreign Minister Heiko Maas to intervene without delay, issue an apology, and reaffirm Germany's opposition to fascism wherever it is found in the world."
An online petition is also doing the rounds from Change.org demanding immediate intervention by Chancellor Angela Merkel and Foreign Minister Heiko Maas and recall the ambassador.
Sign the petition here: