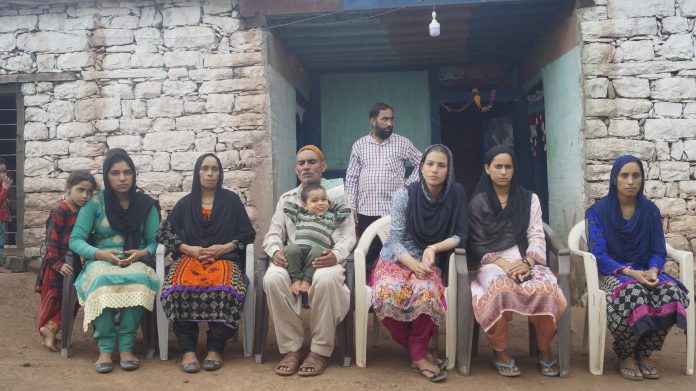 In this three-part series, TwoCircles.net profiles the three youth from Rajouri who were killed in an alleged 'fake encounter' in Shopian district of Kashmir on July 18, and posed off as militants. While Army and Police have both called for an investigation, the families have maintained their innocence. In this series, TwoCircles.net correspondent Ayushi Malik pieces together the last moments the trio shared with their families. 
By Ayushi Malik, TwoCircles.net
Rajouri: It has been nearly two weeks of uncertainty for the families of three Rajouri youth who were allegedly killed in an encounter in Shopian district of Kashmir on July 18. The families, who recognized their kin through photographs on social media, are in a state of shock and grief.
The family of one of the slain youth Abrar Ahmad (25) lives in village Tarkassi, around 25 kilometres from main town Rajouri. On approaching the house, wailing cries of the family members can be heard.
Abrar's father Mohammad Yousaf, who suffers from multiple ailments, is distraught. His worn-out eyes speak of agony as he remembers the last moments he spent with his son in Dhok – a place at top of the mountains where they go in summers to graze their cattle.  
Abrar accompanied his father to Dhok for two days and helped him get settled there by grazing the cattle and collecting firewood for him. On returning, he went to visit his in-laws before leaving for Shopian. "Jab yahan se gaya to apne sasural gaya aur jab jane ka time aya to sabne bola ki ja baap se milke aa par who darr ke nahi aya ki main janne nahi dunga. Mujhe dar tha corona ka, yeh to mere zehen main hi ni tha (When he left from Dhok, he went to see his in-laws. They told him to meet me before leaving for Shopian but he feared I won't allow him. I was scared of him contracting coronavirus but I would have never thought this would happen.)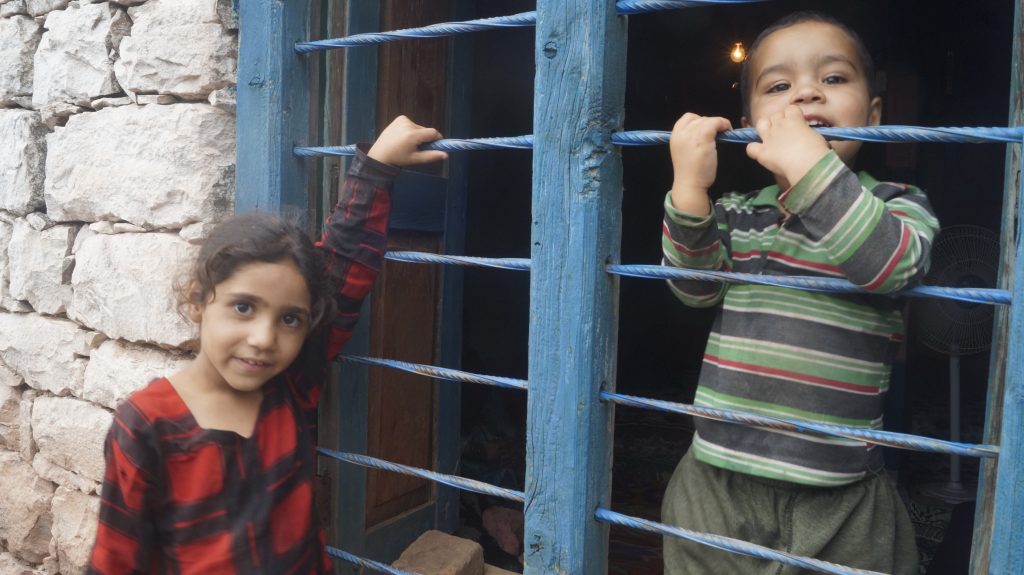 Abrar, left home with his sixteen-year-old brother-in-law also named Abrar on foot on July 16 looking for labour work in Kashmir. Carrying only Rs. 500, a pair of Chappals and a bottle of milk, which the family spotted in the videos of their rented room, he had left for Shopian.
Abrar's young wife Shareen Akhtar is still unable to come to terms with the unimaginable loss. She has lost two family members to the encounter, her husband Abrar and brother, also named Abrar.
Talking with TwoCircles.net, Shareen said that her husband had given her Rs 1500 and his ATM cards before leaving and said he would take money from his brothers if needed. "Jane se pehle bola ki agar main tumhare paas baithunga to mere bache aur tumhara pait kahan se pallunga? (Before he left he told me how can I feed you and my son if I stay here with you?)," she shared.
Downhill from the family home is the newly built two-room house Abrar was building for his wife and son. "He built it with his own hands. Carrying the cement, bricks and sand on his shoulders," his grieving family said.
Abrar's sister Shabnam said that he had gone to earn money to finish construction on his house.
"Ghar abhi kacha hai. Usko plaster karane ke paise kamane ke liye hi gaya tha Shopian (The house isn't complete yet. He went to Shopian to make money so that he can get his house plastered.)," said his father Yousuf.
The newly built house is a stark reminder of their loss.
A makeshift entrance is made out of a wooden ladder and sandbags leading to the front door of the newly constructed house. The windows on each side of the front door are draped with the trampoline.
Abrar's wife Shareen sits at the front door unable to come inside. The family shows me around the house consisting of a bedroom, kitchen, lobby, storeroom and a bathroom. In the lobby is a refrigerator young Abrar had gifted his sister Shareen. She is quick to add that he had promised to gift her a TV for the new house too.
"Young Abrar was a loving member of the family who would take care of the day to day needs of his sister. When his brother in law was away in Kuwait, he would bring her milk and ration almost every day for her," Yousaf said.
Shareen takes out her husband's clothes, photographs and the marriage certificate with a blank expression. His clothes are hanging on the bedroom wall untouched, and so does the utensils in the small dimly lit kitchen.
Unable to step into the bedroom, she stood in the drawing-room and showed me the yellow suit Abrar had brought for Anshu, who was playing and hopping around the house. "Apne hathon se banaya hai ghar usne. Aur plaster karana chahata tha to kaise mana kar deta jane se (He built this home with his own bare hands. Now he wished to plaster it. How could I say no to him?)," his teary-eyed father said.
On July 17, Abrar called his wife and sisters back home informing them that the two had reached Shopian and rented a room. This was the last conversation that the two had with their families before their phones would go off. With no phone connection, this left the families wondering about their whereabouts. Thinking they must have been quarantined in Shopian as is the procedure for all travellers coming into Kashmir, the families waited for twenty-one days before finally filing a missing report at a police station 9 August.
Yousaf said that on 10 August a journalist called him and after asking his son's name sent him pictures of the slain unidentified militants killed in Shopian. "I recognized them instantly," he says.
Shareen is besieged with grief. The couple had gotten married in April 2016 and she had given birth to Anshu, who unaware of the tragedy, chuckles playfully. Abrar, who was lovingly called Jaanu by his family, was a dedicated son who would work hard to support his family.
Aijaz Ahmed, cousin of Abrar says that Ansh occasionally asks about his father, "Janu Kahan Hai? (Where is Janu?)". The family silences his queries with a packet of biscuits or a juice can. "This won't distract Anshu for long," says Shareen, who feels apprehensive about sharing the news.
"The day Abrar left on 16 July, he gently kissed his sleeping son goodbye," said Shareen.
Shareen grasps for air as she prepares herself to speak about his husband. She was in Dhok on 17 July with her in-laws when she and Anshu had last listened to the voice of her husband and young brother Abrar on phone at 1 pm in noon. "Phone par bola ki hum (the trio) ikathe ho gaye hain. Khana bhi nahi khaya hai aur 3 din ka lockdown hai to raat main bat karta hu (He told her phone that they all are together, haven't eaten yet and will talk later at night as there is a three-day lockdown there)," he told his sister Naseem.
At 5 pm on the same day, Shareen called them again but due to poor connection, the conversation was broken. She says that she heard someone ask Imtiaz that how many boys had he brought with him to which he answered his two brothers. "Then my phone died," she says.
The family waited for the mother, sister and wife of Abrar to arrive home and break the news to them. They were called home on August 11 on the excuse of conducting mandatory coronavirus tests. It was the same day authorities came to their home to take the family's DNA samples.
Naseem feared her sister-in-law would have killed herself in Dhok had learnt about the killings there. "She fainted when we told her," adds another cousin.
To prevent her from seeing the photographs of dead bodies of her husband and brother, Naseem hid Shareen's phone.
Abrar's mother Mallika Khatoon, who till now was listening silently to the conversation, broke down on seeing the gruesome picture of her son. Before leaving for Shopian, Abrar did not meet his mother afraid that she too – like his father, would dissuade him from going. Mallika Khatoon is filled with regret as she didn't get the chance to talk to his son.
The young Abrar's face was first recognized by Mohammed Yousaf, and then they identified all three. Naseem shows me the same photograph and points towards Abrar and says, "See, he is my brother and this is Bhabhi's (Shareen's)," pointing at young Abrar's body in the middle.
The authorities have provided minimal information to the family about how the events resulting in the death of the trio unfolded and family is connecting the dots from media reports. "Why were their faces burnt after they had died?" the family asks.
According to media reports, the owner of the orchard in Shopian was called after the encounter to identify the three young men. He, however, couldn't identify the bodies because their faces were burnt. In a news report, the owner had stated that the trio didn't appear to be militants from their outfits.
"Dekho na inhe kaise mara hai, pehle goliyon se fir chehara jal gaya hai (See how they killed them. First they shot them and then burnt their faces), remarks Shabnam, unable to look at the photograph. "Dekho na inke hath dekho, ab humein jeene ka koi shauk nahi hai (See their hands. Now we don't have any will to live)," she adds.
Shabnam, the youngest sister of Abrar, told me that the loud wailing cries of the family broke the news to her but she convinced her mind otherwise. Later, she saw the photographs confirming her worst fears. "Bhaiya sabse roz baat karte the. Woh baat karne ke bager reh hi nahi sakte the (He (Abrar) would talk to us every day, he couldn't even go a single day without talking to his wife," she says.
While in Kuwait for work, Abrar would make video calls every day. When Abrar's phone had gone off after 18 July, his sister feared that something bad had happened to him. "My brother wouldn't go this long without talking with his family," she said.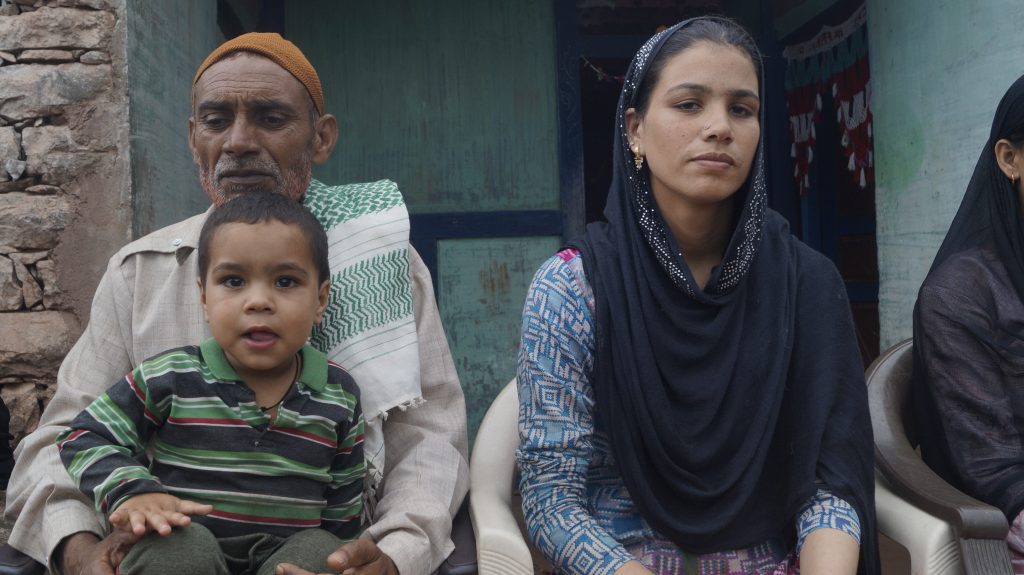 Taking out her phone, Shabnam says that she would call his brother Abrar everyday after July 18 but in vain. "Jaane se pehle bhaiya bolkar gaye the ki apni bhabhi ka khyal rakhna, isko akele mat chorna (Before leaving, he told me to take care of his wife and child and never to leave them alone)," she said.
An eight standard drop-out, Abrar worked as a labourer in and around the village, his brother Zafar Iqbal, an army man, told me.
"He was trained in plucking ground nuts, a high paying job in Kashmir that would give him Rs. 1000 per day. He would do multiple jobs to make ends meet for the family of six – his father Mohammed Yousaf, mother Mallika Khatoon, two brothers – Javaid Ahmed and Shakoor Ahmed, and three sister – Fareeda Begum, Naseem Akhtar, and the youngest Shehreen Shabnam," he said.
The wrinkled face of Abrar's father fills with a half-smile as he informs me that around 20 members of the family are currently serving the Indian Army including his brother as an honorary Captain. Reciting the popular patriotic Urdu song Sare Jahan Se Jahan Se Acha Hindustan Hamara, Yousaf says, "Hum gaya karte the school main (We used to sing this in school)."
"My son is innocent. I am sure of it. I dare anyone to prove otherwise," he says.
Abrar worked in Kuwait for four years, where he would do petty jobs, sending whatever money he made to his family back home.
Yousaf said that he never took money from his son after he got married. "Whatever he sent for the wife was spent on the house he built for his wife and son," he adds.
In March, as the coronavirus pandemic was spreading throughout the world, Abrar returned from Kuwait. He had bought gifts for everyone. "He brought watches for his sister and brother, blanket and clothes for his wife, son and mother, suit and Zaitoon (Olive) oil for my hurting knees," he said.
Abrar's 18-year-old cousin Aijaz Ahmed, said that Abrar was loved by all in his village. "He would spend all his time working to take care of everyone around him. That's why everyone who knew him became attached to his caring nature," he said.
"Hum sabka laadla tha woh, aur hum sab uske ladle (We all adored him and he adored all of us)," said everyone in the room in unison.
Abrar's toddler son Anshu starts to sob and asks about his father. Yousaf says that Abrar wanted his son to get a proper education and a good job. "All of it is gone now," he said.
According to the village Chowkidar, Gulam Hussain, this is the first case of its kind in the village. Many young men leave from Tarkassi to work in Kashmir but after this incident they all are afraid. Hussain, a well-built man in his seventies, assures that no young man would ever pick up guns in these parts. "I know every person personally. We all are men of patriotism and would never betray our nation. Abrar, a fine young man, would certainly not do so," he said.
The family of Abrar have only one demand now – the return of the dead bodies of their slain children and a judicial enquiry investigating the killings.