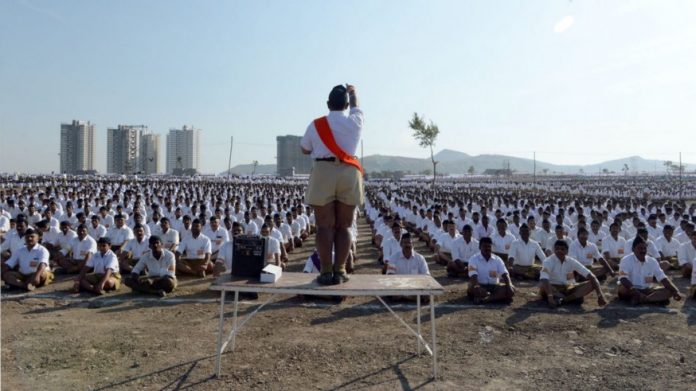 By TCN Staff Reporter
Mayors and vice-mayors of eight cities in California's San Francisco Bay area recently attended an event organized by American branch of Rashtriya Swayamsevak Sangh's (RSS) international wing, Hindu Swayamsevak Sangh USA (HSS-USA).
The event was held on 22 November 2o2o to celebrate Diwali.
Founded in 1925, RSS is accused of a dozen major anti-minority pogroms and countless smaller scale incidents of targeted violence in India, including the February 2020 Delhi Pogrom. Its earliest ideologues and leaders met Mussolini and compared RSS to his Italian fascist organizations, applauded Nazi Germany's "race pride" for "purging the country of the Semitic races," and compared Indian Muslims to German Jews. The uniformed paramilitary hosts up to 600,000 members in daily drills and boasts an estimated six million total members.
The California event, hosted online under the auspices of celebrating Diwali, featured HSS-North America President Ved Nanda. HSS is described variously as an "offshoot," "affiliate," or "overseas counterpart" of RSS — or simply as "RSS-supported" — and, emulating RSS, it almost invariably displays photos of the paramilitary's founders at its gatherings. As one senior HSS executive stated in 2016: "Our soul is connected with the RSS. We take inspiration from it. The RSS is our role model. We seek its guidance on crucial issues."
The presence of Californian leaders at an HSS event puts them in the position of cooperating with groups that have foreign interests, may quite probably be subject to foreign influence, and are indisputably linked to a violent, supremacist foreign movement.
As the US Commission on International Religious Freedom has explained, RSS advocates an ideology of "Hindutva," which "holds non-Hindus as foreign to India." As former South Asian Studies Senior Lecturer Amrit Wilson recently noted, "Hindutva is not Hinduism, it is fascism."
The event's participants included Dublin Mayor-Elect Melissa, Fremont Mayor Lily Mei, Foster City Vice-Mayor Sanjay Gehani, Hayward Mayor Barbara Halliday, Livermore Mayor-Elect Bob Woerner, Newark Mayor Alan Nagy, Pleasanton Mayor-Elect Karla Brown, and San Ramon Mayor-Elect Dave Hudson.