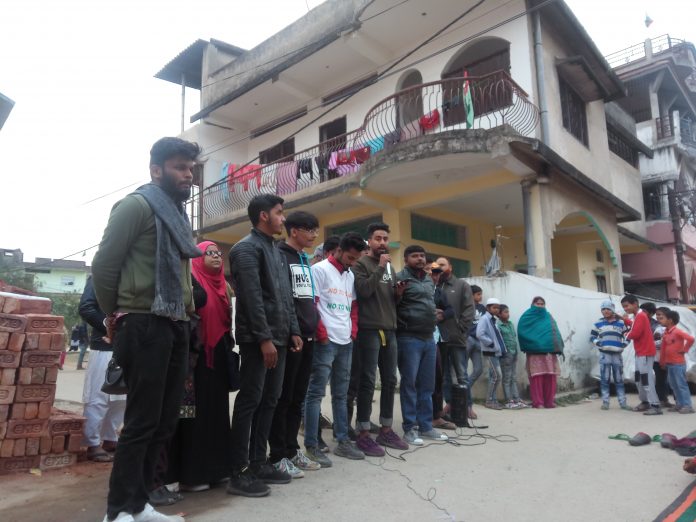 By Nazish Hussain, TwoCircles.net
Ranchi: It is late afternoon on a winter day in a residential colony of Ranchi, Jharkhand. Lanes look deserted with only two-wheelers passing by occasionally. Balconies are empty, doors and windows closed. A group of young people have gathered with mic, speakers, guitar and mats.
A young boy named Maaz Aman Siddique, who wears a white T-shirt reading 'NO To CAA, NO To NRC', speaks on the mic, "Hum aapke mohalle mein CAA, NRC, NPR par baat karney ke liye aaye hain. Hum students sheher ke alag alag colleges se aapke mohalle mein aaye hain", (We have come in your locality to talk on CAA, NRC, NPR. We students have come from different colleges in the city). The students request people for some time to hear what they have to say.
Few women peep out from the balcony at the group on the street, while few others come out of their gates. One girl from the group walks toward the women, requesting to come and listen to them. "Hum aapko batayenge is kaale kanoon ke khilaaf kaise ladna hai", (We will tell you how to fight against the draconian CAA) Maaz continues on the mic.
Starting by reading out the Preamble, students from the group take turns to explain CAA, NRC and NPR to the crowd. Two mats are spread on the street, women come and sit there. Soon more people join in as mats are arranged from nearby homes to accommodate everyone.
This student group does not associate with any political party. It started with few students and has multiplied with others coming together from different colleges and schools in the wake of Anti- CAA protest. The group is named after the famous song "Kahab toh lag jai dhak se" from the Bollywood movie, Article 15. After having actively participated in Anti-CAA seminars, protest marches and gatherings, they have recently started a door to door awareness program on CAA, NRC and NPR.
Citizenship Amendment Act, which was passed in the parliament on 11 December 2019, came into effect on 10 January 2020 despite countrywide mass protests against it. In Jharkhand, following the 24/7 sit in protest model of Shaheen Bagh, similar scenes have been recreated at Haj House at Kadru in Ranchi.
Spread across different pockets of the state – civil societies, independent student groups as well as civilians have joined the call to revoke CAA, NRC, and NPR. There have been seminars, human chains, rallies, marches and various social media campaigns against CAA. In Dhanbad district Anti-CAA protestors faced sedition charges, which were later revoked after the Chief Minister Hemant Soren stepped in.
The Idea behind Door to Door Campaign
The students in this group are regular day scholars, who have been managing their classes, exams and other chores along with taking out time almost daily for door to door awareness campaign. It has now become a part of their routine and one of their top priorities to sensitize people on the issue. "We are the future of this country, if we won't do anything for ourselves then who will?" says Aditi Sidhant, a final year student of M.A, English literature.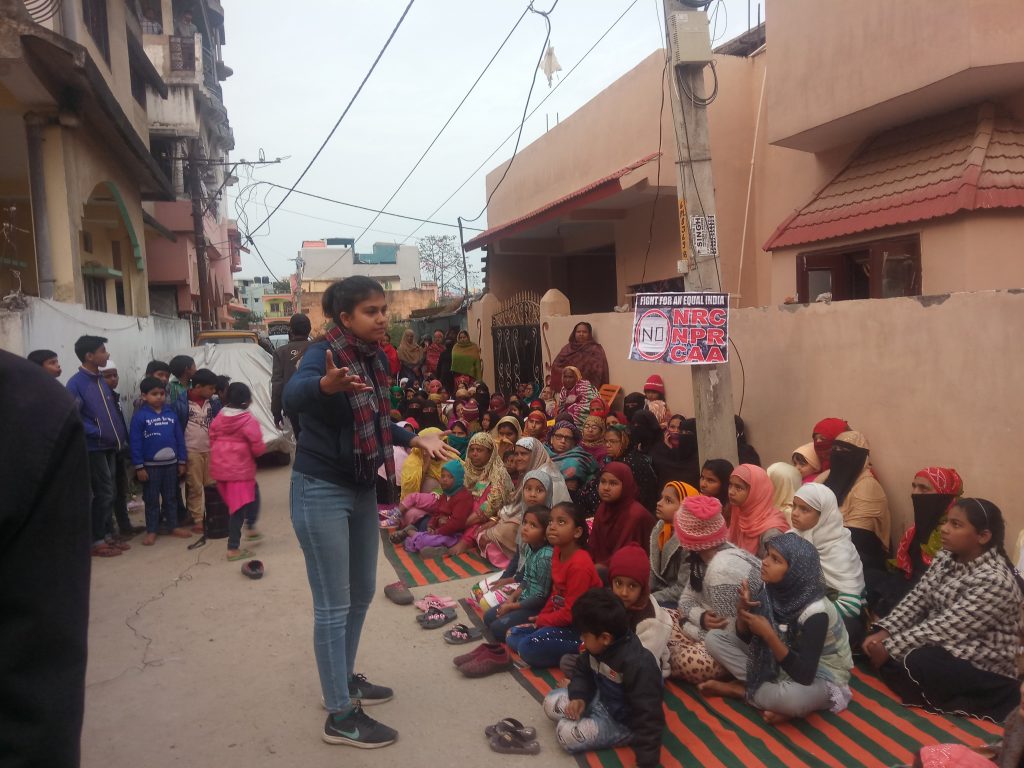 The group explains that after classes and daily chores, they do get some free time which they want to utilize for the cause.
When asked why a group of students have traveled to an unknown locality in the city for a door to door campaign in an age of social media connectivity and outreach, Aditi explains, "We realized in our own homes that women who have access to television and newspapers, get limited or biased understanding on Anti-CAA protest. We saw this as an issue." After serious discussion on how to tackle this problem, Aditi says, the group came up with this idea of a door to door awareness program. She feels, "It is more impactful when we talk personally. "
Now it is her turn to address the gathering. Aditi steps ahead asking, "Kya hum Hindu rashtra banne denge?" (Will we let it become a Hindu nation?), "Nahi" (No), repeats the crowd in unison. She continues, "The government has continuously tried to silence every dissent, but now it has gone too far. We want to tell the government we won't be silenced this time."
She steps back and hands the mic to another student who now initiates a question answer session with the crowd. A middle aged woman walks up and says, "I live in a rented house. I don't have any papers, where will I get papers to show?" She explains that she earns her livelihood as domestic help since her husband is visually impaired.
Besides her husband, she has a daughter to look after, making her sound more worried, "If this government declares us outsiders where will we go? Why is this government doing this to us? I am so scared about all this."She asks the group to come to her locality and conduct the awareness program there too.
Earlier the group was confined to taking out rallies and staging protest march at different places in Ranchi against CAA. Soon its popularity grew and many other students came forward to join it.
The group has visited 11 localities in the city so far. Students have divided tasks among themselves that include routine programs of Preamble reading, explaining CAA, NRC and NPR, singing revolutionary songs and chanting Azadi slogans, question answer sessions on clarifying doubts of people and so on. The group's activities have gained momentum after getting several calls from different people to come to their localities and conduct the informative program.
"At times we have covered two places in a day. It has been quite hectic for us on days," says Shamam, post graduate student of Mass Communication, who handles PR for the group.
Motivation and Risk behind the Protest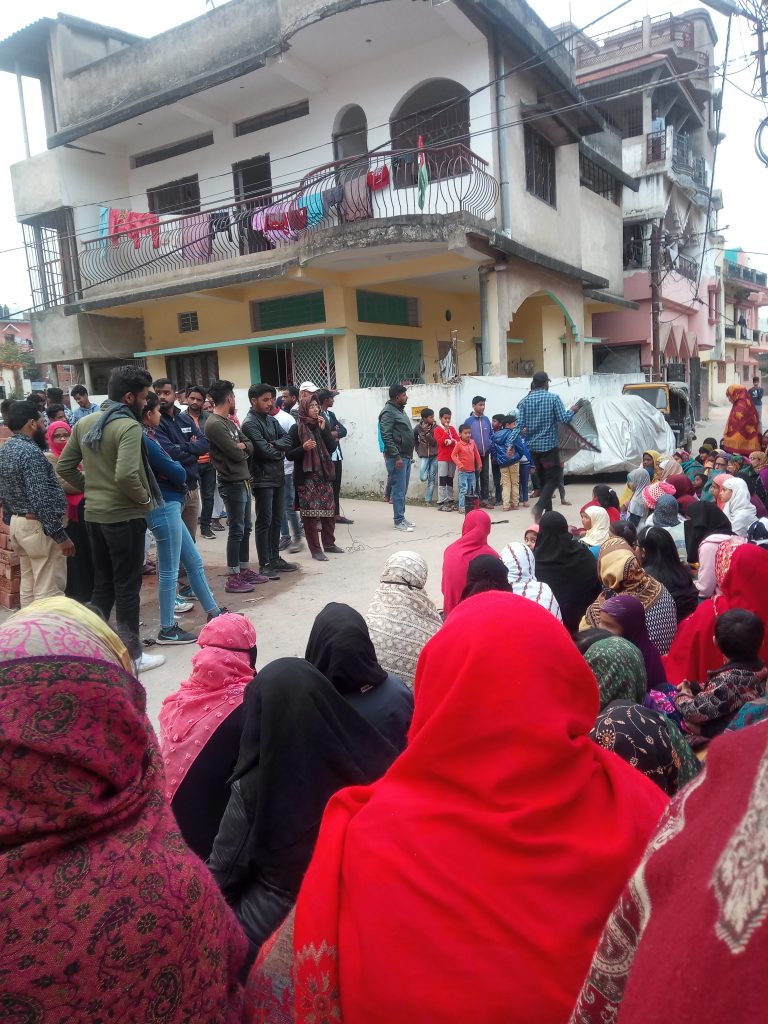 Alongside Anti-CAA protests, Jharkhand has also been witnessing pro- CAA rallies under the banner of ABVP and other Hindu organizations. Protest demonstrations have largely been peaceful; however at few places it took violent turn forcing the authorities to impose Section 144. The latest is from Sakchi in Jamshedpur where after a face-off between protestors and supporters on 31st January 2020 Section 144 has been imposed till February 14.
The group of students are vigilant and take due care to keep the protests peaceful. They have confined their protests to 'safe spaces' only and avoid any confrontation with Pro-CAA rallies. "We keep our protest secular and avoid going to such places where we sense trouble," says the youngest member of the group, Wali Hanzala, who is a class 12 student with upcoming board exams.
Wali, whose sister and cousins have been studying in Jamia and AMU, has been much disturbed by the police brutality on the night of 15th and 16th December 2019.
Wali takes care of social media for the group – from designing protest posters to communication, promotion, and handling its Instagram account. On asking what makes him continue with protests despite board exams around, he says, "Nowhere is safe, not even universities. Where will I go after my boards?"
(This article is part of  SEED Fellowship, which is TCN's flagship journalism training and mentorship program for communities traditionally absent in mainstream media.)