By Musheera Ashraf, TwoCircles.net 
Bihar: Shams Alam is a 34-year-old fastest paraplegic swimmer who holds two Limca book records, 50 plus gold medals, many international acclamations and has also been a motivational speaker at TEDx.
Speaking about his journey and achievements to TwoCircles.net, Shams said, "The news that I will never be able to recover came as a shock to me and my family."
Shams was born in Madhubani village of Bihar.
Youngest among 6 siblings, Shams lived with his brother who used to work in Mumbai. Before coming to Mumbai he was sent to Madrasa for his studies but later while residing in Baikal area of Mumbai he did his schooling in Mominpura municipal Urdu school, an Urdu medium school.
"My family looked forward to the completion of my engineering. I was the first engineer in my village. People were looking at me with hope," Shams said.
Everyone was happy in Shams' family that he will complete his studies and then they will get him married and things will become better. "My family always dreamt of seeing me as an educated person," he said.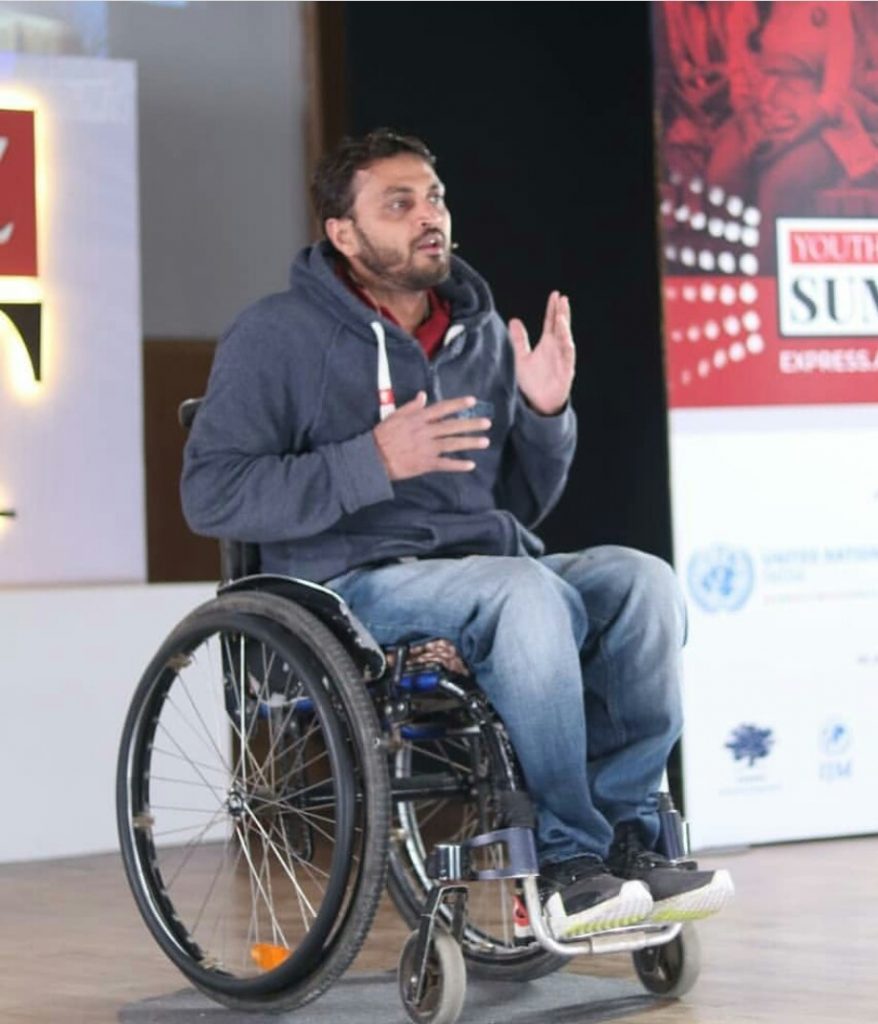 Shams finds it hard to describe what he went through when he first came to know that he will not be able to walk anymore.
"My mother who is no more played a key role in getting me out of depression. She was beside me when I used to feel frustrated and the inspiring stories she used to tell me motivated me and gave me hope," Shams said.
2010 was the year that changed his life. He came to know he was suffering from a tumour. He said he had to undergo a surgery but 'doctors didn't operate him well.'
"It was then when I became paraplegic," says Shams.
The lower half of his body was now useless. He was in the final year of his mechanical engineering. "I had to leave it in between. I completed it later," he adds.
In 2015, he received a scholarship from Satya University, Chennai from where he completed his MBA.
It was in 2012 when Shams went to a rehabilitation centre named paraplegic centre in Mumbai. At the centre, he learned from the doctors that swimming is good for the regeneration of the nervous system.
"Exercise is something which is must for me," said Shams.
When he first went to the swimming pool he was told that he can't swim, and the authorities won't take responsibility if he drowns.
"I started with a thought of keeping myself healthy," he said.
Later he came to know that there are competitions held in swimming. His mentor Raja Ram told him about how to participate. "It was in 2012 when I first participated in completion. I got a medal in the state championship. I won a medal at the national level. After that, I didn't stop," said Shams, who now also works for disability rights.
Fastest Paraplegic Swimmer: India book of world record
When his coach informed him about the competition it was already 3rd December and the competition was to be held on 8 December 2019. Shams checked out the train ticket but couldn't find any. When he checked the flight ticket it was expensive.
"I was very clear that I have to go, I visualised how I will feel if I won this competition," said Shams.
He left for Delhi from Gurgaon.
As there was no special coach for handicapped he took the general ticket and started the journey. After a long journey of 12 to 15 hours, he arrived at Patna. "It was a difficult task to keep sitting on a wheelchair for long hours without even moving to use the washroom," said Shams.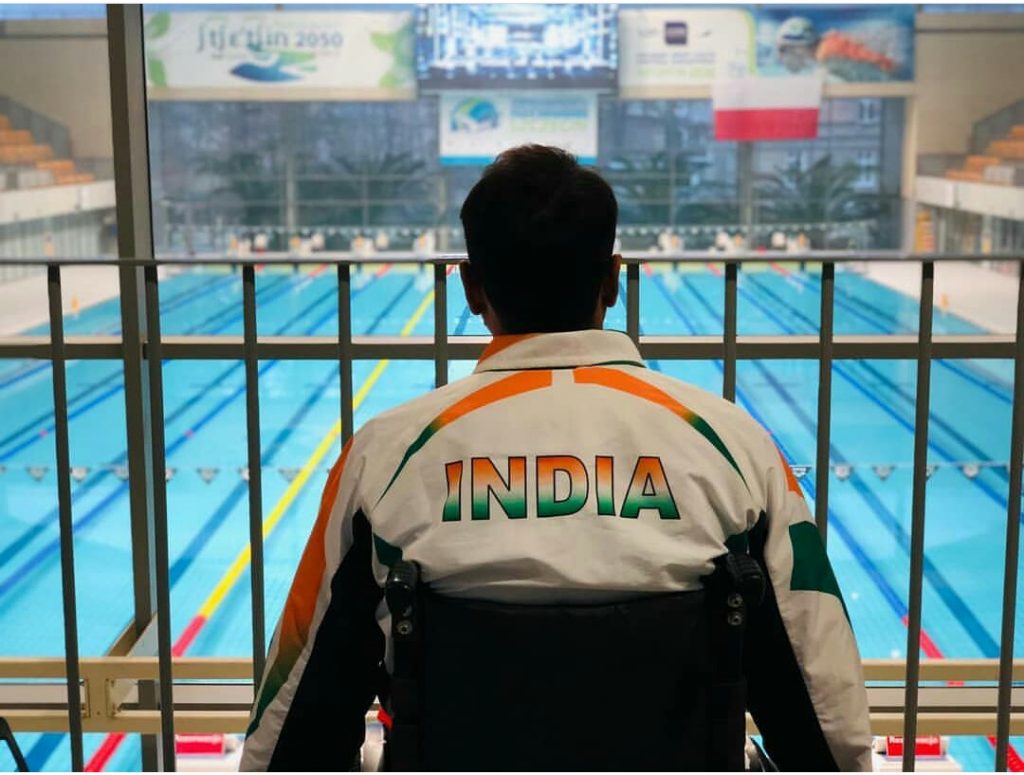 "I knew I will not be able to access the washroom. But I was determined to not think of these thoughts as I was looking forward to the competition," he adds.
Shams was able to access a bathroom only after once he moved out of the train.
"It is hard for a differently-abled person. We face difficulties in every situation," he said.
Shams said that after arriving at his destination, he felt very tired. But a kind stranger came to his rescue and offered him to rest in his car.
After resting for an hour, Shams saw the participants arriving. He joined them. They were then taken to the other side of the river Ganga in a boat. The race started and Shams covered the 2 km of distance in 12 minutes and 23 seconds.
"We were given certificates and then I was dropped to the station from where I again had to travel 12 hours in the same train," said Shams.
"I was looking for a handicap reservation counter. But after great difficulty, only with the help of some people was I able to board the train," he said.
Shams was wearing a tracksuit emblazoned with India. "A boy told me I look like a player. He asked my name and googled it. He was very impressed and kept looking at my videos and read out Wikipedia," Shams said proudly.
Finally, he reached Delhi and then proceeded to Gurgaon.
"I am happy I earned this title. If I would have stayed back when I came to know that there is no seat then I would have never been able to make any such record," said Shams.
Ongoing project
Being a mechanical engineer, Shams is currently working in Gurgaon with a German-based HELLA company on a wheelchair project. He is handling this project as a project manager. The project aims to manufacture customised wheelchairs to needy at reasonable costs. Under the project, the wheelchairs will be designed according to the requirement. Keeping in mind the disability, level of injury and convenience of the person who has to use it, the project will cater to the comfortability of the differently-abled person and the cost of the chair will be reduced from 1.5 lacs to just 30,000.
"The company is ready to bear the funds because they have been working on an awareness program and have their trust namely Baal Swavlamban Trust," said Shams.
Many of the differently-abled persons use Chinese wheelchair which is uniform for everyone. Shams said the wheelchair affects the body posture and physical health of the person.
"It has been around 10 years of my struggle so I know what all should we include and we are working on it," Shams said, and added, "It is necessary to make people aware regarding the proper use of a wheelchair as people don't know much about it."
Achievements
Among the laurels, Shams has earned include being the fastest paraplegic swimmer of India recorded in India book of records and applied for Limca and Guinness book world record. Shams also has the distinction of being the longest open sea swimming by a paraplegic swimmer mentioned in world record Academy, Florida and Limca Book of Records.
His other achievements include 6-kilometre sea swimming held in Mumbai mentioned in Limca book of record 2016.
In 2016, Shams won a bronze medal in Canada, and in 2017 he went to Germany to play in the World Series. In 2018, he participated in the Sheffield World Series International open swimming championship.
In Asian para games in Indonesia, Shams represented team India.
In 2019, at the Poland Winter Polis Championship, he made 2 National records. Shams also has a national record for 50 meters' butterfly S5 Category, 100 meters & 200 meters' freestyle S5 Category and 200 metres individual medley SM5 category.
Shams was going to participate at the 2020 IWAS World Game, but the date has been rescheduled due to a coronavirus outbreak.