MUSHEERA ASHRAF, TwoCircles.net 
Saharanpur: "A few days before, I was standing at the roadside to sell my fruits, a policeman came and he smashed me with his stick," says a 40-year-old Afzal who sells watermelon at one of the busiest roadsides in Saharanpur.
Afzal has been a vendor since childhood.
"It is very hard to earn and eat these days," adds Afzal.
Afzal says he is afraid and can't trust anyone. "So I don't go to colonies to sell my fruits," he says, adding, "Some people may ask for my identity card but they will beat me even if I will show them".
In April, a video from Badarpur area of Delhi went viral showing a vegetable vendor getting beaten up by a man who is accompanied by at least three other persons. The assailant asks the vendor for an identity card and his name. The vendor responds that he does not have an ID card at the moment and his name is Mohammad Saleem. On hearing this, Saleem is verbally abused and hit with a stick. The assailant hitting Saleem says, "You people are doing jihad."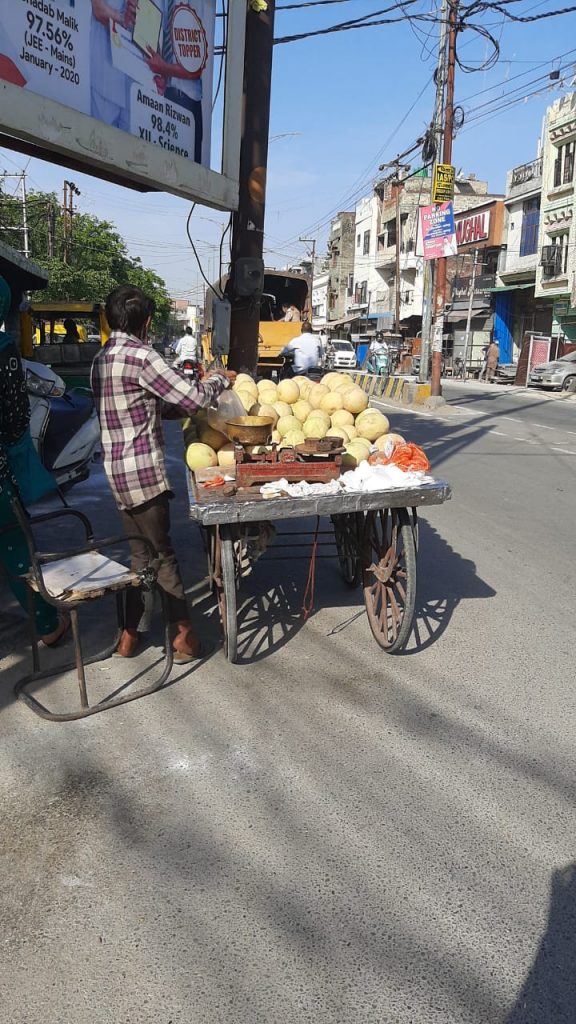 All the men in the video, including Saleem, are wearing masks. The video was later verified by Alt News.
Incidents like these have created fear among Muslim vendors for selling their goods amid the ongoing pandemic.
Afzal told TwoCircles.net that previously he would bring fruits from the Mandi and sell them at retail price. "But now I tell my fellow vendors to get some for me because I don't have a curfew pass," he says.
"It is necessary for me to work because I have a 90 years old father and a sister to feed," he adds.
Afzal said that if the police come here, he will have to run away or "they will take all my fruits because I don't have a pass."
There have been few incidents of Muslim vendors being stopped from selling vegetables in Mahoba district of UP, accused of being Tablighi members.
The incident has shaken the peace of the vendors across U.P.
"We feel that we are being discriminated against because of our names," says another fruit vendor who insisted on remaining anonymous.
"If there are two vendors – one is Ramesh and other is Bhoora, Ramesh will be allowed to sell freely but not Bhoora. This is the situation," he explains.
He has a pass but still fears the police, "if police will come then I will try to run. Sometimes in the chaos, we lose our fruit," he adds.
He has been selling fruit for many years but claims that he has never faced such situations as the daily wagers are facing amid the ongoing lockdown enforced due to Coronavirus pandemic.
"There is a fair amount of relaxation being granted in Numaish Camp and other Non-Muslim majority areas but it is not the same for us," he says.
He says that some people are trying to divide communities based on their religion. "These types of elements are increasing now," he adds.
The fruit vendor told TwoCircles.net that they have used all the little savings they had and they won't beg. "Even the well-off people are facing an existential crisis. We are poor and we are the hardest hit," he says.
During the current lockdown, he couldn't sell his vegetables for 4 days, because the police were not allowing him but it was after some political intervention that he was allowed to sell his vegetables.
"Police is not allowing us to come on roads, they tell us to sell inside the colonies but then we will be confined to only our colonies, it's not safe to enter other colonies these days," says Rizwan who is a 35-years-old cloth seller turned vegetable vendor.
Rizwan depends on another vendor to get his stock of vegetables from Mandi because he doesn't have a pass.
"We are responsible people. We are wearing masks, washing hands frequently as a precaution. We should be allowed to earn and eat without discrimination," adds Rizwan.
"For a month now, I have been earning a little by selling otherwise we were on the verge of taking food from other people," he says.
As claimed Khuldabad police of old city area of Prayagraj are encouraging vegetable vendors to spread awareness among people to maintain social distancing and follow other guidelines issued by the government to keep coronavirus at bay.
While the majority of vendors struggle to keep themselves safe from police and are earning very little, for Rizwan the current situation is "a crisis under crisis."