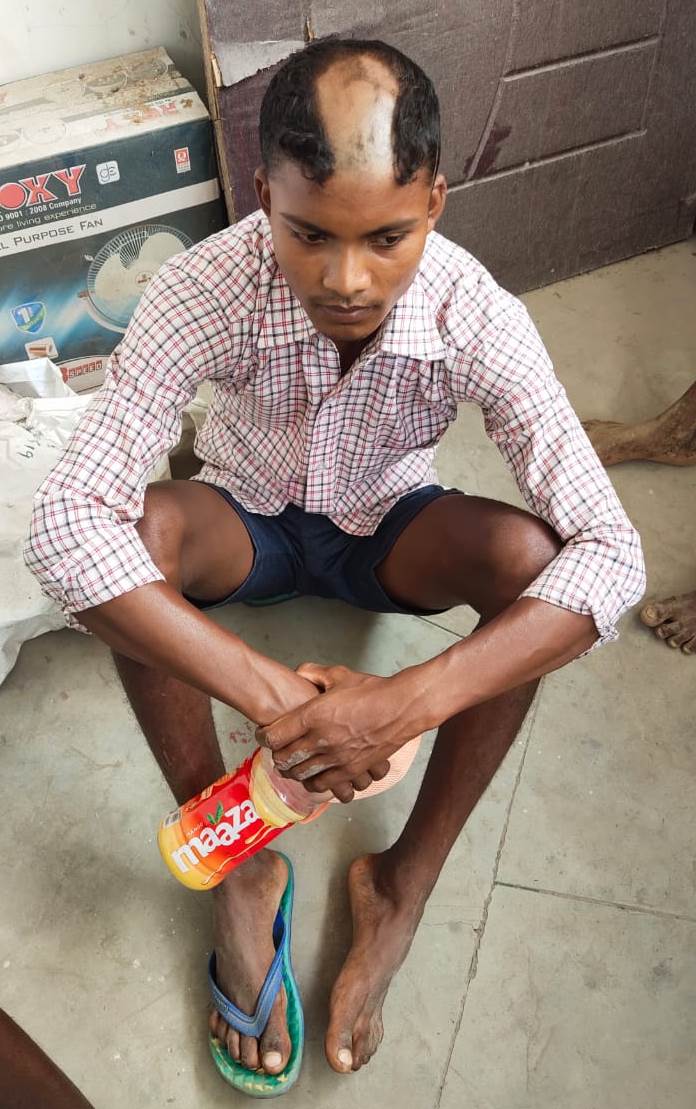 By Nazish Hussain, TwoCircles.net
Ranchi: Five tribal Christians from the village Bhedikudar in Simdega district of Jharkhand were allegedly beaten, their heads tonsured and forced to chant 'Jai Shri' by a mob over an unproven allegation of cow slaughter.
The incident happened on 16 September.
Speaking to TwoCircles.net, the victims said that the attackers accused seven tribal Christians of slaughtering a cow. "Out of the seven people two fled from the attackers while five men were beaten, humiliated and made to chant 'Jai Shri Ram'," the victims said.
Cow slaughter has been banned in Jharkhand by 2005 law, and which has been strictly enforced by Raghubar Das led BJP government in recent times. The attack is the latest by cow vigilante groups.
Twenty-six-year old Deepak Kullu, who is one of the victims of the attack, told TwoCircles.net that he was beaten, partially tonsured, abused and paraded by the cow vigilantes.
Shocked, Deepak said that he would have never imagined that he would be attacked by cow vigilantes. Recounting the incident, Deepak said that it was around 6 in the morning of 16 September when a mob of around 70 people surrounded his home and targeted his family. "That day I woke up at 5 am, got fresh and left to get milk for the family. Upon returning I saw many people had gathered around my home. They were accusing my brother in law of cow slaughtering a cow and selling beef," he said.
Deepak Kullu said that those who were attacked and beaten included Raj Singh, Sosen Dang, Emmanuel Tete, Sugad Dang. "Sunil Barla and Sem Kido were also accused of cow slaughter by the attackers, but they managed to flee," he said.
Raj Singh, brother in law of Deepak, is a Pastor in the village since 2016.
Speaking to TwoCircles.net, Raj said that he was sitting in his courtyard when around 60 to 70 people entered his courtyard. "They asked me, 'Are you a Hindu?' I told them that I was a Hindu but I have converted to Christianity. Then they started abusing me for my religion, saying 'Ye Christian bana hai isko maaro (He has converted to Christianity, beat him)!' They started accusing me of slaughtering a cow and eating beef and such things. And they started beating me. I tried to reason with them, but was not able to," says Raj.
When Deepak asked the attackers for proof of their accusation, the attackers showed them a video which named seven people from the village.
Deepak explains that when attackers started beating them, one Sosen Dang confessed how he was forced to say things on video. "When Sosen Dang from our village went to the neighbouring locality Kumhar Toli to get drunk, Rajendar Mahto threatened him of beating. He asked him to take our names saying we slaughter cows. Being scared he took our names in the video," says Deepak.
Raj said the crowd started beating him and Deepak. "When my wife saw they were beating us she tried to intervene, they beat her as well. They said whoever will come in between, they will beat them as well. Then people were scared and no one came to intervene. They were beating us with sticks. They also punched and kicked us," he added.
"The mob belonged to a group named Jai Bhawani, which has a WhatsApp group where a video was shared naming us of cow slaughtering. The video was forwarded without cross-checking for truth and that's how so many people had gathered," informs Deepak.
Deepak recalls that on the evening of 15 September, he had heard cries of 'Jai Shri Ram' from a nearby village. "To us, it was not alarming as it was a common practice to raise this slogan while erecting an electric pole so we simply thought it to be the same. But maybe they had planned to attack us at night," he says.
Deepak denied all allegations of cow slaughter. "We had not slaughtered any cow. But since they were persuaded by the video they came to beat us. And beating us, they took us to neighbouring localities where they tonsured us. Then they garlanded us with shoes and slippers and paraded us on the streets. They were raising slogans of Jai Shri Ram and saying, "If you slaughter cows we will slaughter you', " he added.
Deepak said that after they were paraded, the attackers took them to a spot and asked them to raise the slogan of 'Jai Shri Ram'. "When we refused they beat us with sticks. They had surrounded us and called the police. And they told police that we have caught these people red-handed while slaughtering a cow. When police reached the spot they told police that they have 'caught' us. Police also hailed them saying they had done a good job," said Deepak.
Deepak said that following this the police came to their houses for investigation. "But since we had not done anything wrong, what would they get. They searched our homes but could not find anything. Then the police took us to thana and interrogated us if we did anything. We told them we had not done anything. Also, in their investigation police did not find anything, and then they assured us that if we have not done anything we don't need to be scared," Deepak added.
Raj said that among the 60-70 attackers, few were from local villages. "People from my neighbouring locality were the first to beat me. After beating me they told me to leave the place where I am staying and said 'Otherwise we have the order to murder you.' Just pack your belongings and leave the place, they said. When my wife asked why should we leave and asked to call the administration? They replied, "We are the administration," says Raj.
Raj said that he fears for his life now. "I and my wife feel scared as we have been the main target of this incident," Raj said.
Raj demands that the culprits be punished for their crime and what they have done to them. "They should be punished so that in Jharkhand such incidents should not happen with anyone be it Adivasi or otherwise," he added.
A social worker from Simdega, Neel Justice Beck, who was the first to highlight the incident told TwoCircles.net that the 'attack was preplanned and must be investigated.'
"Now it is being said the attackers belonged to the Jai Bhawani group. If that is the case, the group must be banned. The government must take notice and do something about such groups otherwise they will continue to be the problem for society," he added.
Pastor Raj's wife Rozalene Kullu has filed an FIR, naming 9 people and 10 others in a case of harassment against Christian tribals in Bhedikudar village.
Simdega Police confirmed the incident and in a statement said that they have registered a case under IPC 341/323/354(B)/452/504/506/34 and 3(i) (iii)/(x)/(xi) SC/ST Prevention of Atrocities Act.
Acting on the complaint police have arrested three people Nayan Keshri, Sonu Sing and Sonu Nayak on the same day.
On 17 September Simdega Police formed an SIT of eight police personnel to nab the culprits. "On the fourth day of the incident the SIT caught the kingpin Rajendra Mahto," the police statement read.
The police said that they continued the police raid in Simdega, Palkot, Gumla and Ranchi and caught the fifth culprit as well. "Till now police have arrested five people and continue their search to catch the rest of the accused," the police statement reads.
Talking to TwoCircles.net, Simdega Superintendent of Police Shams Tabrez said those who have not being arrested yet police will soon start (Kurki Zabti) Impoundment Confiscation against them."
On being asked about the 'Jai Bhawani Group' behind the attack, SP Shams Tabrez said, "The FIR filed by the victims has no mention of anything like this."