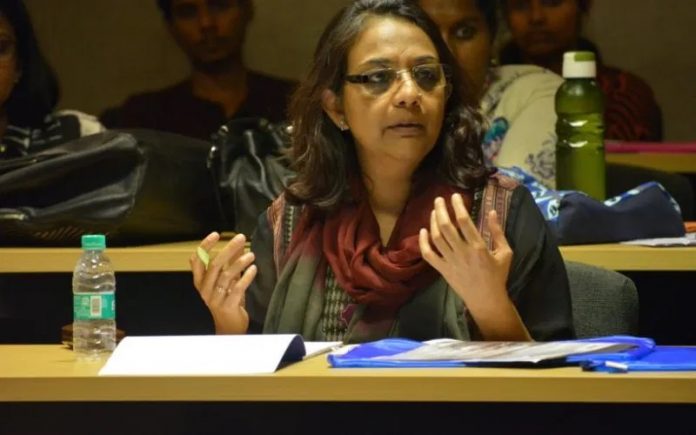 By Ayushi Malik, TwoCircles.net
On October 4, Anuradha Bhasin Jamwal, the executive editor of Kashmir Times, a daily English newspaper published from Jammu, alleged that the brother of a former National Conference MLC barged and ransacked her government allotted accommodation in Jammu. In a Facebook post, Bhasin alleged that 'goons were acting in connivance with the Estates department and some police personnel.' Bhasin claimed that she and her husband were 'shoved and pushed and had to fight back in self-defence.'
Bhasin sees the attack as a reprisal by the authorities for her bold stance and criticism of the government in Kashmir vis-à-viss press freedom and human rights.
In this interview with TwoCircles.net, Bhasin speaks on the declining press freedom in Jammu and Kashmir, the impact of August 5 decisions on the people of Jammu, especially the minorities and the fears among them.
TCN: You have been vocal about the condition of press freedom in Jammu and Kashmir following the abrogation of article 370. Do you think the recent incident of ransacking of your government allotted quarter is in any way linked to your criticism of government actions? Do you think this is a blowback?
Bhasin: Yes, of course (it is). In this particular case probably two interests are involved. But I want to talk about why I feel that this is not just one family's interest trying to get that flat allotted in their name and do it the way they did, the way they operated like a mob last Sunday. In the last 10 years, they have about four flats allotted in that same area and they all are converted into custodian property and I can also share papers. The property has been converted to evacuee property but it is deemed renovated and repaired by the Estates Department, which is illegal. Under any custodian property, any repairs are to be conducted by the occupant. That is one side of the story, and the other is about why I feel there is a bigger design behind it is because we are facing a similar problem in Srinagar where there is one building allotted to Kashmir Times in early '90s and we are hearing similar rumours since last month about the cancellation of allotment. Insiders from the Estates department have said that this is cancelled but no one is willing to serve us a proper order. So I feel this is a way of victimizing and creating an ugly situation unnecessarily just to put me down because of the work I am doing. This is to crush me for criticizing the government and for speaking the truth.
There can't be a similar kind of evicting process both in Jammu and in Kashmir and in only my case. Lot of other people I hear have been getting eviction orders. At least they got an order. I have not even received an order. This particular case makes me even more wary.
TCN: Jammu had seen a sudden surge in media channels post abrogation of Article 370. With many newspapers being forced to stop publication, such as yourself, and increased censorship, what future do you hold of Jammu based media houses?
Bhasin: Media has a very bleak future. In Jammu, the media surrendered long before compared to Kashmir media's surrender which is more recent and happened after the reading down of Article 370. Instead of national interest, to tell the truth, and hold the government accountable and give voice to the marginalized is the job of the media. However, the media in JK felt that their prime duty was to uphold the national interest which they confused with the government of the time and churning out an anti-Kashmir narrative.
The political narrative of Jammu which was essentially ultra-nationalistic, jingoistic and anti-Kashmir also became the narrative of Jammu media particularly after 2008. Before that, there was a period when it was felt that journalism in Jammu, which is much newer than in Kashmir, was attaining some kind of maturity and professionalism. It was gradually killed before all this happened.
I see a very bleak future (for media in Jammu). Unless you have media organizations and associations speaking for press freedom and against harassment of media persons, things won't change. We don't find these voices in Jammu media. These voices are completely out of the picture in the print media and electronic media in Jammu. That is extremely worrying, more so in Jammu, and now even in Kashmir when people are hesitant to speak. All political powers, in fact in the last 70 years, have tried to control the media in some way or another, and more so in the current regime which is extremely authoritarian. And authoritarian powers will do what they want to do and that has happened across the world but the press has resisted collectively. Here, the press is crumbling collectively. This has become a problem even for the few who are trying to speak up.
TCN: In a situation where the media in Kashmir has been pressurized to toe the state line, how do you see the role of independent media outlets? What is your message to them?
Bhasin: The authoritarian powers will always pressurize the media into towing a certain line. One can understand and acknowledge the level of fear. It is also important to acknowledge the kind of hostility media faces, particularly the Kashmiri media within the Indian mainstream media and the way that the Indian national channels are being used to perpetuate a negative image of Kashmir and Kashmiri media. Understanding all this, if you have to survive as a media person, you cannot keep covering behind the excuse of fear for a prolonged period. There is not only just the fear of physical intimidation but also the fear of surviving financially. Any media house needs finances. However, if your fear of not getting an advertisement from the government is going to stop you from speaking out, I think that is something we need to really think about.
As for people, who are trying to speak independently as possible as in our case, there are financial implications which eventually have a bearing on the quality of journalism.
There should be some resistance. You can't just surrender absolutely. There should be some collective resistance. That is absolutely important. If you have already given up on your prime duty, whether it is out of fear, whether any other reason, I think we have already killed journalism ourselves.
 TCN: Jammu provides an interesting backdrop to understanding the Kashmir politics as it presents a different outlook to the conflict. Do you think, like in Kashmir, things have changed in Jammu post abrogation of article 370? How would you describe the political mood in Jammu one year after the abrogation of article 370?
Bhasin: In Jammu, there has always been a political vacuum, which has been in place after 1947, because much of the division that happened across the LOC (Line of Control) happened in the Jammu division and the region was badly impacted. The leadership is divided unlike in Kashmir and whatever leadership emerged post-1948 was very pro-right wing leadership. This was also due to a massive communalization of the Jammu region, with massacres on both sides of the LOC, particularly in Jammu city and its surroundings. History in Jammu has been much nuanced. It has had a brush with communal politics and yet it is also a place which has assimilated many cultures and people over a period of many decades.
Because of a certain narrative in Kashmir, of which New Delhi has always been wary of, they have encouraged the Hindu right-wing of Jammu only as a counter to the Kashmir narrative. It was never a pro-Jammu narrative due to the political vacuum here. Amid this scenario, I don't see any political leadership emerging even now. There are very little chances of new political voices emerging unless it comes from the youth because youth have now started asking questions and asking questions is a good sign. This attitude of the youth tells you that they are a thinking generation. The youth are not trying to look at Kashmir, they are asking only about Jammu. They are asking what Jammu and Kashmir would lose as a whole and they want to be pro-Jammu without creating a counter-narrative about Jammu versus Kashmir. They are not looking at the conflict. They are focused on what they would lose in terms of jobs, land, admissions to higher educational institutions, and what is happening to the economy. I do find a little hope there.
TCN: There has been an increase in crimes against the Dalits in Jammu after the abrogation. This rising killings, apparently due to land disputes and the fear of losing land, is worrying Dalit leaders in Jammu. Tribal communities are still waiting for the forest act to be implemented to get their promised rights, while Domicile law provides citizenship to Valmikis. How do you summarize the situation of minorities in Jammu in the past year?
Bhasin: There were two kinds of people who on humanitarian grounds, needed to be accommodated as residents of Jammu and Kashmir – Valmikis and the West Pakistani Refugees. The Valmikis are being issued Domicile Certificates but they are of two categories – one settled in Jammu and other settled in Mira Shab and village areas. So there might be a rural-urban divide. Similarly, among the West Pakistani refugees, one has to understand the class and caste divide also. While many of them have managed to get a Domicile certificate, the Dalit community which are more than 70% are still suffering in the villages. Unable to get Domicile certificate, they are still living as refugees who feel their lives are not going to change. The tribal communities like Gujjar-Bakarwals, or the Gaddis, the forest dwellers have been struggling for implementation of the Forest Act which ensures their rights. It's still not happening even after a year. The government while advocating for Article 370 spoke about the marginalized people who would be given equality while ensuring the Forest Act applies to the region.
The Central laws which are beneficial to the people, especially to the marginalized sections have not been extended.
In the case of Dalits, the SC/ST Atrocities Act has been extended, but what is rare to hear is that there are more instances of crimes against Dalits and it's important to probe that. Why is it happening despite a law being extended? We should have reduced these crimes. It also has something to do with the different nature of Jammu and Kashmir and its beneficial policies. One very significant and progressive law was the Land Reforms Act which gave land to the tillers, particularly benefiting the Dalits of Jammu region. The Dalits live with pride and dignity because they own land which ensures economic independence and autonomy. If you compare the situation of Dalit persecution and untouchability in Jammu and Kashmir with rest of India, it was much less here. Now it has increased and we need to ask why? Are we seeing the reversal of The Land Reforms Act? As compared to the Upper caste in their respective areas, they were still powerless prior to 2019, now they feel even more disempowered. Bringing of SC/ST Atrocities Act is going to be of no use without its implementation except the greedy upper Caste mafia who is very interested in taking away the rights of the Dalits.
TCN: The new Domicile rules have caused worry and anxiety in the Kashmir valley. How have Jammuites reacted to the new rules? Are there any fears?
Bhasin: In some ways, the anxieties are there in Jammu, but they are not as amplified. Initially, everybody celebrated the abrogation without understanding what it would mean. The people in Jammu have been very pro-BJP and ultra-nationalist that they felt that Jammu's interest would not be let down and they were very confident that certain constitutional protections would be given to them as existing in Himachal Pradesh and North East, which is that people from outside can't settle there.
Jammu and Kashmir Civil Services (Decentralization and Recruitment Act) has replaced PRC with Domicile and that's the only law where we find the mention of Domicile. For government jobs, only the Domicile will be allowed but with broadened and loose rules, it offers a wide galaxy of people the right to obtain a Domicile certificate because there is no cut off given. Whoever has lived here at any point of time, the rules are so relaxed that if we were not going through this pandemic there might have been demographic flooding already by now. Now anybody can come and apply for jobs here and added motivation is that they can now own land. The only amendment is that they have struck off PRC, which means that land sale and land ownership is open to any Indian citizen.
There are also anxieties in Jammu because the business investments from outside will make it difficult for locals to compete. Because of the toll plazas and excessive taxation, the existing industries are not thriving so they will be no match for the industries or products coming from outside. This is a major upheaval where Jammu people are going to lose and if people from outside are coming into the state there is also a realization that Jammu will be impacted much more as the region is geographically better linked to mainland India. It's culturally and linguistically better linked to the rest of mainland India. So Jammuites fear that demographic flooding will first happen in Jammu. There is also a fear of the ecological impact of business investments which will increase the exploitation of natural resources.
TCN: Can you give our readers a picture of the political situation in the Chenab valley and other regions of what comprises Jammu division? What have been the political developments in this region and how are people of this region seeing the unilateral constitutional changes to the erstwhile state?
Bhasin: It's very difficult to say and it's a very important question because during the lockdown after August 5 2019, everybody was talking about Kashmir. Even the media teams coming from outside were descending into Kashmir. Nobody was going to Chenab Valley or Rajouri and Poonch areas even though they were under similar lockdown with no internet or phone lines working. I know of some teams that tried to go to Rajouri and Poonch but they were stopped at Sunderbani and sent back. In the next six months, people completely forgot about Rajouri and Poonch as they started to get more and more connected. We have heard very few stories from these areas of what has really happened. But are people happy? A year on, the kind of feedback that I get is that there are a different set of problems in Chenab Valley and Rajouri and Poonch. The threat of border tension has increased in Rajouri and Poonch area.
In Chenab Valley, where the demography is so fragile with 60-40% Hindu-Muslim ratio, it has always been vulnerable to communalization. The question now is will the common anxieties of losing privileges bring them together or will the divisive political narrative from New Delhi prevail to keep them divided. I am not sure right now. We haven't heard enough voices and I haven't gone to that area, so it's difficult to say. The only feedback I have gotten is that there is a lot of anger on both sides but is it unifying in nature or is it prone to divisiveness, I am not sure.