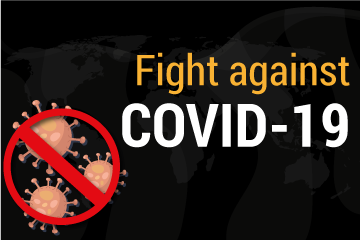 TCN News
National Confederation of Human Rights Organizations (NCHRO) has released a report studying the impacts of COVID19 on Indian Society as a part of its outreach programme to support the nation's recovery from the pandemic.
The 37-question online survey started on July 22 with the survey running in 8 languages – Hindi, Tamil, Bengali, Kannada, Urdu, Telugu, and Malayalam apart from English. Fieldwork was initiated by NCHRO's volunteers and network of institutions, covering the poor and the marginalized that rarely have digital access while the research was organized adhering to all COVID protocols.
The report covers a wide range of issues starting from public life in general to how livelihoods, personal spaces and work habits have been affected due to the longest physical isolation in recent history. NCHRO has identified everyday lifestyles that can be further developed into understanding how the post-pandemic world can respond to these changes and effectively address them. One of the most significant findings is that Indians have been generally very compliant to government guidelines like mask-wearing and physical distancing, with 94% respondents regularly wearing masks when leaving homes and 85% consciously following physical distancing norms at public places and transport. Some were even reported to using improvised means of covering the nose and the mouth.
The report found that attitudes and behavioural responses to COVID-19 situation has resulted in the emergence of seven different practices that 65% population indicated to have adapted to immediately. These seven practices include frequently washing hands, wearing facemasks, physical distancing, minimizing contact with the sick and vulnerable, stocking up of food and medicines, and avoidance of social gatherings and communal prayers. While 34% of respondents stocked up home supplies and medicine, food security concerns shot up to a 30% high. The study has revealed that as COVID19 highest single day infection rates continue to grow in India with no end in sight, people are already facing food insecurity, which is further aggravated as a result of the loss of their traditional jobs.
A developing country like India, where most of the population depends on the informal economy for their livelihood, is extremely vulnerable to any disruption. Given the fact that many people would have no income or substantially reduced income in the coming months, a very large number of Indian households would be unable to survive even for relatively short periods without additional assistance. Low-income families and those with a large number of unemployed members were hit the hardest during the pandemic. 75% respondents in the survey agreed that as a country India has failed to address difficulties faced by the migrant labour, the poor and the marginalized. The workers and their families were forced to walk home hundreds of kilometres on empty stomachs whereas the Supreme Court took cognizance of labourers' plight only after more than 60 days.
The NCHRO report stated that hunger is going to be a major challenge for the country demanding extraordinary measures from the authorities. The fallout from the pandemic is already felt in rural areas, where there is an almost three-fold rise in the number of people requiring food assistance. Immediate action must be taken to provide prompt and direct food aid.
With the worsening food insecurity in India, financial instability has also risen. The NCHRO research found that 85% of respondents felt stressed about their finances. Nearly half of the respondents reported losing their job or closing their business (48%) and 31% reported as partially affected. Only 16% said they could survive. Given the low baseline income of many households across all states, Covid-19 is causing an economic crisis for almost all. The national crises created by the pandemic and subsequent economic lockdowns are severely affecting the livelihoods of low-income people all around.
While the Indian lifestyle is headed towards a huge change, the socio-economic milieu of society has also received surprising blows during the pandemic, the study revealed. With the Tablighi Jamaat controversy and ostracization of the vulnerable classes, 52% of respondents reported that they would prefer not to interact with a person who was cured of the disease. News reports during the past few months showed incidents of neighbourhoods protesting against cremation or funeral services of a patient who died due to COVID19. Fear made people ostracize the Covid-19 cured or keep away from them. However, a lot of fear was created by fake news which in turn stigmatized those cured. Despite the pain and suffering, the pandemic has caused, 32% of the respondents said they experienced hateful messages, actions, or discriminatory behaviour. Many have endured verbal and physical assaults, and at times, institutional exclusion. It is mostly due to the virulent hate campaign, xenophobic remarks and attacks, posting of fake pictures and videos etc. on social media. In this regard, the NCHRO report calls for better education against rumour-mongering and political slugfest about any medical emergencies including pandemics.
The report has also shed light on information broadcast about the COVID19 pandemic, revealing that 82% of respondents depended on conventional sources for news and information about the disease. About 2% stated that they didn't have the information they needed about the authorities' handling of the coronavirus. For 59% the medium was either SMS/WhatsApp and 40% relied on information from family, friends, neighbours etc. Apart from lack of mobile phones and access to the Internet as well as a level of education keeping people away from potentially life-saving information, the survey reflected multiple uncertainties about the dynamics between the disease and treatment, public health policies, the economy and society.
The study also found that an increasing number of educational institutions who moved to online teaching has created a widening disparity regarding the accessibility of education among students. 41% responded that they did not have the necessary facilities in place for online education for their children, reflecting that the digital divide has far-reaching consequences when it comes to education. In practice, the online classes undermined the concept of "Education for All". The pandemic forced most of the public schools to temporarily shut down and many private schools switched exclusively to virtual teaching, thus exacerbating the education gap between rich and poor.
Discussing government help during the pandemic, the survey said that 58% respondents believe government intervention had no positive impact on the day to day lives of people, which they are unsure was due to bureaucratic hassles or difficulties in fixing eligibility criteria. Further, 77% of respondents believe that the central government and many state governments have used this pandemic as an opportunity to widen repressive measures and take advantage of executive authority to implement their hidden agenda. While 62% felt that some political parties were trying through NGOs and associations to use funds to promote themselves while distributing government aid, 81% agreed that deep-seated hate-filled propaganda continues to plague the nation.
The NCHRO research concluded that COVID19 has transformed people's lives, especially in India, on an unprecedented scale in just a couple of weeks. What the government does right now would define the future, and yet making decisions and acting with assurance has never been more challenging. It has recommended that in light of this health emergency and new reality, the priority is to protect the health and safety of people. The authorities must have taken quick decisions, and emergent actions, to protect and support the people but in the initial absence, locals and health workers have done a wonderful job with very rare exceptions. As is often the case, the biggest brunt of this downturn is being borne by those with lower educational and income level, people with disabilities, Dalits, Tribals, minorities, and individuals who have other morbidities and the biggest challenge lies ahead for authorities to address the existing disparities in accessibility, education and social security for all.