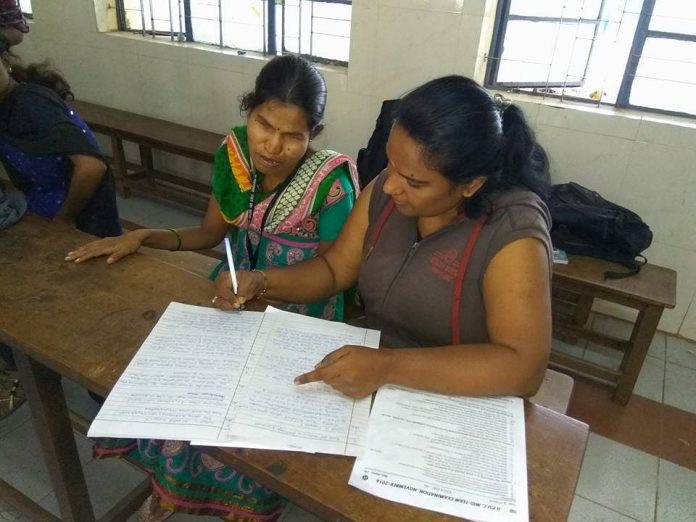 For scores of visually impaired students from Tamil Nadu, writing exams amid the ongoing pandemic has been a tough ask, with no or minimal assistance by the government.
Shalini S | TwoCircles.net
CHENNAI – For Parameshwari, a 29-year-old visually impaired student from Puzhal, Red Hills, Chennai, the availability of a scribe is an existential question. A scribe is a sighted volunteer who could help her in writing exams. Not only her career but her life depends upon it. 
She is in her final year of post-graduation in English literature through distance education at the University of Madras, which is 21 kilometres from her distance. Married at an early age, she has two kids. Her youngest kid is 3 months old. "Domesticity seems less tiring than having to look for a scribe," says Parameshwari as she pacifies her newborn while the elder toddler starts throwing a tantrum. Her mother Selvi goes to sell flowers in the morning and returns by evening. Meanwhile, Parameshwari who finished her B.Ed. from Chengalpattu, manages the household chores and takes care of her two daughters. Her father, who worked at a construction site on a contractual basis is now unemployed due to old age. 
Parameshwari says that one doesn't have it easy being blind and a woman. After overcoming the challenges of preparing for an examination, whether or not she'd pass the test depends upon the availability of a scribe. "Sometimes, if the volunteers can't come as promised, we'd have to skip the exam and it will fall as an arrear."
Accessibility to education has been a major concern for the visually impaired (VI) community even before lockdown. The situation worsened post–pandemic as the visually impaired students of Tamil Nadu complained of facing exclusion and neglect in online education. It exacerbated the existing inequities for the community particularly in terms of arranging a scribe during examinations.
According to the 2011 census, Tamil Nadu has a 1,27,405 visually impaired population. Dr Aranga Raja, President of College Students and Graduates Association of the Blind (CSGAB) in Chennai, there are over 2000 visually impaired college and school students, and scholars in the state. 
Double marginalization
During her training period in the final semester of B.Ed. program, students at secondary level would mock her for wearing bright yellow saris and play pranks by replacing her materials or misplacing chairs in the classroom. 
"In the beginning, it would hurt, but eventually I got used to it. If students are entertained by my disability, let them have fun but I will not have others hurt or humiliate me" she says.  
She has three elder siblings and two of them are visually impaired too. One of her elder sisters is pursuing PhD in Tamil literature. "I want to complete my post-graduation and do a PhD like her. I wonder when that time will come."
Parameshwari says it was easier to arrange a scribe during her under graduation than now. "I studied in a private school till my 6th standard and in a special school after that. Schools are much better in arranging volunteers to write our exams, unlike colleges." 
For instance, during her undergraduate course at Queen Mary College, for semester exams she'd have to pay a scribe 500 – 1000 INR per day for volunteering. The money was paid out of her pockets.
Colleges violate scribe guidelines
Parameshwari had to pay for the scribes while guidelines for conducting written examinations for disabled students mandate the educational institution to pay the volunteers. The reality is that a large number of colleges don't follow the guidelines. 
During her undergraduate days, in the pre-Covid era, Parameshwari relied on reading centres for the visually impaired community arranged by elderly citizens who intend to do social service. She'd get contacts of working professionals from the centres to assist in her examinations but this has been drastically affected in lockdown as the reading centres are no longer functioning.
Dr Raja says that "according to the recent guideline released by the government of Tamil Nadu on 21.09.2021, the scribes are to be paid an allowance of 300 INR. But city colleges like Pachaiyappa's pay only a meagre amount of 25 INR."
"As per the central development scheme of UGC (University Grants Commission), every university and college must have a Higher Education Centre for Disabled Persons but it is not the case with the University of Madras or any other city colleges here" he adds.
The Madras University officials, however, assured that they will look into the matter. According to Prof. N. Mathivanan, Registrar of the university, "the university will look into the new scribe guidelines," a response which Dr Raja doesn't find "very promising." 
HC didn't issue instructions for visually impaired
Dr Raja points out that hundreds of visually impaired students and graduates were denied the opportunity to take up a competitive examination last month for Clerical jobs. The Madras High Court didn't issue instructions for the exam centres to allow the visually impaired aspirants along with their scribes. 
The minimum qualification for the posts notified was 8th grade. Lakshmi Narayanan, a 12th grader says "I was not allowed to enter the centre because I require a scribe. We all had our hall tickets and application form but were denied the opportunity." 
"There were other elderly graduates who got heartbroken by this incident. We work day and night to prepare for these government examinations as no private company will provide us with an opportunity. But we were sent back home only because we are blind" he adds.
"There is no rationale behind it and we are filing a case against this in the Madras High Court. Such misconception from the High Court's side sets a bad example for other sectors. They cannot take the visually impaired community for granted. If the jobs are not meant for us, they shouldn't identify it in other ways in the exam notifications only to discriminate against us later," adds Dr Raja.
Post-pandemic online classes made life difficult
Attending online classes or appearing in exams online could be simple and easy things in a dream world. For visually challenged students from a financially humble background, the very process of going online and appearing in an exam could be a very challenging process. Parameshwari gives the example of her compulsory internal assessment scheduled last month. 
She managed to arrange for a scribe who had to travel a long distance to get to Parameshwari's house and assist her. Travelling during Covid risks both the parties, particularly Parameshwari's newborn baby. Yet after all the arrangements, Parameshwari was unable to access the link provided on the University website to take up the online exam.
Siddarth (39), an Engineer who scribes now and then, who helped Parameshwari find a volunteer underlines how what is an easy thing could become a difficult process for visually challenged students like her.
"It is going to be difficult for Parameshwari because she couldn't appear in her internal assessment exams. We tried mailing and calling the concerned University department. I even went down to the University thrice to enquire but they just make you wait and provide no clarity" he said.
Rich students get brilliant scribes
Parameshwari is deeply conscious of her class status and how disabling it could be for her in realizing her dreams. Rich students who are blind have access to scribes who are academically brilliant and they, in turn, help them excel in the exam. 
"What is sad is that people like me who come from a poor background cannot imagine clearing government exams easily. People who can afford the money to arrange good scribes will seek their help academically to clear the exams. These are issues that nobody likes to talk" Parameshwari added subtly.
For Parameshwari the combination of poverty and lack of sight is a daunting cocktail of disabling factors pulling her down
After she couldn't attend her examination she seeks solace in her two children. When asked about her husband, she says that it's a failed marriage. As her mother returns from the sales, Parameshwari goes silent as discussing her marriage life would worry her mother.
"Only If I had a boy child, he'd give more protection to the family. However, I am glad my girls are not blind" she sighs.
Shalini S is a SEED fellow with TwoCircles.net. She tweets at @_Shalini_Nathan