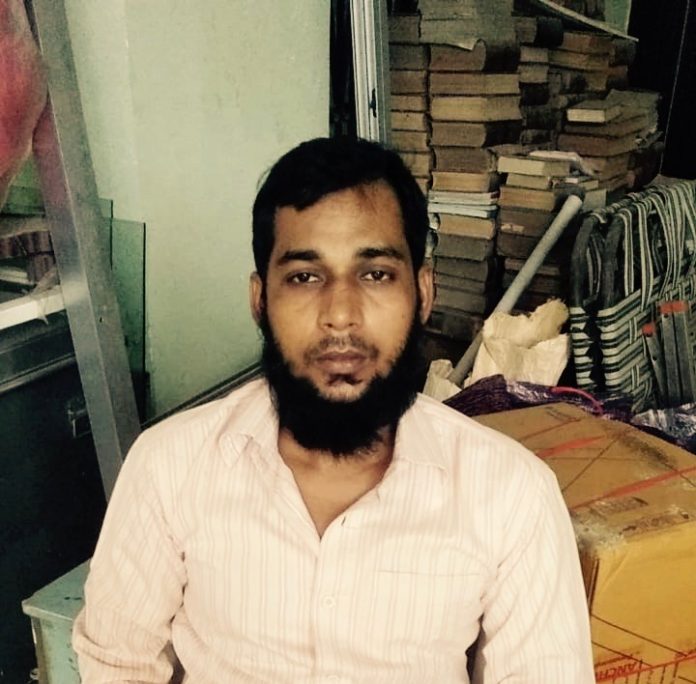 Thirty-four-year old Fakharuddin of Katra Kotwali, Mirzapur, Uttar Pradesh was recently freed after spending seven years in jail on terror charges, which the state was unable to prove in court.
Sami Ahmad | TwoCircles.net
BIHAR – On February 23, 2014, Fakharuddin of Katra Kotwali, Mirzapur, Uttar Pradesh was driving back his pick-up van from Sonbhadra district of the state after unloading chickens. On the same day, he got a call from a 'client' asking him for big order of chickens needed for a marriage ceremony. He rushed to the client's place at Bariya Tola in the same city. Upon arriving at the place, he was shocked to find sleuths of the National Investigation Agency (NIA) waiting for him and he is arrested. 
He was 27 years old at the time of his arrest. Fakharuddin would provide for his family by working as a driver. 
During his interrogation, Fakharuddin said he was told by the NIA that he was involved in serial bomb blasts case which took place in Patna on October 27, 2013. On the day of the blasts, the then Gujarat Chief Minister and BJP's Prime Ministerial candidate Narendra Modi was addressing the 'Hunkar rally' at Gandhi Maidan. There were 7 blasts around Gandhi Maidan and at Patna Railway Junction. Six persons lost their lives and around seven dozen got injured. 
On October 27, 2021, and 8 years after the blasts, the special NIA court convicted nine persons out of the ten accused and acquitted Fakhruddin. The special NIA court of Gurvinder Singh Malhotra pronounced the quantum of punishment on November 1. While four of the accused namely Haider Ali, Noman Ansari, Mohammad Mujibullah and Imtiyaz Ansari were sentenced to death by hanging, two accused Umar Siddiqui and Azharuddin Quraishi were awarded life imprisonment and two other accused Ahmad Hussain and Firoz Alam each received ten years of imprisonment. One accused Mohammad Istikhara Alam was sentenced to seven years of imprisonment, although he has already spent the same amount of time in jail. 
Fakharuddin was set free by the court due to a lack of evidence against him. 
On October 28, his family members and a Hindu friend quietly took him back to his home. His family is relieved with the reunion. 
Fakharuddin's 7-year-old daughter Zainab finds it awkward to believe that he is her father. Fakharuddin's first and only child Zainab was born on the day he was picked up by the NIA. Zainab is studying in class 1. When she is told that he (Fakharuddin) is her father she just runs away. 
After spending seven and a half years in jail, Fakharuddin is readjusting to life. His father Gulam Murtaza runs a small snacks shop. 
Fakharuddin told TwoCircles.net that he is hoping to get his job back to support his family. 
Talking over a phone from Mirzapur, Fakharuddin recalls the dreaded night when he was framed. He says was interrogated by NIA on the first night of his arrest. 
"When my family called me on my cell phone, they (NIA sleuths) took away my phone and switched it off," he said. 
The next morning on February 24, the local police inform his family that Fakharuddin has been arrested in connection with Patna serial bomb blasts case. 
"They told me that one of my friends was also arrested and he had mentioned my name and named me as one of the accused," he said.
Fakharuddin said after he was produced at a local court, he was taken to a jail in Patna. 
He was charged under sections 302, 120 B, 121, 121 A of IPC and 16, 18 and 20 of Unlawful Activities Prevention Act (UAPA) apart from section 345 of the Explosive Substance Act. 
Although he was set free by the judiciary, Fakhruddin is beset with the horrors of jailed life and its after-effects. "Jail ki zindagi mein zillat aur pareshani hi milti hai (Life in jail brings contempt and worries).
When he returned after long years of incarceration, not many came to meet and greet him. Barring his close family members, most neighbours kept their distance, as he alleged that they fear repercussions. 
He rues even though he was innocent, "no one came to my rescue or helped me." He adds that he has no complaints against saying "NIA ke darr se koi samne nahin aana chahta (The fear of NIA prevents people from coming forward)."
Fakharuddin developed gastrological problems in the jail as the "food served there was unhealthy." 
One of the first things he did after arriving at home was to have home-cooked food. "It made me happy," he said. 
He alleges of mistreatment in jail. "I have developed a health issue in my throat," he said. 
Talking about his jail life, he alleged that he "was not allowed to get out in the sun." 
"I was harassed sometimes when I wanted to offer prayers and was prevented from going to the library and canteen," he said. 
The only time he could meet his family members was when they came to hand over woollen clothes for him, he said. 
"I lost my close relatives while I was in jail. It is sad," he said.
It was Jamiatul-Ulema Hind (JIH) that provided legal support to all of the accused in the blasts case, including Fakharuddin. The defence team was led by Sayed Imran Ghani. 
Advocate Ghani told TwoCircles.net that he is waiting for the judgement and what it says about the rehabilitation of Fakharuddin. "We would demand proper compensation for him," he said. 
When asked why it took so much time for Fakharuddin to be acquitted, Advocate Ghani said that "there were around 190 witnesses, 4000 pages of different documents, transfers of the judges and vacant court apart from the dilly-dallying tactics of the prosecution that caused the delay." 
Sami Ahmad is a journalist based in Patna, Bihar. He tweets at @samipkb