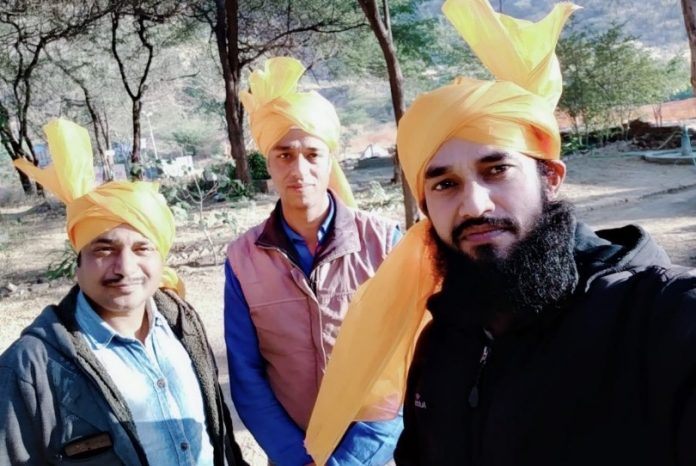 Several pictures shared on social media by two BJP members show the Udaipur killer Riyaz Attari posing with BJP leaders.
Waquar Hasan | TwoCircles.net
NEW DELHI — The link of Bharatiya Janata Party (BJP) with the Udaipur resident Riyaz Attari, who hacked a Hindu tailor for supporting former BJP spokesperson's remarks on Prophet Muhammad, has emerged after a member of BJP's minority cell had called Attari a "BJP karyakarta (worker)" in Facebook posts in 2018.
On June 28, Attari and Muhammed Ghouse hacked a Hindu tailor Kanhaiya Lal in Udaipur, Rajasthan for supporting Nupur Sharma over her derogatory remarks about Prophet Muhammad, which caused massive outrage globally. They shot a video while killing Lal and posted it on social media. Rajasthan police quickly arrested both the accused, with two more 'masterminds' arrested on July 3.  
Udaipur killer seen with BJP members
On 28 November 2018, BJP member Muhammed Tahir posted three photos (see below) of Attari being garlanded by Tahir himself, BJP minority cell leader Irshad Chainwala and a teacher Munna. Tahir called Attari "beloved brother" and "BJP worker."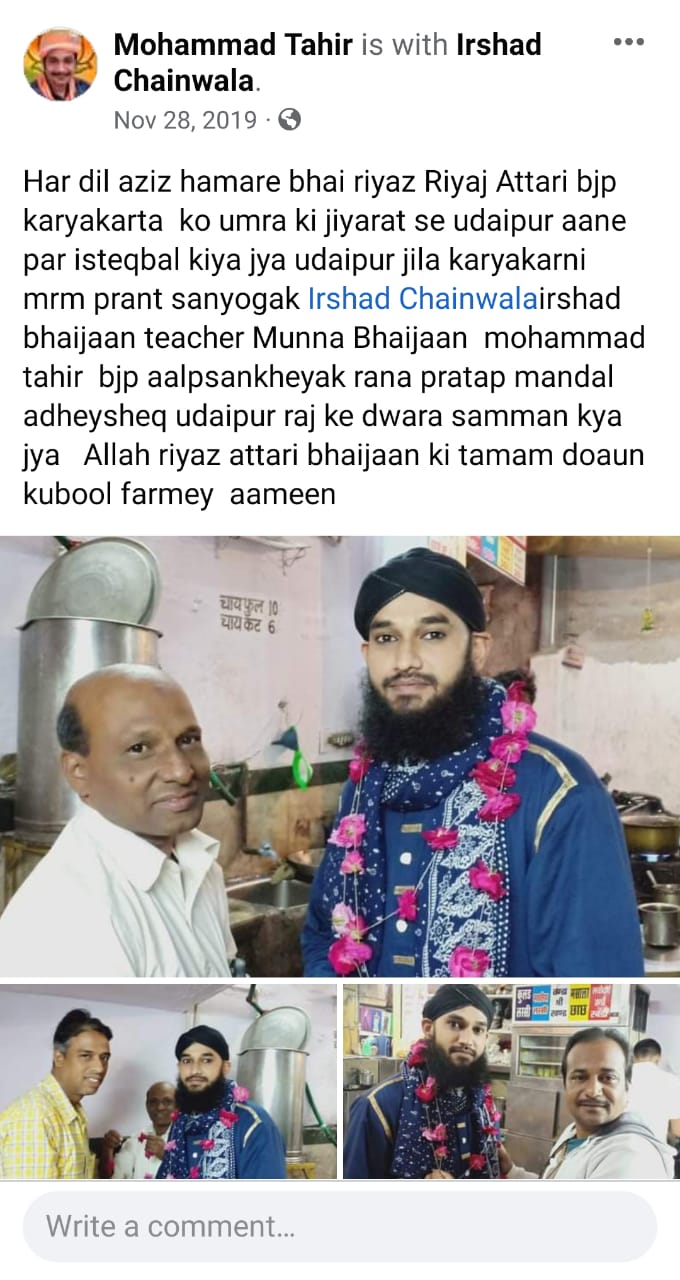 "Our beloved brother riyaz Riyaj Attari BJP worker was welcomed on returning from holy site pilgrimage by Udaipur district Karyakarni MRM (Muslim Rashtriya Manch) prant sanyogak Irshad Chainwala, teacher Munna Bhaijan and Mohammed Tahir. He was honored by BJP Alpsankheyak Rana Pratap Mandal. May Allah accept all supplications of brother Riyaz," reads the post of Tahir along with three photographs.
Tahir also posted several photographs in which Attari was seen with Rajasthan's BJP leaders including former Rajasthan home minister and leader of opposition Gulab Chand Kataria.
On 29 November 2018, Tahir posted a photo (see below) in which he along with Attari and Chainwala can be seen with Kataria.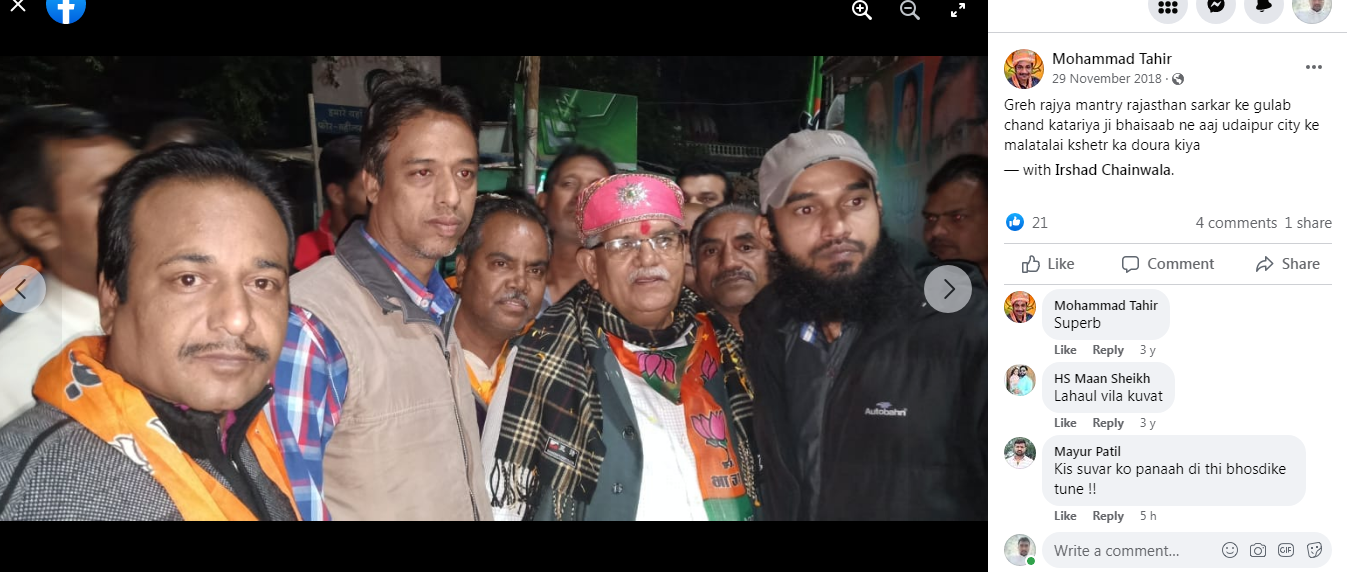 "Rajasthan home minister Gulab Chand Kataria today visited Udaipur city's Malatalai area," reads the caption of the photo. Chainwala also posted the same photo on the same date.
On February 3, 2019, Tahir posted a photo (see below) in which Attari along with Tahir and Chainwala can be seen with BJP head of Udaipur unit Ravindra Shreemali.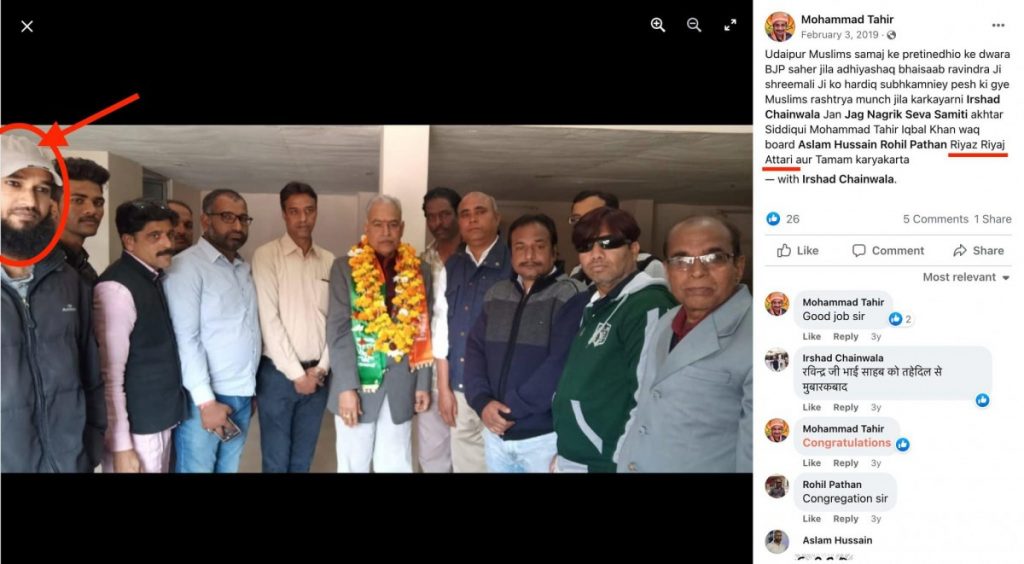 Apart from these photos along with senior BJP leaders, there are several photos of Attari along with Tahir and Chainwala posted on Tahir's Facebook timeline.
There are photos (see below) of Attari along with Tahir and Chainwala at Mazar in Udaipur dated 12 January 2019.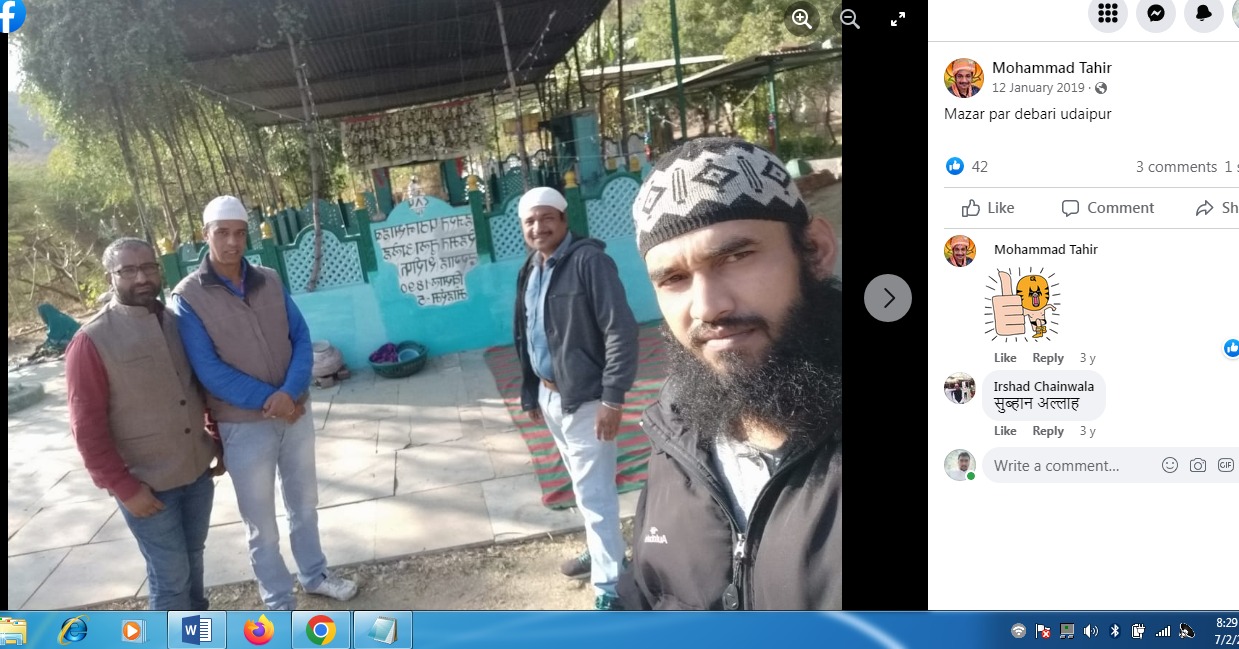 In another photo (see below) uploaded on 26 December 2018, Attari is seen with Tahir and Chainwala.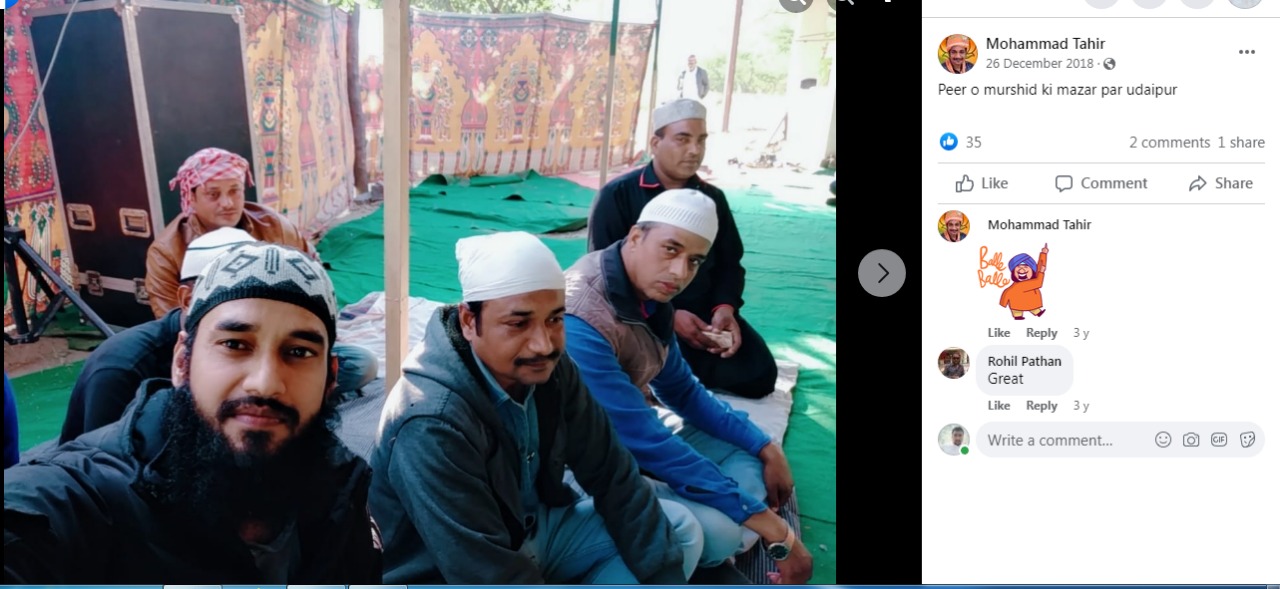 In another photo (see below) uplaoded on 22 December 2018, Attari is again seen with Tahir and Chainwala.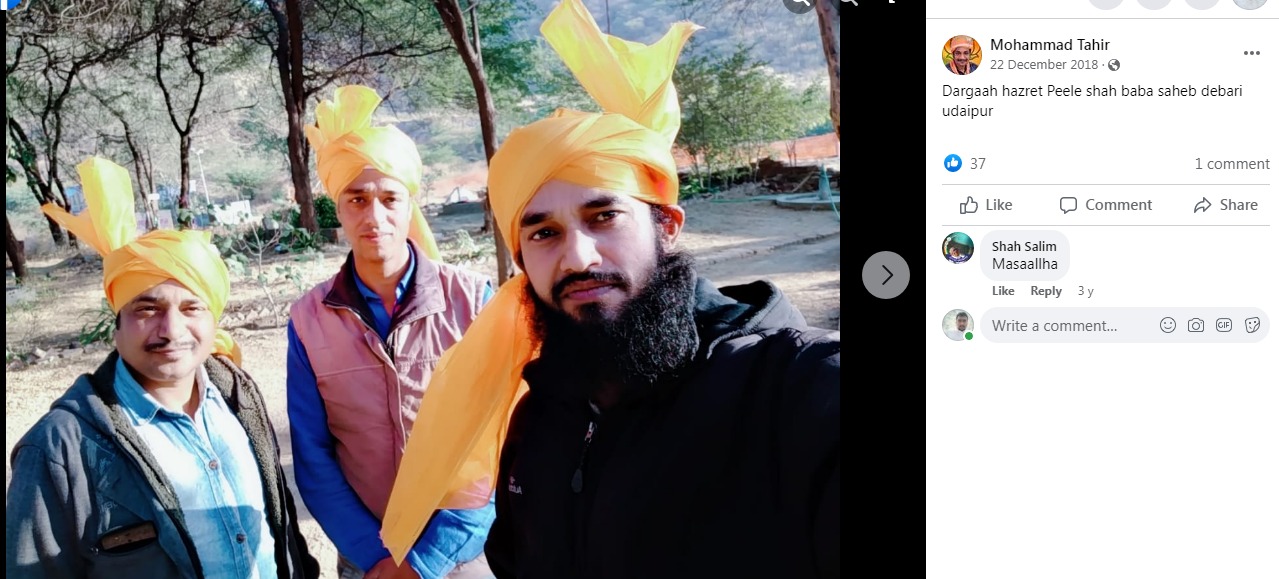 In another picture, which has since gone viral, Attari is seen felicitated by BJP leaders.

इस फ़ोटो में भाजपा की राष्ट्र्भक्ति की असलियत दिख रही है। भाजपा का आतंकियों के साथ गठबंधन सब के सामने है। pic.twitter.com/FUrS28qvHz

— Jairam Ramesh (@Jairam_Ramesh) July 3, 2022
Talking to TwoCirciles.net, Chainwala, who is associated with the BJP and Muslim Rashtriya Sangh Mach (MRM), justified his photos with Attari saying that anyone can click a photo with him. He defended himself saying that a photo of Yasin Malik, Kashmiri separatist leader sentenced to life imprisonment last month over terror-funding charges, was also seen with Manmohan Singh.
"These photos are made viral with a conspiracy. I am a dedicated worker of the BJP for the last 25 years and I work for the party sincerely. Riyaz Attari, who is being called a BJP member, was not even our primary member. We don't know as to why he used to come to party events and meet people around," Chainwala told TwoCircles.net. 
Chainwala said that anyone can come and click photos and anyone's photo can appear with anyone.
"The emergence of the photo does not prove the accusations. I am ready for every kind of investigation being done by any agency. My call details can be brought out," he said.
Chainwala said that Attari used to work for the party before 2019. "After that, he has no connection with the party," he said. 
Chainwala also called Tahir "a little-known member of the minority cell."
However, Tahir's Facebook profile shows that he was not an ordinary member of the party. He boasts of good connections with Rajasthan's senior BJP leaders.
On 19 March, Tahir posted a photo (see below) of himself putting a saffron shawl around Kataria's neck saying that he visited Kataria's residence to greet him during the Holi festival.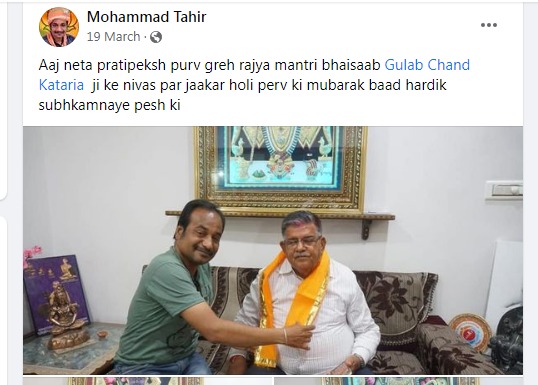 Tahir also posted photos (see below) in which he can be seen with Rajasthan BJP's president Satish Poonia and senior RSS leader and Muslim Rashtriya Manch head Indresh Kumar.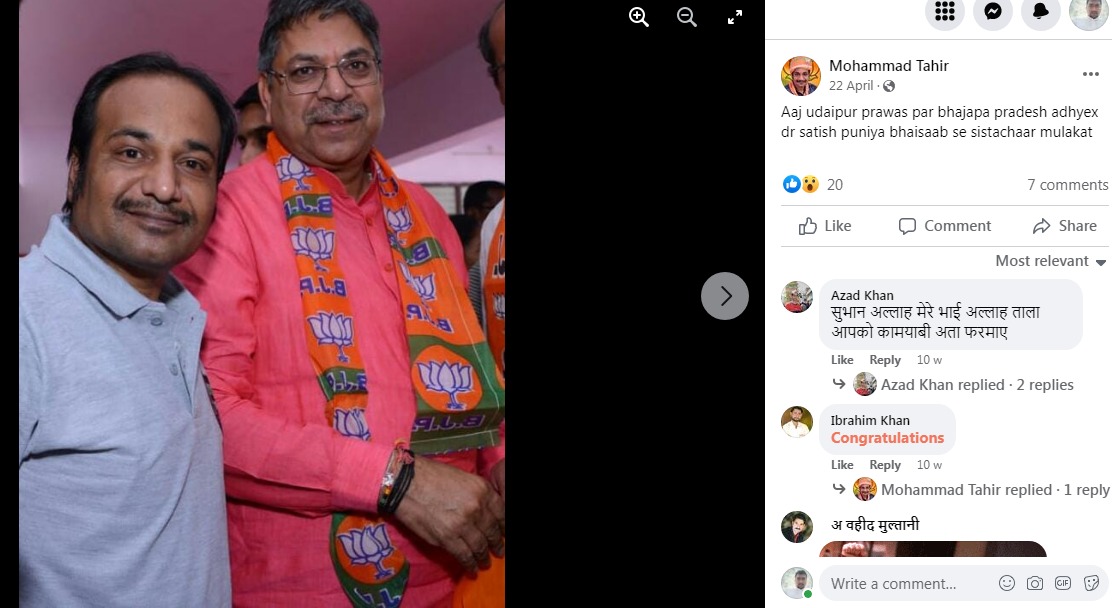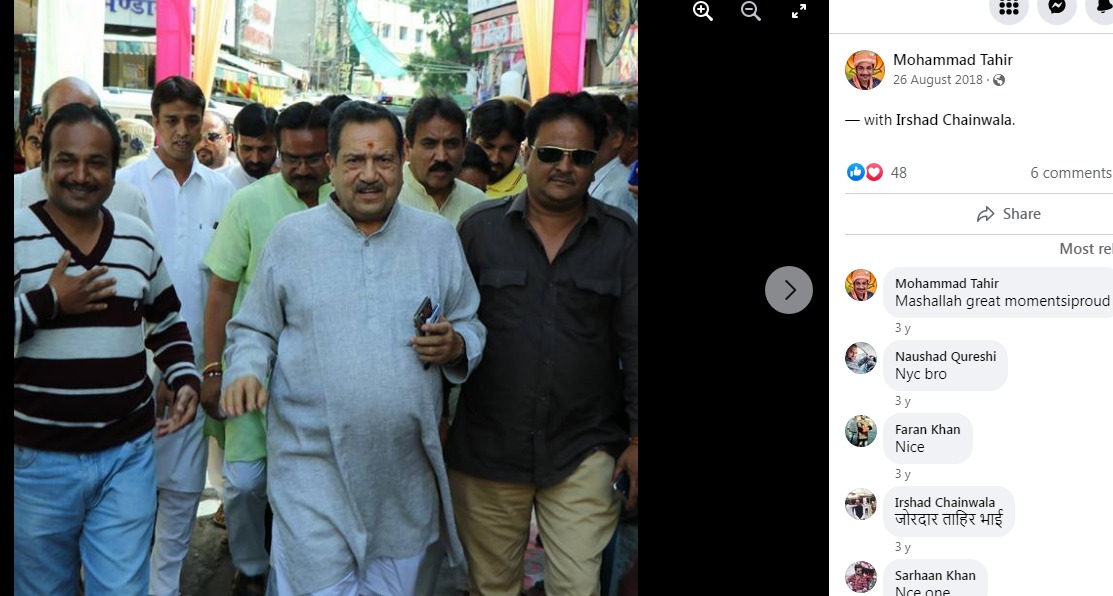 Tahir's Facebook timeline is full of posts about the BJP activities which show that he was quite active politically.
Talking to Hindi newspaper Dainik Bhasar, Tahir said that he had known Attari for the last five years and he met him through a friend.
"I met him through a friend. He had a dispute with his room owner. I had helped him by being a part of a community. He was sick for six months and I helped him," Tahir said about Attari.
Tahir also claimed that Attari wanted to join the BJP. "He stopped working for the party six months ago," Tahir claimed. 
Following the emergence of these photos, senior Congress leader Pawan Khera held a press conference at its headquarters in New Delhi on July 2 and sought clarifications from the BJP. 
Calling Attari an "active member of BJP", Khera questioned the silence of Prime Minister Narendra Modi and Union Home Minister Amit Shah. He also raised questions over the quick transfer of the case to the country's primary anti-terror task force National Investigation Agency (NIA) by the Union Home Ministry.
Talking to reporters, Rajasthan minister Rajendra Yadav said that Attari was also the polling agent of Kataria in Udaipur.

Waquar Hasan is a journalist based in Delhi. He covers human rights abuses and hate crimes. He tweets at @WaqarHasan1231