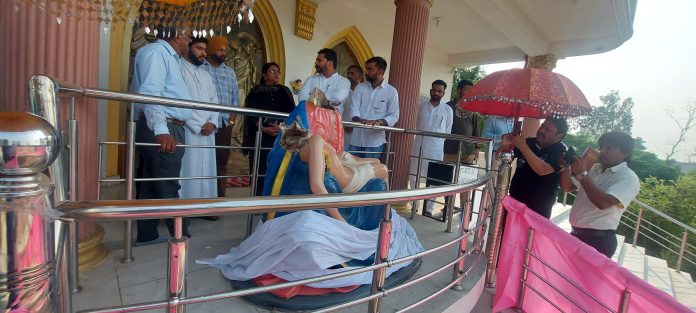 The attack on the church in Punjab is the latest in a string of more frequent assaults on Christians in recent months amid allegations that Christian missions are conducting "large-scale forced conversions". 
TCN Staff Correspondent 
Amritsar (Punjab)/New Delhi — Largely a peaceful state with a legacy of social harmony, Punjab is fast losing its sheen. The state has witnessed a spate of attacks against Christians and churches in the recent past, which is still going on unabated.
Close on the heels of the desecration of Jesus and Mary statues at a church in Taran Taran by masked men, a glass sheet of a window of a Catholic church at Nandanpur village in Jalandhar district was found missing on September 29. 
Though the church management called the attack on their place of worship part of a "thoughtful trick and conspiracy", the Jalandhar police have ruled out any such attempt of vandalism. 
"A small piece of window sheet fell in the church. The police are trying to ascertain whether it was a technical fault or someone's handiwork. Investigations are on, and we cannot register an FIR (first information report) till the investigation is over," said Jalandhar SSP Swarandeep Singh, advising people to refrain from rumour mongering.
On August 31, a group of four masked men "forcefully entered" Infant Jesus Catholic Church campus at Thakarpura village in Taran Taran's Patti Assembly constituency, "attacked" the security guard and held him captive at "gunpoint". 
The "armed" intruders vandalized a statue of Jesus Christ and Mother Mary at the entrance of the prayer hall on the first floor of the church and took their heads away.
At the time of the incident, around four people were inside the church campus including Father Thomas Poochalil, his two associates and a guard. 
"At around 12:30 am four unidentified masked men entered the church campus and held the security guard captive at gunpoint. Thereafter, they climbed the first floor of the church, vandalized the statues and took away their heads," said Father Poochalil. 
He added that "the masked intruders also set a Baleno car parked on the church premises on fire before they left the campus. It was meticulously planned as the vandals did not stay on the campus for more than 25 minutes".
After the vandals left the church campus the security guard informed, the priest rang up the station house officer (SHO) of Sadar Patti police station who thereon sent two police officers after 15 minutes and registered an FIR (No. 0148/2022) against the unknown accused under section sections of 295-A, 452, 427, 34 of the Indian Penal Code (IPC) and 25 of Arms Act, 1959.
The sections are related to deliberate and malicious acts intended to outrage religious feelings, house trespass after preparation for hurt, assault or wrongful restraint, mischief and acts done by several persons in furtherance of common intention.
A special investigation team (SIT) headed by the Ferozepur Range Inspector General (IG) is investigating the attack, but no arrest has been made so far. The SIT also includes the Tarn Taran SSP and the SP (Investigations). The SIT has been tasked to conduct a day-to-day investigation into the case and submit a final report to the competent court soon.
A routine Sunday prayer, which includes preaching and a healing session, at a makeshift church at Daduana village in Amritsar, was attacked on August 28 over the allegation of conversion and superstition.
"Around 500 Nihangs (a Sikh warrior order), armed with sharp-edged weapons, sticks and firearms, attacked the assembly at around 11:30 am when the regular Sunday prayer was going on," alleged Pastor Sukhvinder Raja, who belongs to the Pentecostal Christian denomination.
Pentecostalism is a charismatic Christian movement which emphasises the direct personal experience of God through gifts of the Holy Spirit like prophecy and healing. 
He further alleged that it was him who was their target, but the mob failed to recognise and spot him and was somehow rescued by the devotees. 
"The devotees locked me inside a room located close to the prayer venue. After they failed to find me, they attacked the assembly and ransacked everything," he alleged.
The Nihangs, the pastor alleged, had already begun gathering since nine in the morning and had tried to block access to the place of gathering. 
"As I told the worshippers, who were around 200 in number and mostly women and children, that it was the day of test of their faith and that Jesus is alive, the assailants barged into the tent," said the pastor, while narrating the sequence of the incident. 
"They did not spare anyone and anything. Around 45 people suffered injuries," he said, alleging that all that happened in presence of the strong police force — which was already there as the Nihangs had started gathering.
An FIR (No. 0233/2022) was registered at Police Station Jandiala on August 29 against unknown assailants under sections 295, 296, 427, 148, and 149 of IPC, but no arrests have been made so far.
Following the attack in August, the Sunday prayer at the makeshift church stands discontinued because the community, including the pastor, is feeling threatened. The prayer meeting has temporarily been shifted to the pastor's residence with reduced participation.
A local leader of the Nihangs alleged that mass conversions were going on for the past few months in the name of prayer sessions. They had to take "appropriate actions" themselves, he said, after the police administration despite complaints and resistance by locals failed to take action. 
"The organizers made to sit innocent Sikhs in the programs to lure them into conversions by the so-called miracles," he alleged.
Pastor Sukhdev Mark Karnail Singh was distributing pamphlets and books (propagating Christianity) at the Ambala Cantt bus stop on September 15. 
"A Sardar (turban-clad Sikh) was listening to me patiently. He sought to know more about Jesus Christ. I gave him a few books. We shared our cell phone numbers as well," said Pastor Singh, who is a part-time cab driver, driving an Indigo car for a living.
"One day, he rang me up and asked if he can drop him at Sri Guru Ram Das Ji International Airport in Amritsar. I agreed to drop him. Upon reaching Amritsar, he took me to a deserted street near the Celebration Mall in the heart of the city on the pretext of collecting his air ticket. On his way, he dialled a few persons, and seven people reached the place in a few minutes. As I was about to take out the luggage from the vehicle's boot, unidentified men began stabbing me with knives. Before I realized anything, they disappeared leaving me on the spot," he narrated. 
With blood oozing out from the body, he said, he gathered courage and drove to the nearest police post from where cops rushed him to the government-run Guru Nanak Hospital for treatment.
Based on his statement, the police registered an FIR (No. 0268/2022) with offences under sections 323, 324, 341,34 of IPC at Amritsar Sadar Police Station on September 16.
But no arrest has so far been made in this case as well. 
The attack on the church is the latest in a string of more frequent assaults on Christians in recent months amid allegations that Christian missions are conducting "large-scale forced conversions". 
The official data, however, does not support the allegations. Christians, as per the 2011 Census, constitute less than 1.5% of Punjab's population while Sikhs are around 58% and Hindus about 38%.  
1. Pastor Birbal from Hambra village in Ludhiana district was allegedly threatened on July 19 by villagers, who reportedly told him not to conduct any service on Sunday (July 24). 
He informed the police about the incident who in turn assured them of sending security for the Sunday prayer meeting. When the Pastor was returning home after leading the prayer, a violent mob attacked him to the extent that he fell unconscious. 
Subsequently, an FIR (No. 0131/2022) was registered on July 21 under IPC sections 307 (attempt to murder), 323 (voluntarily causing hurt), 506 (criminal intimidation), 341 (wrongful restraint), 427 (mischief causing damage to the amount of fifty rupees),148 (rioting, armed with a deadly weapon) and149 (unlawful assembly) at Dakha Police Station in Ludhiana.
2. A missionary namely Anamika was distributing tracts at the Post Graduate Institute of Medical Education & Research in Chandigarh on July 29 when a group of extremists stopped her from doing so. They created a ruckus and called the police.
Anamika was detained at PGI women's police station. She was released after a local pastor, Vishnu Dev intervened.
3. On August 14, Pastor Balkar Masih from Amritsar was conducting prayer services at the residence of a believer at Darbar village in Amritsar's Anjata city. The venue had around 40-50 worshippers when a group of miscreants allegedly forcefully entered the house and threatened the pastor not to conduct any prayer meeting.
Later, they allegedly went to the pastor's church and waited outside the gate to "teach him a lesson". But the pastor did not turn up, fearing for his life. The issue was resolved after locals reached a compromise.
4. A group of Christians, which was distributing tracts on August 26 in the Taran Taran district, was allegedly questioned and threatened with dire consequences if its participants did not refrain from indulging in the preaching and propagating activities.
5. Pastor Rakesh from Ludhiana was conducting a prayer service on August 30 when a group of "extremists", as alleged, forcefully entered his premises, disrupted the prayer meeting and accused him of forceful religious conversions.
The police complaint filed by him has not turned into an FIR to date.
6. Pastor Mark Masih from Tarn Taran was brutally beaten up on September 16 by a few people allegedly due to his faith. He has some deep wounds as well, but the police have not registered an FIR.
Forced conversions?
Alleging "forced conversions" into Christianity and warning that the practice "will not be tolerated anymore", Bharatiya Janata Party (BJP) MLA Manjinder Singh Sirsa has asked the Shiromani Gurdwara Parbandhak Committee in Punjab, Himachal Pradesh and Chandigarh to reward the Nihangs, who have launched a battle to stop "illegal conversions". 
Akal Takht officiating jathedar Giani Harpreet Singh had earlier said that the Sikh community needs to "seriously think about demanding an anti-conversion law" in Punjab. He had urged the Central government to rein in "self-styled" Christian missionaries. 
Singh alleged missionaries funded by foreign agencies are organising religious conversion campaigns in Amritsar and other parts of Punjab. 
However, PK Samantaroy, bishop, the Diocese of Amritsar, Church of North India Christians, said that Christians abide by the Constitution and the practice of "foreign-funded" congregations and "forced conversions" is against Biblical principles.
"Christianity is not a European religion as it is believed to be. It was introduced in India in first century AD by St Thomas, a disciple of Jesus Christ, long before it was introduced in Europe. The question of foreign funding does not arise. Christians abide by the Indian Constitution, which allows every Indian to pursue a religion of his or her choice. Nobody can be forced to adopt a particular religion. If there are instances of forced conversions, these are condemnable and should be dealt with sternly," he said in a statement.