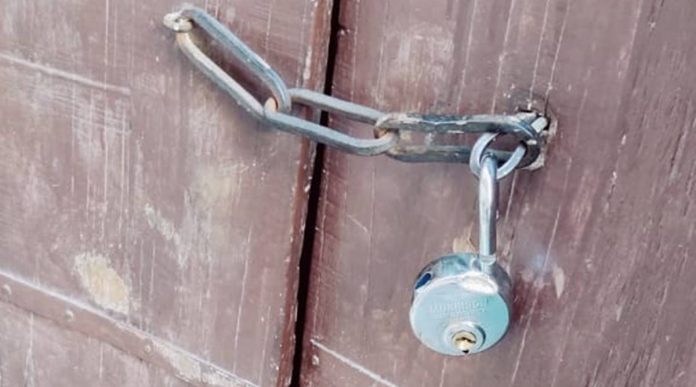 A Hindutva mob allegedly barged into the prayer hall on Wednesday, October 12 night, ransacked it and assaulted and threatened people who were praying inside. 
TCN Staff Correspondent 
NEW DELHI/GURUGRAM — "It is your private space where only you and your family can perform prayers; it's not a designated mosque open for all worshippers; you cannot hire an imam (prayer leader)." 
Laid down by his co-villagers, these were the alleged conditions to be complied with by Nazar Mohammad and his family who have been using their own personal space at Bhora Kalan in Gurugram (formerly Gurgaon) for prayers for years.   
An alleged violation to the restrictions led to an attack by a large Hindutva mob, which barged into the prayer hall on Wednesday (October 12) night, ransacked it and assaulted and threatened people who were praying inside. 
A police complaint against 10 people, including Sanjay Vyas, Anil Bhadoria, Rajesh Chauhan and others, was lodged by Nazar (a retired subedar) who withdrew it later after villagers assured him that the incident would never be repeated in the future.
But the police said they have registered an FIR, are verifying the evidence and will take action according to law. 
"An SIT (Special Investigation Team) has been constituted to investigate the incident. The guilty won't be spared. Appropriate actions will be taken. This is the first such incident in the area, and we will ensure that nothing like this happens in the future," said Assistant Commissioner of Police Harinder Singh.
The accused have been charged with Indian Penal Code (IPC) sections 147 (rioting), 148 (rioting, armed with deadly weapons), 295A (deliberately outraging religious feelings), 323 (voluntarily causing hurt) and 506 (criminal intimidation). But no arrests have been made so far.
The village has only four houses, belonging to Muslims.
The incident
Nasir Hussain along with three female members of his family was performing the night prayer (isha salah) when he heard a commotion outside.
"Armed with sticks and rods, a mob was asking us to step out," he recounted while Narrating the horror. 
"Before we could realise anything, they forcibly entered the hall on the ground floor of his house where he and his family members together offer prayer five times a day. They hurled abuses and assaulted me. They even did not spare the women when they intervened," he told TwoCircles.net.
To support his allegation, Nasir showed a video clip — which he himself had recorded — wherein a few women can be seen arguing with a group of men. 
He said a strong mob of around 200 had created a ruckus in the morning as well.
They had surrounded the mosque and threatened the worshippers with expulsion from the village.
"They had gathered here following a rumour that we were constructing a larger mosque. They left after they found it to be untrue as there was some repair work was going on. But there were some mischievous people among them who were saying that they would seal the place in the evening," he said, adding that they did the same at night.
After beating him up and misbehaving with the women, he said, the attackers forced him and his family to vacate the hall and locked it from outside. 
"The police came and broke the lock," he said.
'Don't make a mountain out of a molehill'
When asked about the incident, locals said it was a "small dispute", which got resolved. "So, please don't make a mountain out of a molehill," one of them, refusing to reveal his name, asked this reporter.
Others too echoed him, saying, "We live together peacefully. Disagreements happen even in a family. Have you observed any animosity among people here?"
It was only the Hindu villagers of the area who were talking about peace and brotherhood, but also Nazar Mohammad who had lodged the complaint about the incident.
"A panchayat (meeting of villagers) was held here a day after the incident. Those whom we suspected to be part of the mob were also present. They have assured that such an incident will never happen again and that brotherhood will be maintained in the village as before. They told us if it happens in the future, they will be held responsible. Following this assurance, I withdrew my complaint," he told TwoCircles.net. 
According to the earlier agreement between his family and the villagers, the place cannot be turned into a mosque for everyone, and only his family members can pray there. They are not permitted to hire an imam. And that is why even other Muslims in the village also refuse to consider it a mosque.
What led to the violence?
Hindu residents of the village, refusing to come on record, said Muslims from and outside the village offer prayers there. 
"This caused resentment among the locals who wanted it to stop as they do not want a mosque in the village," they said.
TwoCircles.net reached out to the accused Rajesh Chauhan, Anil Bhadauria and Sanjay Vyas, but they refused to make any comment.
It's not so easy to offer namaz in Gurugram
From mosques to vacant grounds, offering namaz in the group in Gurugram is not at all an easy task. There have been several incidents of disruptions in offering the prayer even at open designated places in the satellite city.
The city has witnessed a series of protests last year by Sector 47 residents who were opposing Friday's congregational prayer in a designated ground. The believers had to perform namaz by shifting venues in heavy police presence.
The situation slipped out of hand when the residents played bhajan at the spot on October 15 and tried to disrupt the peaceful worshippers.
A petition in this regard is pending in the Supreme Court.
Following a consensus reached in 2018 after protests against 108 designates sites for namaz, it was reduced to 37 open spaces where Muslims can offer Friday prayers. The number has been further brought down to 20 after the 2021 protests.
City planners, according to the Gurugram Muslim Council, provided space for 42 temples and 18 gurdwaras, but only one mosque was given space. Two Muslim organisations had participated in the auction of plots of land for religious purposes five years ago, but they could not get the plots.