Nikhat Fatima, TwoCircles.net
---
Support TwoCircles
---
Maulana Abdul Qayyum Nadvi, 47, opens 'the Mirza World Book House' on Jinsi Road in Aurangabad, Maharashtra at 10 am every day, with children lined up outside to rent and buy books. 
Nadvi sits at the counter and politely asks one of the children which book he wants.
Nadvi's bookstore offers books on Urdu literature, and Islamic history for students of all ages, from nursery to postgraduate.
Distributing Piggy Banks To Get Children Save Up for Buying Books
In an age where every child is glued to smartphones watching Instagram reels and YouTube shorts, Nadvi came up with an idea to get children into the habit of reading and owning books.
The idea is simple —  distribute piggy banks to school children and advise them to save their pocket money and after a month buy books of their choice from their savings. The maulana, on a designated day, takes books that appeal to the children to the school and the children break open their piggy banks and buy the books.
"The culture of reading books is vanishing today," he said, adding that his goal is to attract more youngsters into the habit of reading.
Origin of the Idea
Nadvi told TwoCircles.net that the Aurangabad Expo and the city's Book Fair management asked him to promote the book fair and improve book sales in Aurangabad. That is how Mirza came up with the idea of distributing piggy banks to the schoolchildren.  "When the fair comes around next month, the kids will have enough money to buy books at the fair," he said.
"This practice is not a burden because students save from their parents' pocket money," Nadvi explained.
Nadvi recalls having earthen piggy banks that he and his siblings used to break open when they became full of coins and notes. They used to spend their money on Niyaz (a religious offering to God) and the rest on books of their choice.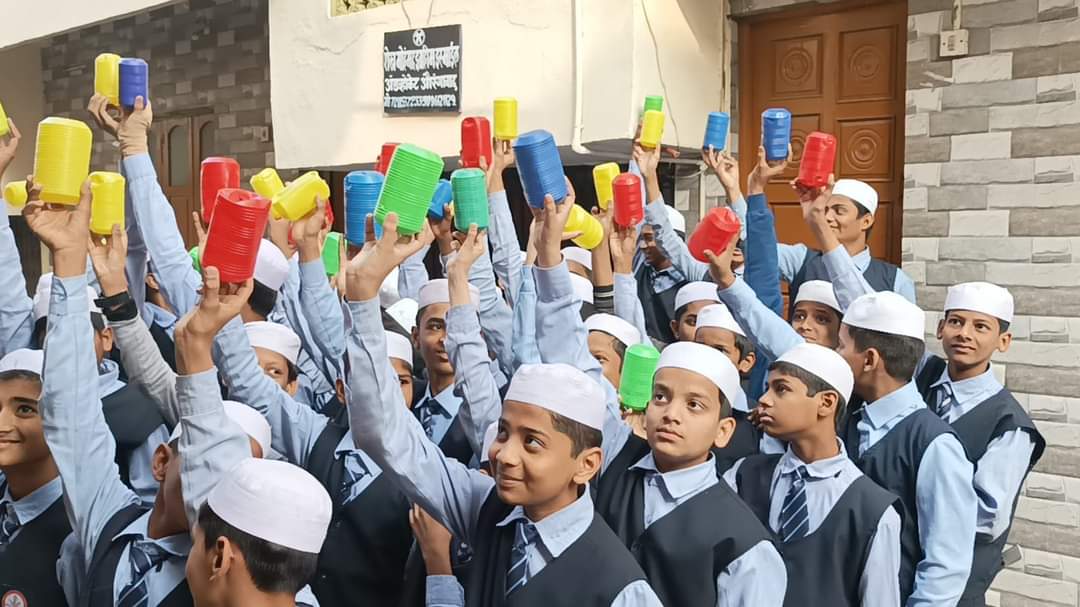 'Piggy Bank Idea Well Received by Schools': Nadvi
Nadvi's idea was well received by the school administration wherever he went. "Even the teachers are aware that today's students have stopped reading anything other than their school syllabus books," he told TwoCircles.net.
According to Khan Jameel Ahmad, principal of Aurangabad's Amanullah Motiwala Urdu High School, Nadvi's efforts are helping his students in developing the habit of reading.
"I have seen the children from our school saving money in piggy banks to buy books," Ahmad said, adding that it makes him happy. 
Since 2023, Nadvi has distributed over 48,500 piggy banks to students at 30 English and Urdu medium schools, both private and public. One piggy bank costs him 5 rupees.
He intends to give away at least one lakh piggy banks to students at various schools throughout the city.  These piggy banks were purchased with his own money and some were donated to him by friends. 
The great accomplishment, according to Nadvi, would be if schools came forward and planned to distribute piggy banks to their children. 
How 'Mirza World Book House' Came Into Being
At the age of 25, Nadvi founded 'Mirza Bookstore' in 2002. He considers opening a bookstore to be a watershed moment in his life. "I am fortunate that my hobby has become my livelihood," he told TwoCircles.net.
Nadvi, who now runs the largest bookstore in Aurangabad, describes the journey as "difficult."
For at least six years, Nadvi cycled around the city, selling books from school to school and door to door.
Getting inside schools to sell books was difficult at first, he added. He used to spread a cloth on the floor at the local school gate and arrange his books there while waiting for the students. Slowly the children began to show interest and bought the small story books. 
According to Nadvi, after a while, even the school staff began purchasing books from him. Nadvi became noted for stocking books that were not available at the city's other bookstores. "I used to get books by ordering them from Delhi and other cities," he explained.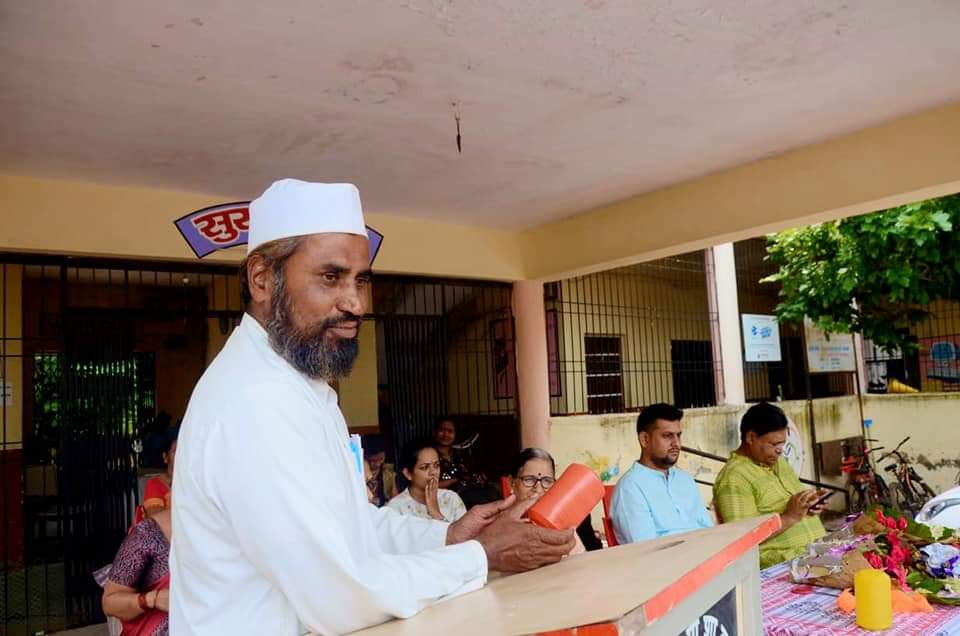 Selling Colourful Urdu Books
He used to give the books to the school and college teachers on credit, which made them like him. And they recommended Mirza to others. 
Nadvi claims to have sold 'Bacchon ki Duniya,' an illustrating Urdu book that is always in demand for a paltry ten rupees.
"I just had to tell the kids that this book would cost them two packets of chips or one samosa, and they gladly paid 10 rupees for it," he said, adding that he sold over one lakh copies of the book in just 60 days. 
He said children are drawn to colourful books and that traditional Urdu books are black and white and lack attractiveness.
Promoting Urdu Through the 'Read and Lead Foundation'
In 2018, Nadvi founded the Read and Lead Foundation (RLF) with some of his like-minded friends who were concerned about preserving and promoting the Urdu language. 
Nadvi's daughter Maryam Mirza even built a Mohalla library in their home in 2021 using 150-odd books she possessed, some of which were donated by her father, through the Read and Lead Foundation (RFD). She put them in a cupboard on their balcony in Baijipura and asked the children to spend their evenings reading storybooks.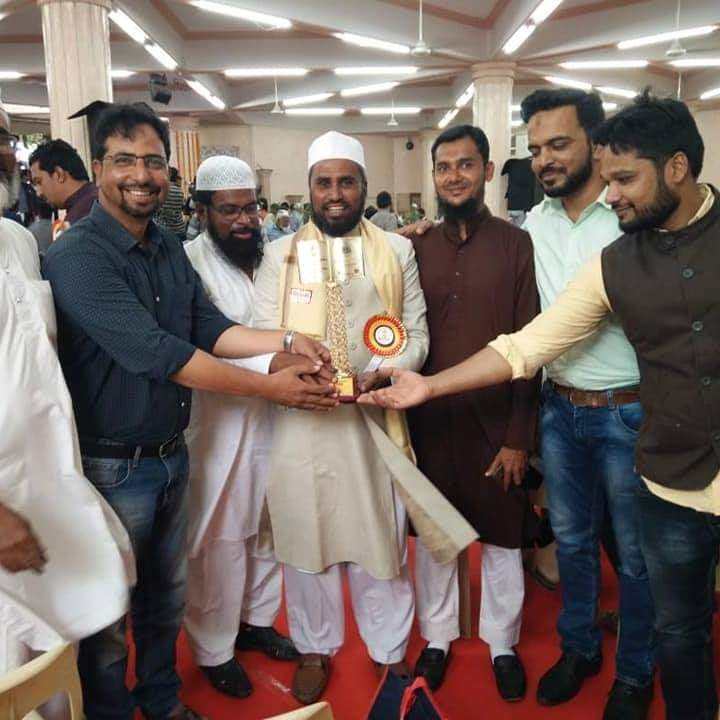 Maryam Mirza has till date  set up 32 Mohalla libraries. Some books are donated by the foundation, while others are being purchased by Mirza with donations from donors. 
Nadvi's efforts for preserving Urdu through the foundation have not gone unnoticed. He received the 'Shaan- e- Aurangabad' award in Jeddah, Saudi Arabia in 2023 by the Aurangabad Jeddah Association. The Maharashtra Urdu Academy and the Telangana Urdu Academy have both awarded him. Many other organisations have felicitated him for his efforts to promote Urdu and reading culture. 
SUPPORT TWOCIRCLES
HELP SUPPORT INDEPENDENT AND NON-PROFIT MEDIA. DONATE HERE