By Saba Syed Hafeez for Twocircles.net
We all are in journey—we as humans, as well as our societies and institutions. Our paths and destinations may appear to be different, at least at times, but we all go through an abundance of experiences. At each stop along the way, we rejoice the moment, reflect on the past, and look towards the future.
It was a cold morning in Delhi on January 5, 1965. A gathering of people was at the Delhi airport to welcome back Dr. Syed Hasan who was returning from America after having spent 10 years there. When he arrived, to everyone's astonishment, he landed with no radios, tape recorders, TVs or other fancy American stuff usually expected from those who come back from abroad, but rather 7-8 sandooqs (big storage trunks) filled with books. At that moment, no one could imagine the incredible journey that was about to unfold.
Couple of months ago, I was in Kishanganj, India, during INSAN's 50th anniversary Golden Jubilee celebrations; with over 150 alumni from different parts of India and abroad. INSAN's Shiksha Nagar campus used to be referred as Jhohopron ka Shahar (City of Huts) due its bamboo infrastructure have been replaced by brick-tin cabin like huts, though it still infuses a sense of serenity, a welcome breeze for those of us coming from big cities. The memories of that visit are still freshly wrapped in emotions. It was very heartwarming to see so many of the alumni who had come despite the currency crisis India was then facing. Besides being part of the historic event, many of them came to give their final respect to the founder, Dr. Hasan who had passed away last year on January 25th and to pray Fatiha on his grave. Those who could not physically attend the ceremony sent their hearts by following the events through various social media groups. The intense love at the celebration was palpable everywhere in the atmosphere.
We all were part of INSAN's expedition with cherished memories and experiences in its path which has enriched our lives. Personally, I was one of the fortunate founding students at the time of inception of INSAN School on the winter morning of November 14, 1966. There were other guests along with alumni who also came to be part of this historic moment and to pay tribute to its founder affectionately known as Syed Bhai (Padam Shri Dr. Syed Hasan).
Background
INSAN's 50 year legacy began as part of the founder's voyage to bring the mash'al of ilm (torch of knowledge) to this region in January 1965. He had first visited the area back in 1952 and was struck by its state of backwardness, especially in education. After returning from America, he headed to Kishanganj to start his educational and humanitarian mission. When he returned after the long gap, not much had changed. The Kishanganj area is located at a tri-junction of India, Bangladesh, and Nepal. The region not only was far behind compared to the world but also with the rest of the country. The total number of schools and colleges in this geography cutting across parts of Bihar and Bengal, also known as Seemanchal, could be counted on the fingers. After nearly two years of groundwork, INSAN was born as an elementary school with two teachers and 36 students on two rented bamboo huts.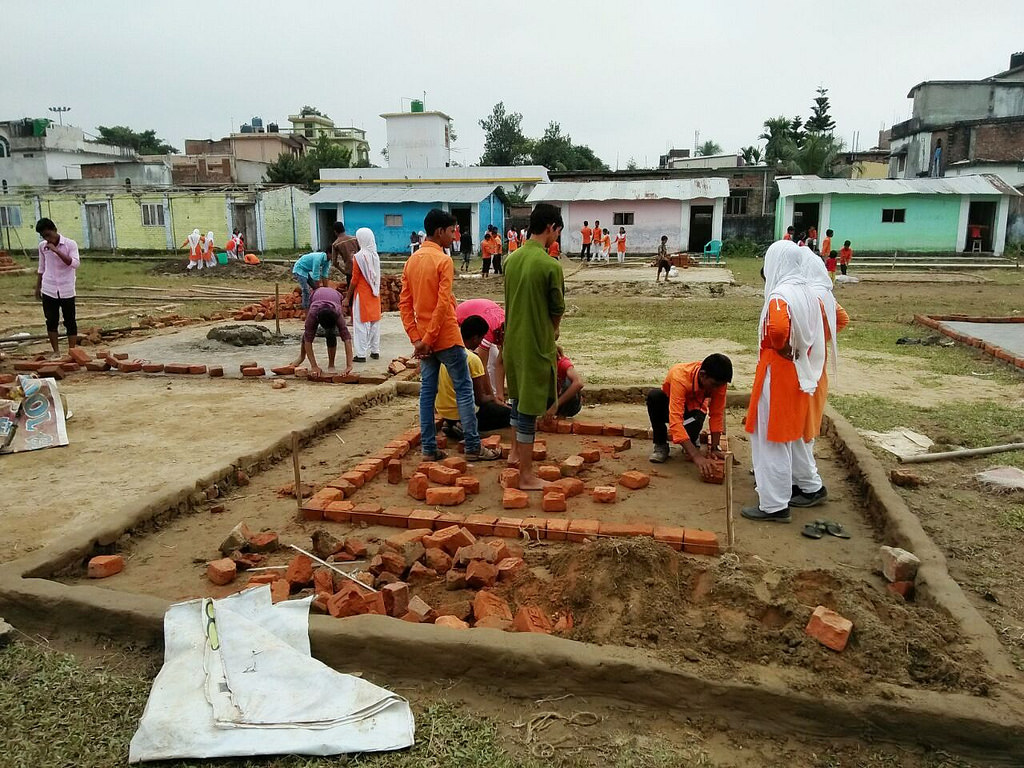 For the next 50 years, INSAN would take on a phenomenal journey led by Syed Bhai which would leave a profound impact on millions of lives, and on the region itself, and beyond; and eventually, it would grow to inspire many national socio-educational policies and numerous projects in India and abroad.
Most people know INSAN as an educational institution, namely INSAN School, which evolved into INSAN College, and later INSAN Group of Institutions. However, INSAN defined its own unique character, a blend of educational and humanitarian missions, hence its very metaphoric name, INSAN which means human and mankind. INSAN never remained just a typical school or college, which would often throw people off with its many social endeavors such as adult literacy, mental health, criminal reform, and economic upliftment projects. Even its academic programs have powerful humanitarian messages:
Insaan bane ge hum insan banayen ge
Jeene ke tareeqe ab seekhen ge aur sikhaein ge
Pledging to become and teaching to be humans
Learning, embracing, and teaching ways to live in harmony
Jis me na koi hoga nanga na koi bhooka
Ab nai basti hum ayesi basayen ge
 None will be hungry or unclothed
Let's strive now to create such a world
 Kuch zaat ho kuch mazhab kuch taur tareeqe hon
Mil jul kar magar rahna hum sub ko sikhaeyen ge
 Irrespective of caste and creed, and ways of living
Let's strive to reach across and to teach how to live with amity
 And, these were not merely words or slogans; these were rather a regular part of the student learning process, mantras to live by. For example, everyone at INSAN called each other Bhai (brother) or Bajie (sister) including teachers, students, even kitchen workers or toilet cleaners. Students had to participate in various volunteering work both at and off campus. INSAN creates an atmosphere where people from all backgrounds live, learn, and work together.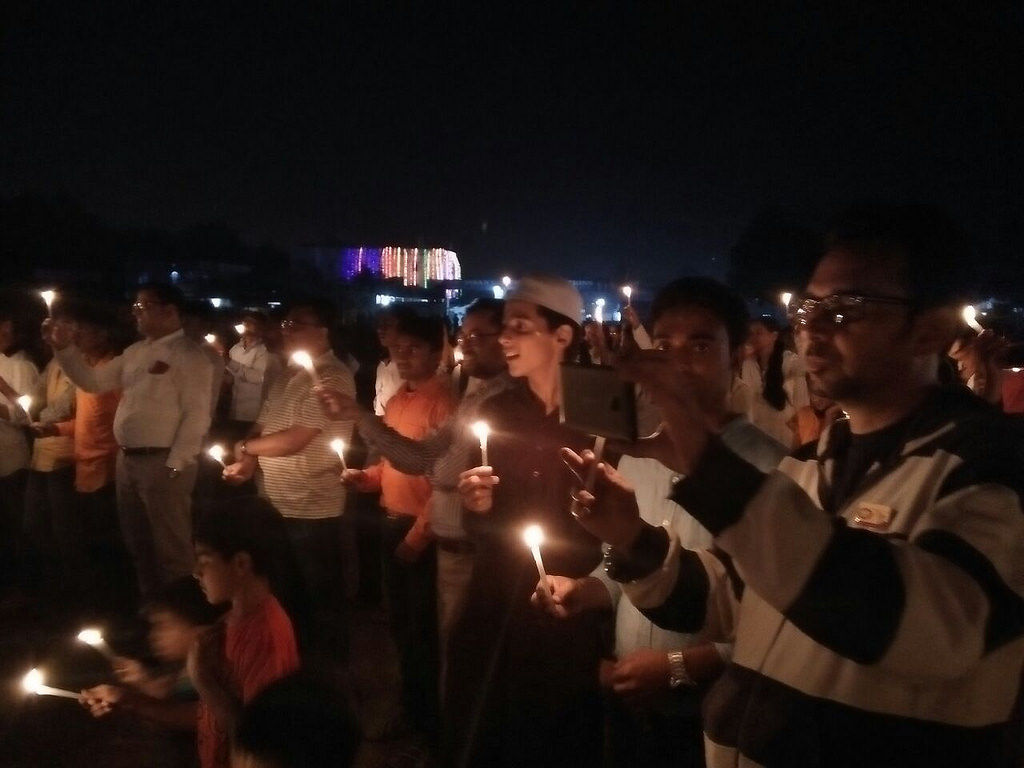 INSAN also combined the best of eastern-western approach and its curriculum always remained distinct from other institutions; even inspiring adoption by others.
Golden Jubilee
The Golden Jubilee was also dedicated to the memory of Syed Bhai who couldn't get to see this precious occasion. The six-day program was held on November 13-18, 2016. The first day started with the jubilant mood as alumni, students, staff, and well-wishers let thousands of colorful balloons fly in the sky. As a tribute to the founder, special prayers (Quran Khawani and Fatiha) were performed and an exhibition of the life of Syed Bhai and his mission was inaugurated. In the evening, a light show was held symbolizing his bringing of the mash'al of ilm (torch of knowledge) and spreading it to all. The evening was further followed by cultural shows and remained that way for the most of the programs. It was nice to observe our young INSAN brothers and sisters confidently performing at the stage, a reminiscent of our times. Many of these skits had strong educational and humanitarian messages such as issues of female feticide and child labour.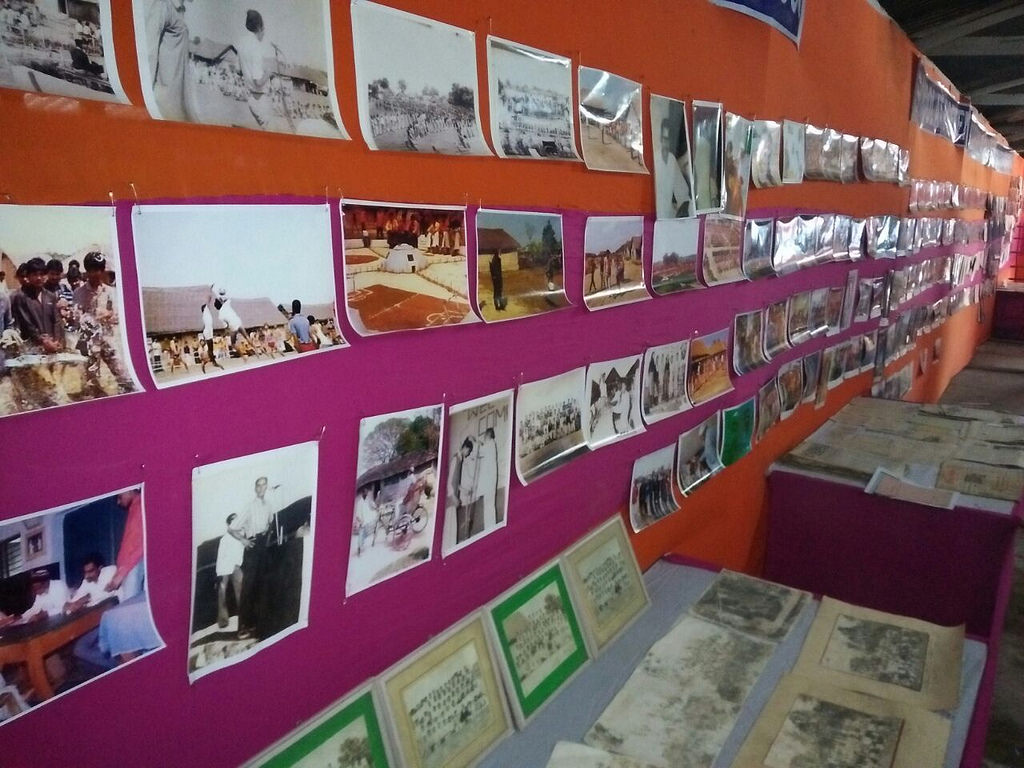 All the alumni were charged up as old memories were rekindled and old friends were reunited after several decades. Over the years many of us have also gracefully aged and could not even recognize each other and needed to be introduced. Mansoor Hasan Bhai (batch 1975), who despite his health issues, visited with his wife and son from Kolkata. There were also other seniors and his contemporaries like Hakeem ud Deen Bhai, Nishat Muzaffar Bhai, Shama Ara Bajie, Abrar ul Haque Bhai, Fareed ul Haque Bhai, among others. The mayor of the City of Patna Afzal Imam, MLAs Mujahid Alam, Naushad Alam, Dr. Jawaid Azad, Ghulam Rabbani and former MLA Akhtarul Imaan also graced the occasion. It was great to see that these alumni were making a difference on the legislative front as well.
And so did a uncountable number of alumni from various batches including a great number of younger alumni from more recent years who were there; the list is beyond the scope of this article. Besides getting together, having good times, and alumni meetings, some took the stage to show their learned talents, most notably Shakil Kakvi Bhai who considers himself more of a student of Syed Bhai than a former teacher of INSAN. It was great to have Dr. Shashi Bhushan Prasad who sang in Bhojpuri, the duo Ashraf Ali and Mushtaq Ahmed for their impromptu writing and presentation (they wrote a poem on the spot and performed it as spoken poetry). We all got to sing our beloved Tarana, Insan benein ge hum insan banaein ge (Pledging to become and teaching to be humans) with our teary eyes. The Golden Jubilee not just provided the opportunity for alumni and students to meet; it also awakened a desire amongst many to play a contributory role in the continuation and development of their Alma Mater. Many alumni were already engaged behind the scene of INSAN 50 programmes. Some alumni even offered new scholarships to their younger INSAN brother and sisters.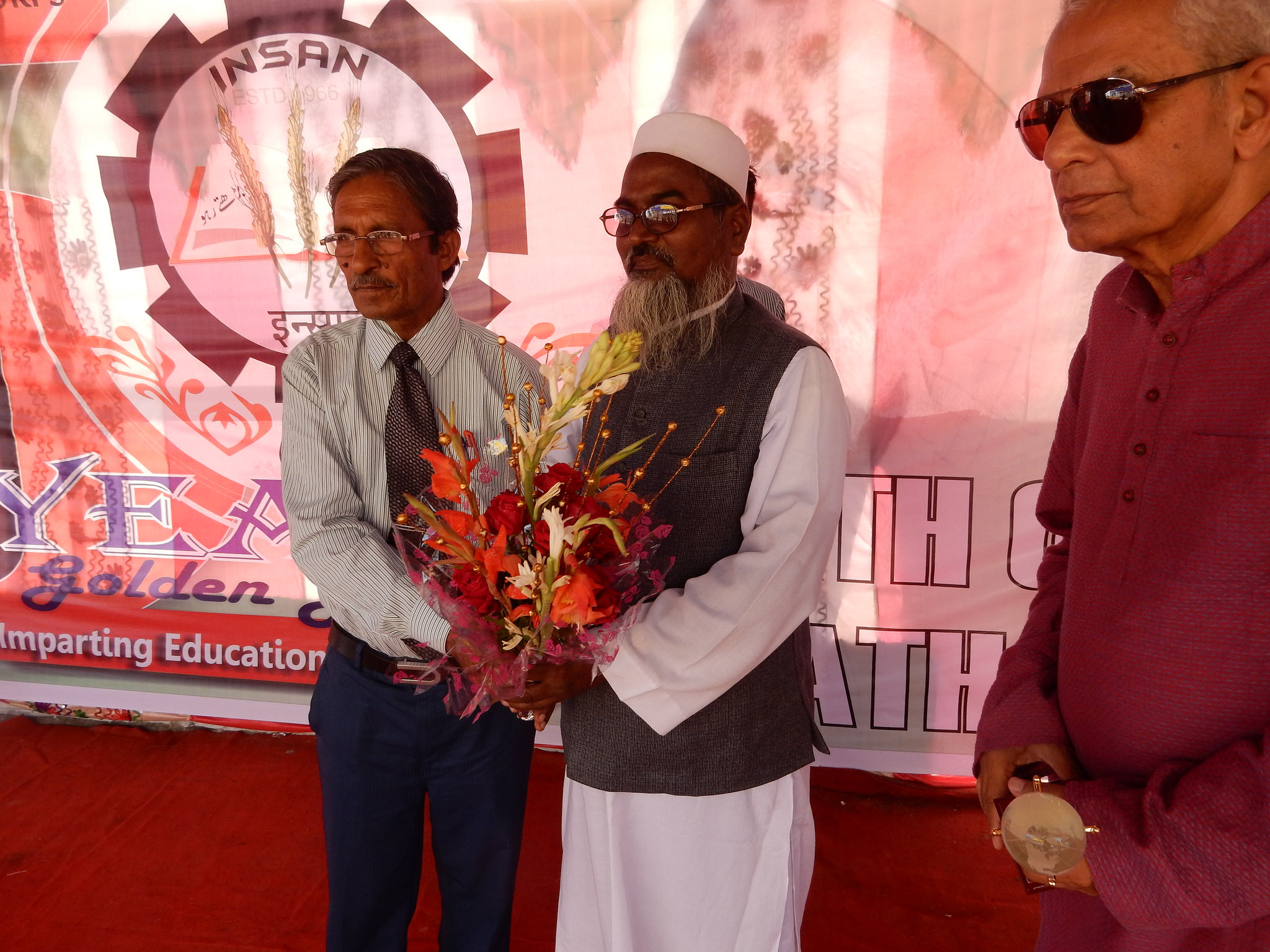 INSAN has always been famous for its creativity. It was quite visible in their art and model exhibitions. While the art exhibition by elementary students was colorful expressions of their thoughts on paper, a model exhibition by school and college students reflected the genuine creativity utilizing easily accessible materials like dirt and transforming these simple objects into various models such as the Greenhouse Gas effect, the beautiful island of Bali, and Maya and Harappa civilizations. Some of us who were visiting from abroad wished our kids had the opportunity to work in such creative and engaging projects which they lack even in the American and European institutions. Though these countries are far ahead in creations, designs, innovations, and research on a higher level, these days where commercialized versions of preassembled kits are available for almost everything, they lack these traits for junior level. These students at INSAN were being planted with the seeds of creative thinking and innovation.
The theme of the 50th anniversary was selected as Path of Knowledge Path of Humanity (Ilm ki Raah Insaaniyet ki Raah), a combination of two of Syed Bhai's write ups which actively sums up his vision. To commemorate this historical moment, and as a part of the broader vision of INSAN and his founder, Path of Knowledge Path of Humanity awards ceremony and symposium was held on the third day, a rare treat for a small rural township like Kishanganj and the first of its kind. The representative of India's major humanitarian projects, many of them now known internationally, attended the program.
Bachpan Bachao Andolan, Barefoot College, Pratham, Rahmani 30, Kainat Foundation, Rapid Action For Human Advancement Tradition (RAHAT) as well as to Doosra Dashak, Maharashtra Cosmopolitan Education Society, Markazul Ma'arif, Teach for India (the last four in absentia) were honored for their contributions to fellow humans by utilizing the power of knowledge and their innovative approaches. A special INSAN Award was also presented to International Red Cross Red Crescent Movement for their unprecedented legacy of humanitarian contributions.
The facilitation of award ceremony had its own distinctive touch as it was not handed by any big government or political figure but rather the entire program was conducted by the representatives of INSAN administration, staff, alumni, and students. Yes, students, whom we are passing this fragile world to and to whom we want to inspire to heel the human suffering and advance humanitarian causes.
Dr. Mukhtarul Haque (Bachpan Bachao Andolan), Mr. Ravindra Nath (Barefoot College), Mr. Sanjay Kumar Singh (Pratham), Mr. Naiyer Alam (Pratham), Mr. Dinanath Kumar (Pratham), Maulana Arif Rahmani (Rahmani 30), Mr. Shakil Kakvi (Kainat), Dr. Farhana Begum (RAHAT), ADM Ramji Sah (Red Cross), and Mr. Mickey Saha (Red Cross) participated in these events. INSAN alumni Dr. Nadeem Zafar Jilani who traveled from the UK conducted the symposium.
During the program, we had a resident guest, Mr. Ravindra Nath from Rajasthan, who soon became Ravindra Bhai in INSAN tradition. I had a conversation with Mr. Bunker Roy, the founder of Barefoot College, and had invited him. Since he was going to be traveling during our Golden Jubilee programs, he sent his deputy Ravindra Bhai and instructed him to stay there for the entire week. It was interesting to see that Ravindra Bhai soon became like one of us, often surrounded by students, staff, alumni, and other guests sharing his global experiences, hearing ours, and exchanging ideas. Like INSAN's founder, Mr. Roy was looking for few "deewanas" (passionate souls) and Ravindra Bhai joined him after graduating from IIT and had been with Barefoot College for more than 30 years.
INSAN has always been on the forefront of women education and their empowerment. During the Golden Jubilee, a special program was also held in this regard led by Dr. Farzana Begum (INSAN alumna and founder of RAHAT which rescues women from human trafficking). Several speakers from local organizations provided valuable advice and resources to the group of women, mostly labourers, and villagers. A special tribute to the founder was beautifully sung by Ms. Arti Jha of RAHAT.
Honorable Vice Chancellor Prof. Ejaz Ali Arshad and Registrar Dr. Choudhary Sharfuddin of Maulana Mazharul Haque Arabic and Persian University with of which INSAN's college curricula are affiliated also graced the occasion as our honored guests and offered their support to advance the academic programs. Many staff members were also recognized at this occasion.
Seemanchal Literary Festival
The last two days of November 17 and 18 were organized as Seemanchal International Literary Festival by Kitaab International founded by INSAN alumni and a Singapore-based journalist and writer Zafar Anjum. Zafar wanted to give back to his Alma Mater, region, and pay tribute to the INSAN founder. Hence, the idea of having the literary festival as a show of the continuation of INSAN mission during the Golden Jubilee with the sub-theme of 'Humanity through Literature' came to life.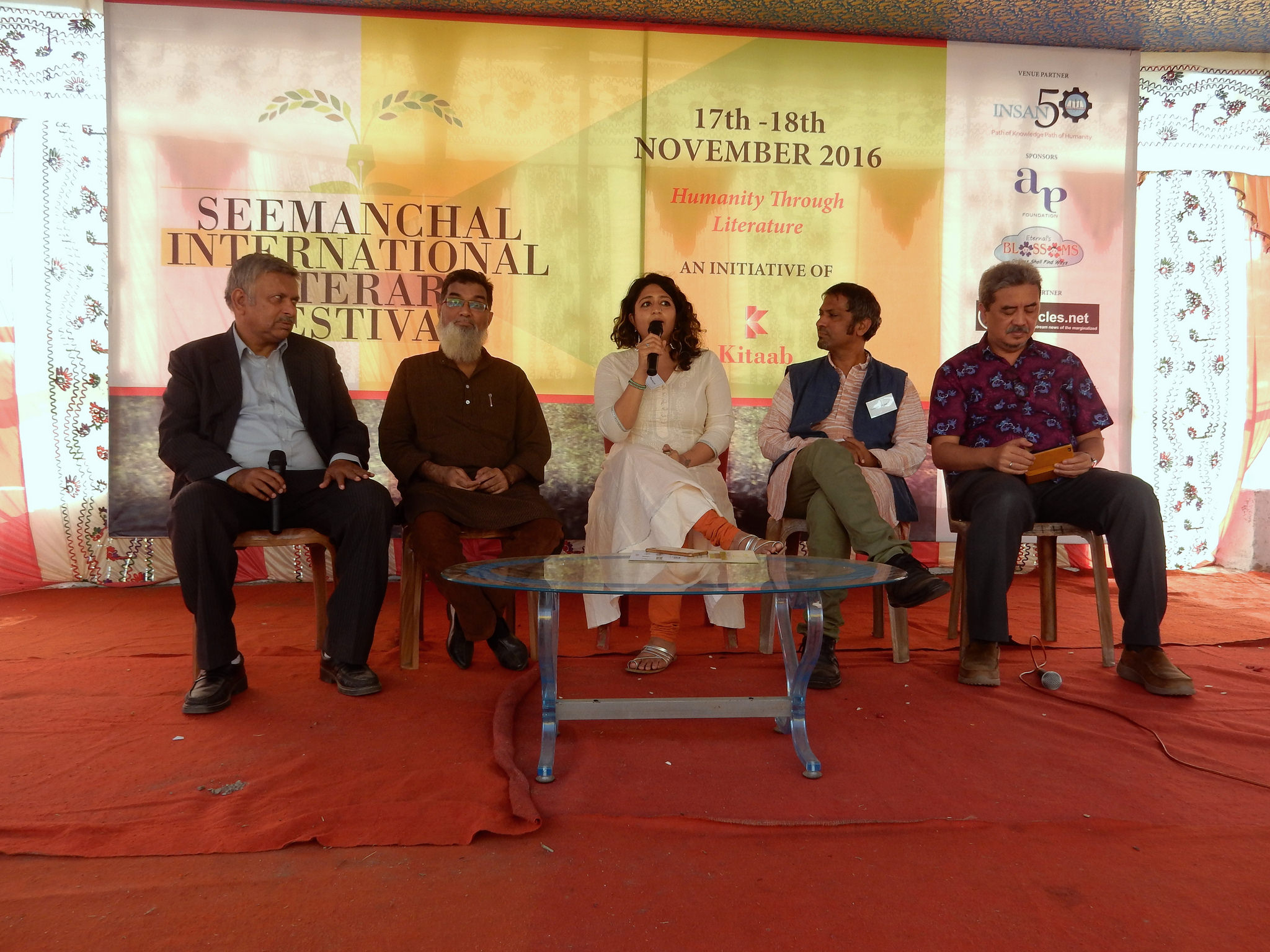 When we think of literary festivals, the first idea that comes to mind is a resort city or major metropolitan. The idea of having an international literary festival in a rural area was unprecedented. Then again that has been the legacy of INSAN and its alumni are continuing to carry the torch. About 20 writers from various parts of India, Singapore, and the UK participated in various panel discussions, book launches, author interviews, and workshop.
The festival started with a song by musician and filmmaker Aditya Kriplani, followed by the opening keynote by veteran Singaporean author and journalist Mr. P. N. Balji. Over the next two days, the audience was enthralled by the discussions, readings, and talks featuring Mr. Ziya Us Salam, Anant, Dr. Kamlanand Jha, Dr. Nadeem Zafar Jilani, Ms. Abha Iyengar, Mr. Isa Kamari, Ms. Jayanthi Sankar, Dr. Shafey Kidwai, Ms. Milee Ashwarya, Mr. Rahman Abbas, Mr. Abrar Mujeeb, Ms. Rheea Mukherjee, Mr. Wali Azam Chaudhary and Mr. Zafar Anjum himself, ably moderated by Mr. Debanjan Chakrabarti, Dr. Amir Ullah Khan, Dr. Nazia Hasan, and Dr. Percy Hernandez. A musha'airah (poetry session) was also held to great applause where Dr. Nadeem Zafar Jilani chaired the proceedings, that featured several eminent poets from Kolkata and Araria such as Mr. Abrar Mujeeb, Mr. Deen Raza Akhtar, Ms. Rehana Nawab, Mr. Shameem Anjum Warsi, Mr. Shamsul Hoda Masoom. On this occasion, Dr. Nadeem Jilani, Mr. Shefa Syed Hafeez, Ms. Mooneeba Ahmed also presented their poems, dedicated to Syed Bhai and his INSAN mission. On the second day's evening, a few short films by Filmwallas and a feature film based on a Shakespearean work (courtesy the British Council, Kolkata) were shown. A documentary on the life of Syed Bhai was also presented by Ms. Moonisa Ahmed.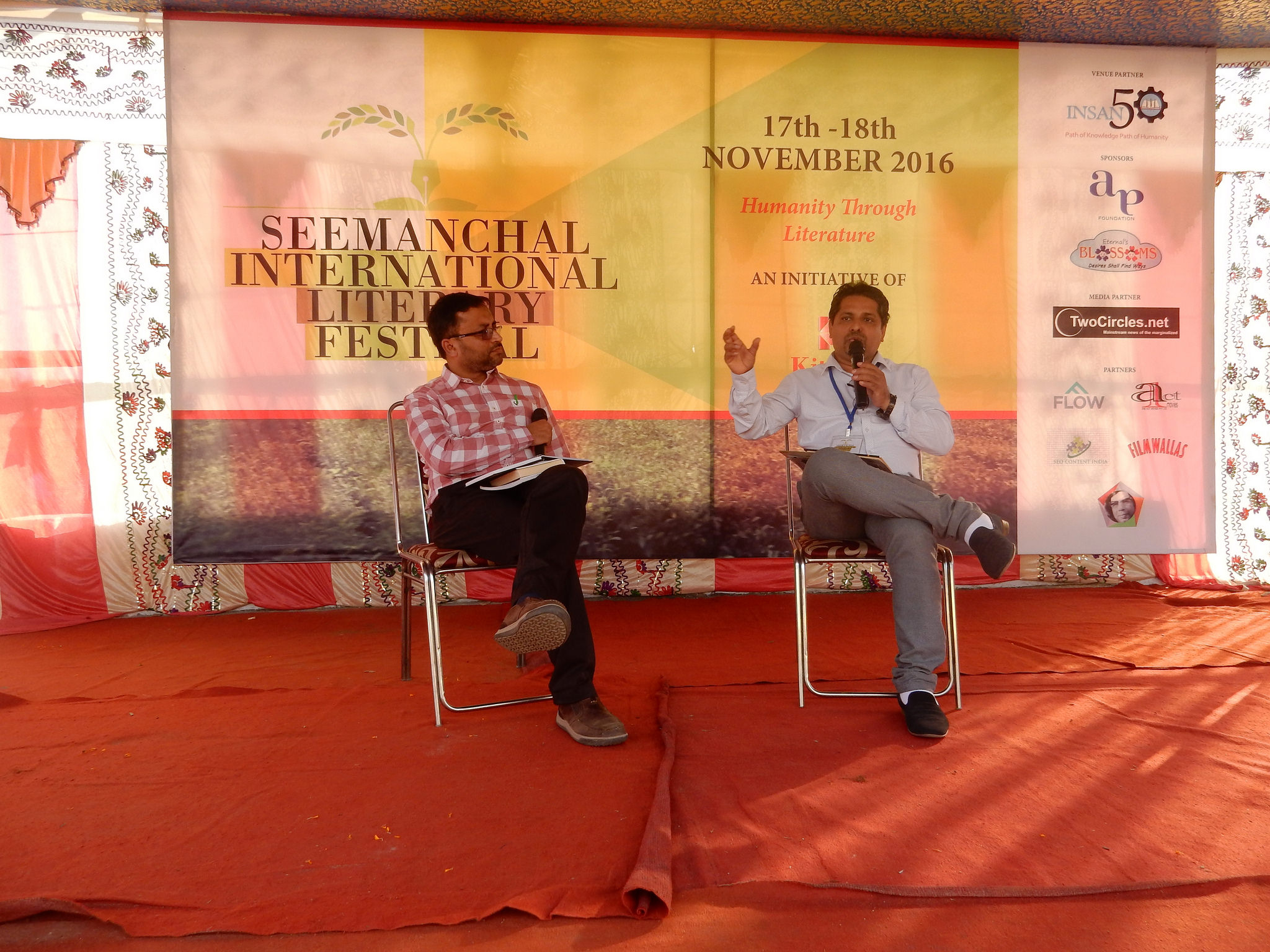 The festival also included the launch of two new titles, published by Kitaab: "Tweet" by Singaporean novelist Mr. Isa Kamari and "Horizon Afar" by Singaporean Tamil author Ms. Jayanti Sankar. An inspiring special creative writing workshop was held for school children by Ms. Abha Iyenger. A small bazaar consisting of bookstores and art and craft works were also set up by Kitaab International, Goodword Books and an Assamese NGO, Rural Welfare Society, that had specially come down to participate in the Golden Jubilee celebrations.
Near the end of the ceremony, an additional 7th day was added to recognize students for their performance in various academic, sports, and other extra curricular activities. Similarly, staff and teachers were also recognized for their services and dedication to the INSAN cause. Abdul Ahad Bhai, the longest serving teacher, was honoured with a special recognition. He had joined INSAN in 1967. Many workers who are also essential to INSAN family such as those helping in various cleaning, maintenance, and kitchen tasks were thrilled to come to the stage and get the recognition for their contributions. Besides certificates and awards, some prizes also included monetary gifts which were offered by our long time well-wisher and Syed Bhai's younger brother, Mr. Shafique Naiyer who was visiting from the USA.
Typically, each year INSAN celebrates its anniversary with various arts, debate, models, sports, and stage presentations and competitions. This year Syed Bhai's Exhibition, Path of Knowledge Path of Humanity Awards-Symposium, and Seemanchal International Literary Festival have added features that were part of a tribute to Syed Bhai. While the exhibition was an invaluable reflection of his past, a literary festival was a form of the continuation of his mission, honoring humanity was part of his vision forward.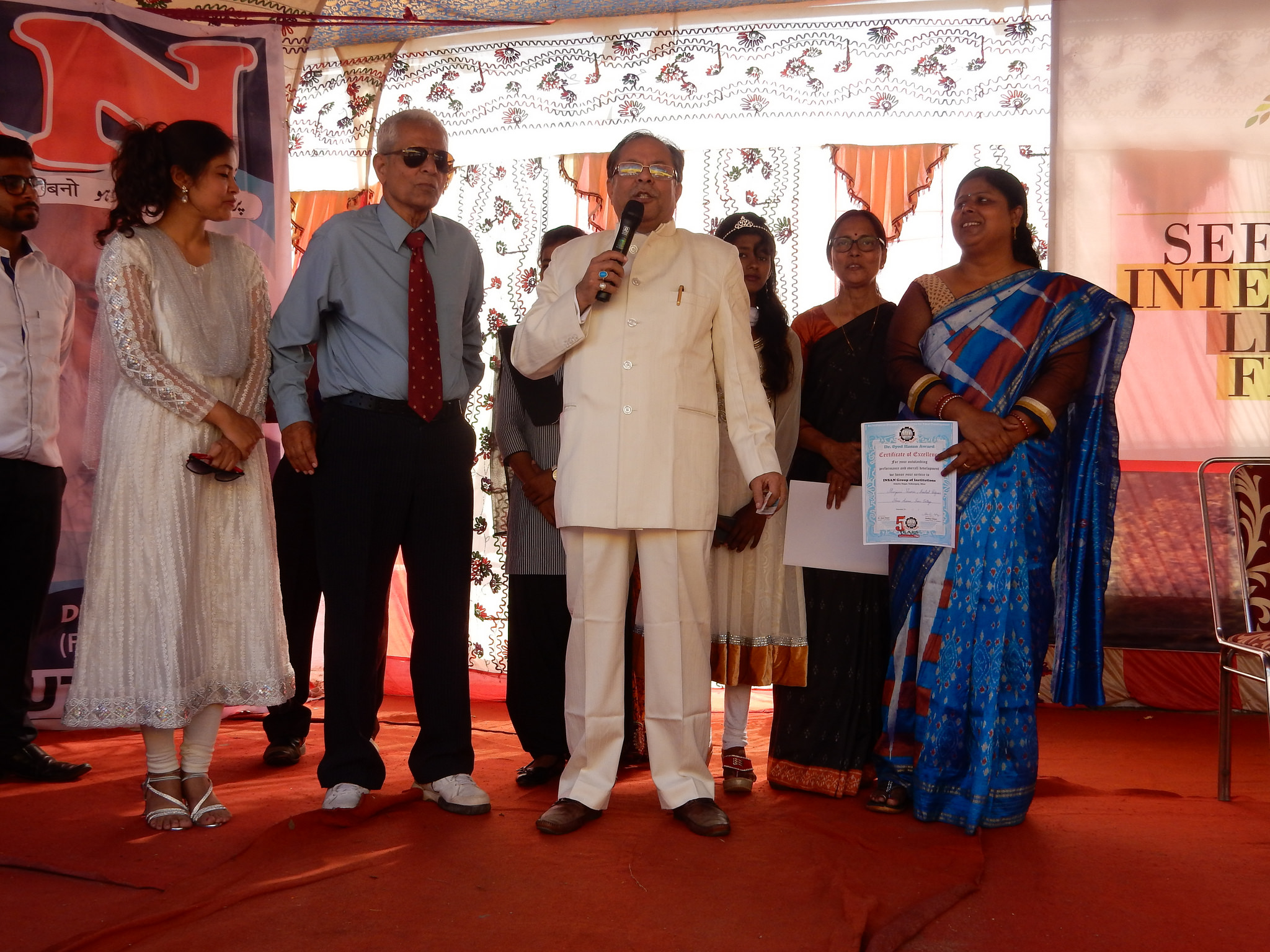 Our founder often reminded us that "Today the world has more educated people, doctors, engineers, scientists, PhDs, and we are now more scientifically and technically advanced than ever before. We have created more wealth and excess than ever before, but still, humanity is crying everywhere".
Syed Bhai lived to be 91 and certainly has seen worst, but he was also a very positive and action-oriented person and led the way to tremendous changes. "The most valuable resource any society has is Insan – humans themselves; education plays a vital role in developing these precious assets."
The INSAN's Golden Jubilee was a special moment to honour our legacy, celebrate the present, embrace the future, and salute other's honourable services to mankind. After a remarkable 50 years, though at times challenging, and we look forward to many more 50 years to come in the path of knowledge and humanity.
Thank you, Syed Bhai, for bringing those boxes of books and leading us in the path of humanity with the torch of knowledge!
Saba Syed Hafeez is an INSAN alumnus and son of the INSAN founder, Dr. Syed Hasan. He is engaged in hunger, homelessness, and educational causes in America.
SUPPORT TWOCIRCLES
HELP SUPPORT INDEPENDENT AND NON-PROFIT MEDIA.
DONATE HERE