By TCN News
A silent protest against the undemocratic clampdown on daily life in Kashmir over the past two months was held at Dharna Chowk, Indira Park in Hyderabad on October 15 in which social and political activists participated.
After denying permission to several political outfits, non-government organisations and others, the Police department of Telangana finally granted permission to stage a protest on the condition that no mikes would be used and no slogans will be raised.
Every protestor held a placard with slogans to save democracy and restore normalcy in Kashmir and sat opposite the Indira Park.
Activists condemned the entire procedure of abrogation of Article 370 and demanded fully restoring communications in Jammu and Kashmir.
Uzma Shakir, who is from Kashmir and is the General Secretary of Telangana Congress committee said the people of Kashmir have been betrayed and are at present undergoing severe hardships due to the curfew that has been imposed in the entire state. She also mentioned how health services have been affected and the difficulties people are facing in accessing the same.
Syed Aziz Pasha, Ex-MP from CPI, said, "When this government came to power, they made tall promises of providing jobs, bringing back black money, ending corruption and so on. But all they did was divert the people's attention from the real issues which they failed to address by bringing up communal issues or talking ill about Pakistan and now they abrogated the special status of Kashmir to detract the people from the economic crisis."
Talking about the violations of rights of the people of Kashmir, he said the people in the state are being denied basic rights and their lives have been made miserable. And now after 70 days of communication blockade postpaid mobile connection users can make calls as if the Government has done a very big favour to them. It is high time normalcy is restored in Kashmir. The Government wants Kashmir but not the people of Kashmir and this is evident from the way it has imposed restrictions, resorted to heavy security, pellet gun firings and banning the media.
Fatima, another Kashmiri woman residing in Hyderabad, addressed the gathering by thanking all the protestors for standing up for Kashmir. She shared that her aunt's hair was cut off when she had taken part in a protest. "All these things are done to instill fear in the minds and hearts of the people of Kashmir", she said. "News reports which say everything is normal in Kashmir is all wrong. Nothing is right in Kashmir. A 9-year-old boy who had gone to buy bread was arrested on charges of having protested. And my mother, with whom I spoke after 2 months said, 'When we hear footsteps outside in the night we are half dead with fear, the military men are harassing the women and arresting the men from the homes'".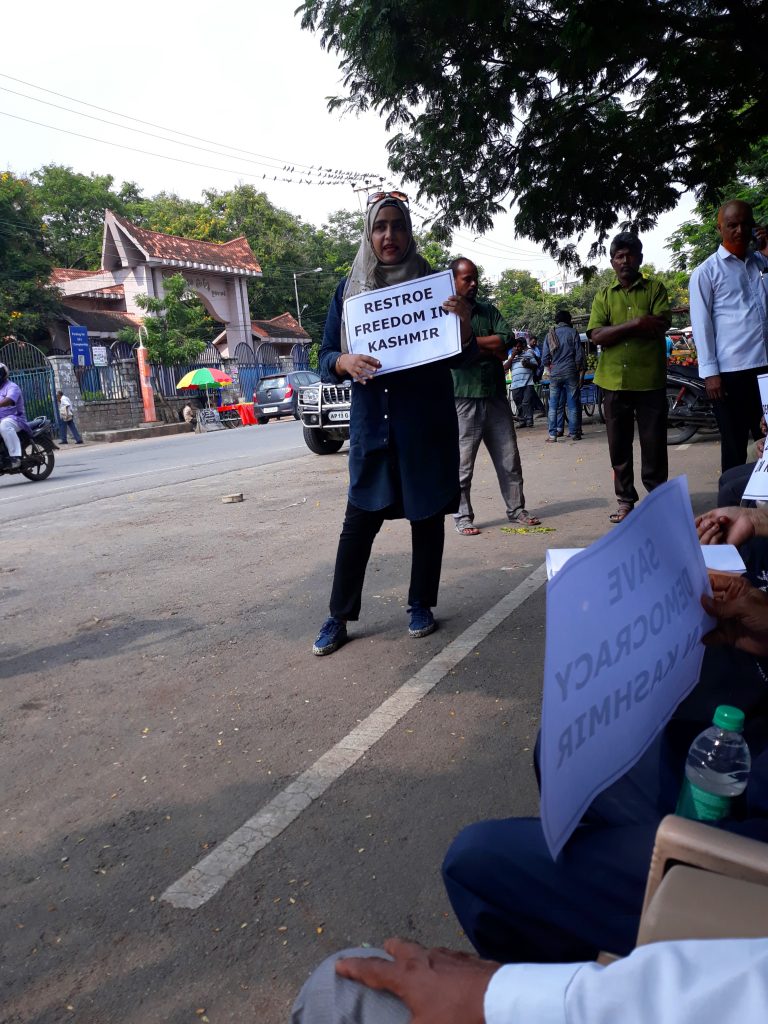 Retired Justice Chandra Kumar who was also among the protestors, said, "Article 370 says, any resolution, law, Act that has to be passed in Kashmir has to be done only when the assembly of Jammu and Kashmir passes it. But there is no assembly in J&K. And the Governor is the agent of the Centre. Under these circumstances abrogating the special status of J & K is unconstitutional."
He also said that the ruler and his subjects had both agreed to accede to India and not to Pakistan because India is a democracy. "And what has India done today? It has acted in a most undemocratic manner." He also informed the gathering that there are nearly 200 writ petitions of Habeas corpus from Kashmir pending in the Supreme Court and instead of hearing these cases, it is more interested in hearing about the Ayodhya dispute.
The protest was attended by representatives from SC, ST, Minorities Front, Association for Protection of Democratic rights, Telangana Praja Party, Welfare Party of India, Socialist party (India), Amomat Society, Hyderabad Muslim Women's Forum and others.