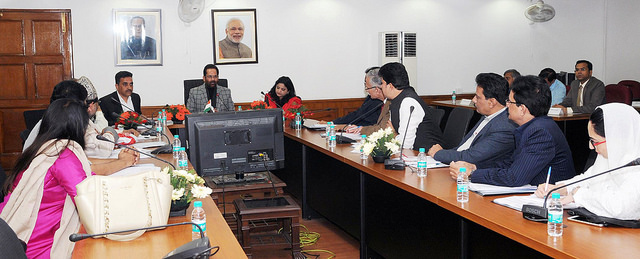 New Delhi, (IANS) : Union Minister of State for Minority Affairs Mukhtar Abbas Naqvi on Saturday said the increased allocation in the 2017-18 Budget for his ministry will help in the socio-economic and educational uplift of the minorities.
The Ministry of Minority Affairs has been allocated Rs 4,195.48 crore, around 10 per cent more, in the 2017-18 Budget announced by Finance Minister Arun Jaitley on Wednesday. Last year, the allocation was Rs 3,827.25 crore.
Naqvi said a major part of this amount will go towards educational empowerment and skill development of the minorities.
"The Modi government believes that commitment to development of the poor, weaker sections and minorities is not only its 'raj dharma' but also its 'kartavya' (duty)," he said.
The Minister said more than Rs 2,600 crore has been provided for various scholarships and skill development schemes such as 'Seekho aur Kamao', 'Nai Manzil', 'Nai Roushni', 'Usttad', 'Garib Nawaz Skill Development Centre' and 'Begum Hazrat Mahal Scholarship for Girls'.
He said Rs 393.54 crore has been earmarked for merit-cum-means scholarship; Rs 950 crore for pre-matric scholarship; Rs 550 crore for post-matric scholarship; Rs 250 crore for 'Seekho aur Kamao'; Rs 176 crore for 'Nai Manzil'; Rs 113 crore for Maulana Azad Education Foundation; and Rs 170 crore as equity for National Minorities Development Financial Corporation.
Besides, Rs 1,200 crore under the Multi-sectoral Development Programme will also be utilised for various education development activities.
The programme provides basic infrastructure for minority-concentrated areas such as schools, hospitals, roads, multi-purpose community centres and 'sadbhav mandap' etc.
Naqvi said for 2017-18, the Ministry has set a target to provide scholarships to about 35 lakh students.
Last year, the government spent about Rs 2,800 crore on scholarships, training and other educational activities, he said.