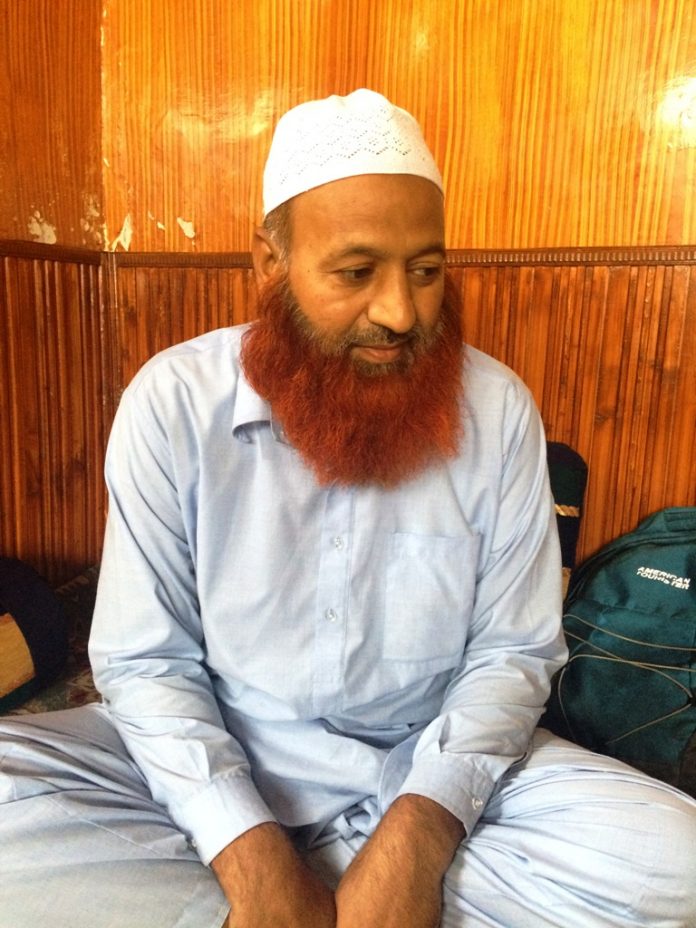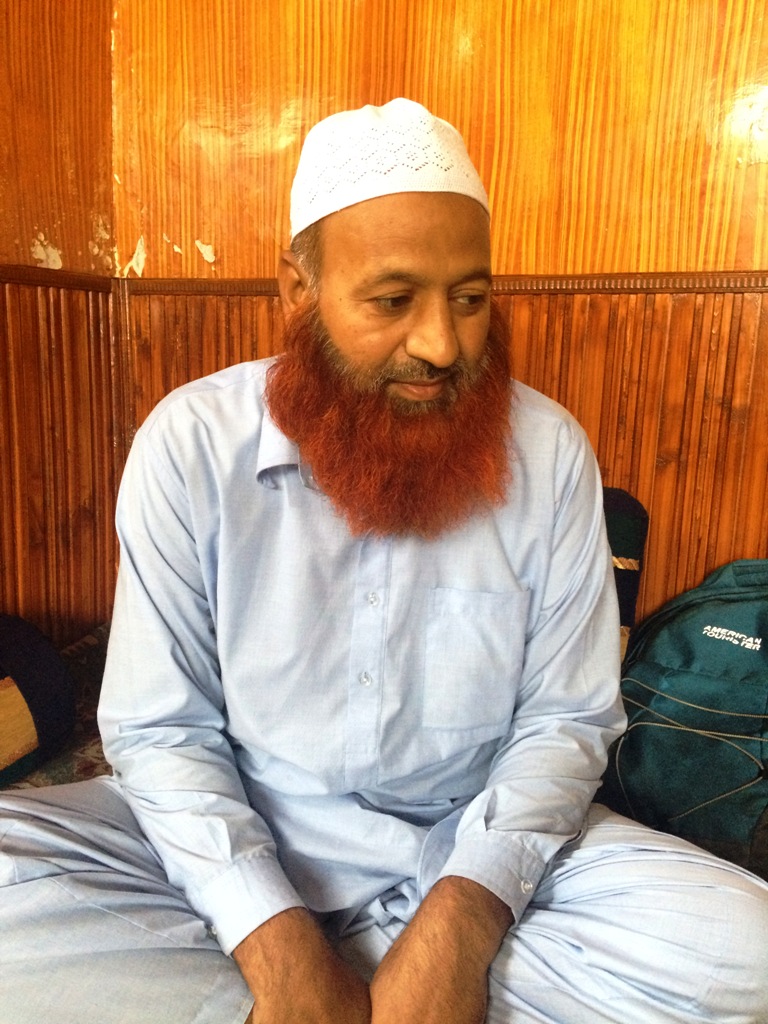 By Raqib Hameed Naik, TwoCircles.net
On Tuesday, June 6, Gulzar Ahmed Wani, a PhD scholar arrested in July 2001 was finally set free, his shackles uncuffed after 16 years of incarceration. Acquitted on May 20 by a session court in Barabanki for the Sabarmati Express train blast, it took two more weeks for Gulzar to step out of prison as the jail officials had to clarify a case in Nagpur in which he was actually acquitted but showed as pending in the official records.
As one travels 40 kms north of Srinagar to Kreeri, the first left on the highway leads to a non-descript village; Tappar. The non macadamized roads and mud houses surrounded by lush green fields are the visible feature of this village.But lately, one more feature has been associated with this village; the comeback of Gulzar.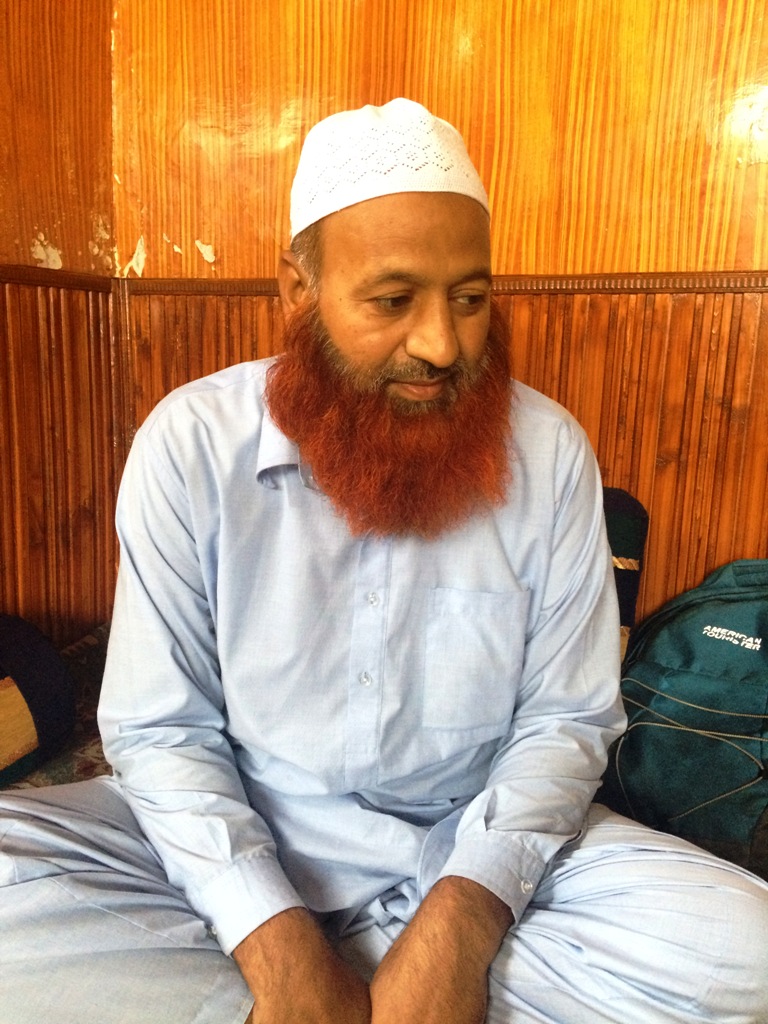 After negotiating more than a half dozen curves uphill, an iron gate with faded paint stains hooked into a non-cemented brick wall lets you in a modest one-storey house of Ghulam Mohammad Wani. Inside a room covered with pink curtains and dark brown painted plywood fixed to the wall, his son Gulzar is sitting in a corner in  light blue pathan suit, sporting a thick flowing burgundy beard, his white head covered in white skull cap.
It has been more than two weeks since he has returned home, but the flow of guest is still intact as it was in the first few days of his return. Every fifteen minutes, there is a knock at the door and Gulzar gets up with his signature smile and hugs every visitor coming in to see him.
"You have grown old my son," says a visitor. Gulzar nods his head in affirmation, looking down at the newly spread carpet for the guest.
Gulzar was given a warm welcome by the family, neighbors and friends by showering rose petals when he entered his village after staying away in half dozen prisons for 16 long years across different states.
"Everything has changed here," says Gulzar. He recalls how he had to wait for hours to board a bus to travel anywhere in the valley.
"Now almost everyone travels either in their own cars or taxis instead of buses," he observes.
"I could have also seen this change with my own eyes if they wouldn't have knocked at our door on  July 20th, 2001," Gulzar adds.
Gulzar was talking about the fateful, hot summer day of Delhi, when he along with his friend was picked by the special cell of Delhi police from their rented accommodation in Azadpur.They were bundled into a car and taken to an unknown location. For next ten days, no one knew where they were. But for the Gulzar, every second spent during those ten days still remains imprinted on his mind as a gruesome experience. "You just ask whatnot they did with," he says.
"They tortured us, gave electric shocks to our private parts, toes, ears- almost everywhere. They poured water on our mouths until we suffocate to  brink of death. They beat us with sticks like animals. I think not even an inch of my body was left untouched from the sticks used to beat us," recalls Gulzar.
After ten days of torture in an illegal confinement and forced to sign on a blank paper, Gulzar along with his friend and two other persons from Kanpur (Uttar Pradesh), were produced before the court and shown as arrested with explosives.
When asked Gulzar if he remembers any officers of special cell who had "abducted" and tortured him, he replies instantly, "ACP Rajbir , Inspector Mohan Chand Sharma and Badresh Dutt."
After his arrest, he was implicated in numerous blasts and alleged of involved in various conspiracies and slapped with 15 FIRs in different police stations of Delhi, Maharashtra and UP.
When asked what he thinks when he looks back at the reasons for his arrest and subsequently shown involved in more than 15 different cases in different states. Gulzar says, "With the announcement of US war on terror in 2001, then NDA government also decided to target Muslims especially Student Islamic Movement of India (SIMI). They wanted a pretext to ban SIMI and they went ahead by showing a nexus between SIMI and Kashmiris."
Gulzar says that in all the cases slapped on him, the police had shown that he was a connection in between SIMI and Hizbul Mujahideen (HM).
"Court acquitted me in many cases on the basis that there was no connection proved between SIMI and HM."
Gulzar was acquitted in all but convicted in one case registered at Police Station, Lodhi colony under section 3 of explosive substance act. He was sentenced to 10 years in prison in 2007, which was later suspended by Delhi High Court. When asked why he was convicted in this case, he says, "There was lot of pressure on the Judge, Ravinder Kour who had acquitted me in six cases altogether. She had even told my lawyer MS Khan that she was under pressure after acquitting me of six cases."
Gulzar remembers how ACP Rajbir, on the day of judgment, emerged out of the Judge's chamber and showed a thumbs up gesture to him. "It meant he was sure that I will get convicted."
For 16 years in jail, he never lost his hope and was adamant that he will fight the charges and come out clean whatever may come, but his three years in Kanpur jail, which he calls "Guantanamo Bay of India" from 2007-2010 almost broke him and they continue to  haunt them every day he thinks about them.
"We were put in small prison cells measuring 7 by 7 feet. We used to see sun only when we were taken for hearings to court. There were no toilets inside the cells.We were given a small pot," recalls Gulzar. Sometimes the pot, says Gulzar, used to get full and we were left to defecate in polythene bags.
"This thing lead me to skip dinner for three consecutive years. I used to eat less so as to avoid the urge of going to washroom frequently. Most of the times, I had to miss my morning prayers because I couldn't perform ablution."
Two weeks after getting back to his normal life, Gulzar is finding it hard to adjust to his new life, but is relieved that he is a free man now. "Aazadi aur bandish mai zameen aur aasman ka fark hai (The difference between being captive and being free is the same as the difference between the earth and the sky)," he says.
All his sisters got married while he was in jail. When asked what he used to feel after hearing his sister getting marriage while he was in jail, he said, "Bebasi mehsoos hoti thi (I used to feel helpless). I was their elder brother. I should be shouldering their palanquin."
Days after joining back his family after 16 years, he fell sick as his hemoglobin level went below 6 due to deficiency of minerals and vitamins.He is being treated with necessary supplements.
He plans to supplement the work of his brother so as to stabilise the financial conditions of his family. "My younger brother was studying in 10th when I was arrested. After my arrest he had to leave studies and work."
"I just want to start any working, which can ease burden on his shoulders," he adds and leaves to offer the evening prayers.