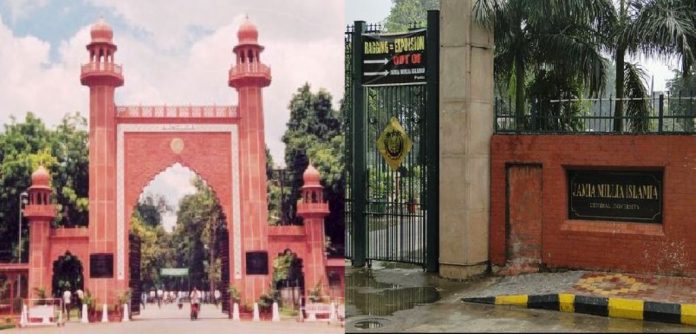 By Siddhant Mohan, TwoCircles.net
The Aligarh Muslim University (AMU) and Jamia Millia Islamia (JMI), two of the top minority institutions in India, have been picked under the Times Higher Education World University Rankings for 2018. The list, which mentions more than a thousand institutes worldwide, was released on September 5.
Inn this year's ranking AMU has topped among all the Indian universities, which have made to this list. AMU has left Banaras Hindu University, University of Delhi, Jadavpur University, Punjab University, University of Calcutta, University of Calcutta and several other universities and institutes of national importance.
AMU has also been ranked number seven among Indian Higher Educational Institutions, which includes the various Indian Institute of Technology and India Institute of Sciences. AMU has consistently maintained its ranking of 601-800 slot of the Times Higher Education achieving the number one position from number two last year.
AMU Vice Chancellor, Professor Tariq Mansoor said, in a press statement, that the university is proud to claim the top spot in the Times Higher Education World University Rankings. He added that the rankings suggest that AMU is one of the most prestigious universities with very high entry standards. "AMU attracts very students from all over the country and the world," said the Vice Chancellor.
On the other hand, Jamia Millia Islamia has for the first time made it to the Times Higher Education World University Ranking 2018. The university has been ranked under the slot 801-1000 this year out of 1102 institutions worldwide. Teaching was found to be the strongest pillar while making the assessment for JMI.
Among the 42 institutions from India, The World University Ranking has placed JMI at rank 18th.
JMI Vice Chancellor Prof Talat Ahmad expressed his happiness over the consistently high ranking that JMI has been scoring over the years. He said that this was the first time that the university has made it among the top 1000 institutions worldwide which reflect JMI's growing international presence and outreach besides the university's impetus on high-quality research, publications, and teaching.
"JMI hopes to improve upon its performance for higher ranking in future," Prof Ahmad added.
Times Higher Education is a UK based agency which takes into account around a thousand world institutions to determine the rankings. It is a leading provider of higher education data for the world's research-led institutions. These rankings have been adopted as a geopolitical indicator and as an aid to strategic management of institutions. It is through these rankings that students all over the world make their study and career choices.
The World University Rankings are generated from five pillars, each of which represents a key area of higher education excellence: teaching, research, citations, industry income and international outlook. These are constituted of 13 metrics each.
Such rankings are important for funding and it also helps in improving the overall perception of the institution. These rankings bring in the best recruitment and placement for students.
Being minority institutions, both JMI and AMU have given a lot to the community and its students. Jamia Student Ashraf Ali said, "It feels good to study in such institution which holds such higher standards."
The ranking of AMU and Jamia becomes more interesting as the Jawaharlal Nehru University has failed to make to this list. And not any Indian university has not made into the top 100 slot.