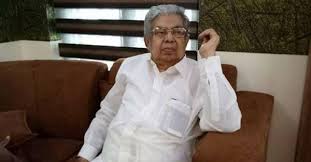 Kasargode (Kerala) July 27 (IANS):
Senior Indian Union Muslim League (IUML) leader and former Kerala Minister Cherkalam Abdullah passed away near here early on Friday, said family sources. He was 75.
Abdullah was unwell for a while, but he passed away after suffering a cardiac arrest at his home, the family member said wishing not to be identified.
The veteran leader is survived by his wife, two sons and two daughters.
Beginning his political career as a student leader, Abdullah worked up the party order. He was a four time legislator from Manjeswaram constituency from 1987.
He was Minister for Local Self Government in the A.K. Antony cabinet from 2001-04.
At the 2006 assembly polls he lost and since then he did not return to electoral politics. However, he was active in the IUML and was the secretary of the party.
It was during his stint as minister, that the Women Empowerment programme of the state government "Kudumbasree", especially in Muslim-dominated areas in the northern districts of the state got strengthened.
Later he made a mark as the Chairman of the Committee on the Welfare of the Backward Class Communities.