By Auqib Javeed, TwoCircles.net
Photo courtesy: Sana Irshad Mattoo
Srinagar: June 11, 2010, is now etched into the memory of the Kashmir conflict; a day that marked a generational shift in how Kashmiris opposed Indian rule. The Baton of 'resistance against Indian rule' was handed over to a new generation. The day marked a beginning of a famous 2010 summer intifada in which streets of Kashmir-mostly in Srinagar's downtown- became battlegrounds between pro-freedom youth and government forces. The street stamina was overpowered by state stamina by coming down hard on the protesters, resulting in the death of 120 Kashmiris, mostly youth.
The first casualty of 2010 summer was a teenager: Tufail Mattoo. The lone son of his family, Mattoo's name is a synonym to the bloody summer. The son of a handicraft businessman- Mohammad Ashraf Mattoo, Tufail was killed by government forces' tear gas shell that hit his head. Mattoo senior handed over a Rs 10 note to his son as bus fare when he was going to a tuition centre. Tufail was preparing for a medical entrance test. Mattoo didn't know that the Rs 5 coin that was with Tufail would remain as "souvenir" for him and his son wouldn't return.
He was at home when some neighbours rushed to him with the news that shattered his life, forever: his son had been killed.
Tufail was hit by a teargas shell fired at him from a close range by the J&K police on June 11, 2010, near Gani Memorial Stadium –about 8 km from his home in Saidakadal.
His skull was bust open with the tear gas shell and he died on the spot with the five-rupee coin in his right hand. Tufail's death led to widespread protests triggering months' long anti-India summer uprising during which men in uniform killed nearly 120 people, mostly youth.
Witnesses in the locality said the police started chasing Tufail when they saw him. As he began to run, the police fired a teargas shell at him hitting him in the head. He died, instantly.
The autopsy of Tufail also confirmed that he was killed by a teargas shell which damaged his brain and skull, busted the police claims that it was a case of "mysterious death".
The then Chief Minister of J&K state, Omar Abdullah, appointed a retired judge Justice ML Koul to probe the civilian killings of 2010. The Koul Commission report was handed over to the present Chief Minister Mehbooba Mufti in December 2016 in which it was recommended that a CBI enquiry should be ordered in Tufail's case. The report has not been made public, however.
In December 2012, the Special Investigation Team (SIT) of the J&K Police, which had first investigated the case, had also closed the investigation by declaring culprits "untraced".
On the eighth death anniversary of Tufail, who is buried in Martyrs' graveyard Eidgah, people from all walks of life came and paid tributes to him.
In February 2015, the Jammu and Kashmir High Court ordered a fresh probe into Tufail Mattoo killing. It was after Amnesty International called on Jammu and Kashmir Government in June 2013 to reopen the investigation into 2010 killing of Tufail Mattoo.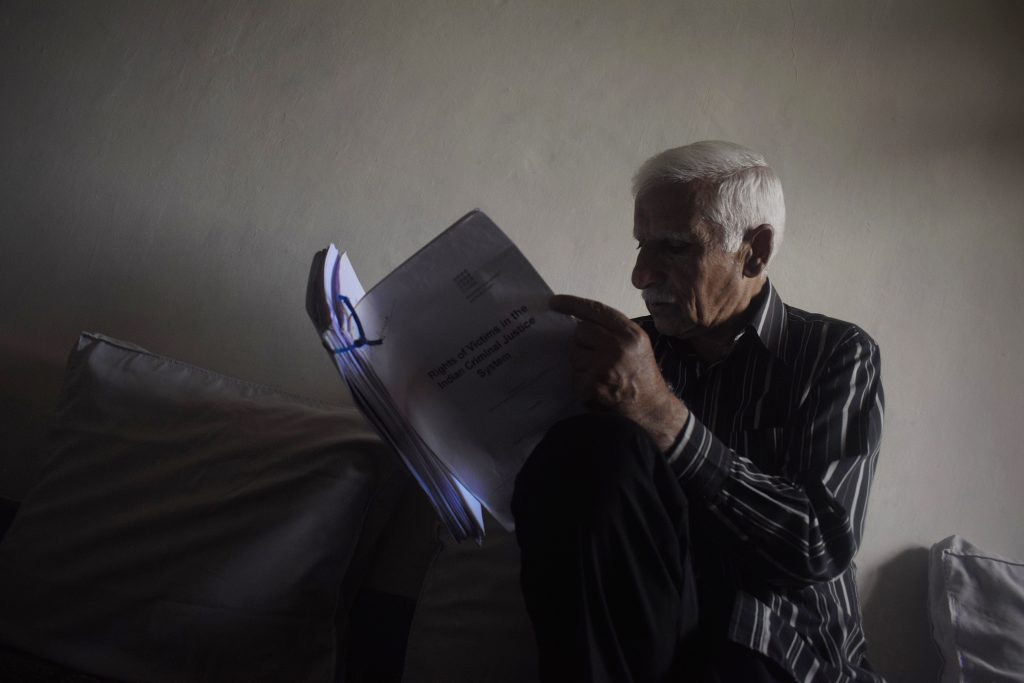 On the long-drawn battle of Mattoo, political commentator Gowhar Geelani maintained that the trigger that led to the 2010 summer uprising was the extra-judicial killings in Machil in which three civilians were lured for a job and killed in fake encounter by Indian army along the Line of Control (LoC).
"Later, a young teenage student Tufail Mattoo became a reference point. His killing by government forces in a way was a paradigm shift in seeing a new generation of Kashmir at war with the state and the idea of India in Kashmir. And the government at war with a new generation. A new generation which has a new vocabulary, that way it was pretty significant in Kashmir narrative," he said.
Geelani said that denying justice in Tufail Mattoo's case is a telling commentary on "how India operates in Kashmir and how brazenly it shields perpetrators and gives a free license to armed forces to commit rights violations, and also encourages the guilty personnel to believe they can get away with anything".
An FIR was filed 11 days after Tufail was killed after the family had run from pillar to post and pleaded with the magistrate to order police to do it.
"I don't see any progress in the case, the reason is police haven't done a fair and proper investigation and when police are themselves involved in the crime how can one expect a fair investigation," said noted human rights activist and lawyer Parvez Imroz. "Tufail's father is a brave man who is fighting for the justice for last eight years but you have to understand that government forces are enjoying impunity in the state of Jammu and Kashmir where they get easily," he added.
Human rights activist Khurram Parvez said that Tufail Mattoo was brutally killed at a time when the anger was already brewing up among the people against the killing of three innocent Kashmiris in a fake encounter by Indian Army. "In Srinagar city, such kind of killing also took place after a long time where a child who was coming back from tuition centres was killed by government forces so this killing became the news and people in large number came on roads to protest against the forces repression in Kashmir."
"Everybody thought that there is no one safe in Kashmir and at that point of time it led to a huge public mobilisation," he added.
Ashraf has attended more than 50 court hearings in past 8 years and he has lost all hopes on Judiciary. "I tried my best to give the opportunities to the state government for delivering justice by arresting the culprits but unfortunately they, in turn, shield them and they not only murdered the justice but their so-called democracy as well, they have been doing it in Kashmir since three decades."
Khurram observed that since 2010 the street protest continues in Kashmir. "Whenever there is the killing of a civilian or even we can see when a militant is being killed in an encounter people start protesting in a large number. The uprising is ongoing."
"The protest trend is not according to calendar given by Hurriyat (Conference) now; the trend is according to the killings be it a civilian or a militant," he added.
"There is no will shown by the side of the government to investigate any crime whether it's killing of Tufail Mattoo, rapes, torture and disappearances. They are reluctant to provide justice to the people, therefore, they are not allowing any investigation which means there is complete unwillingness of Government of India and from the state government to allow process of justice, they don't allow these processes to function as a normal process where accountability can be created so they have given absolute impunity to armed forces and there is no deterrence and therefore these crimes are getting repeated again and again," he maintained.
"So, his killing was actually the trigger that became the reason for the summer uprising," he added.
Noted journalist and editor Najeeb Mubarki said that Kashmir is a cotton balefire, where enforced 'normality' never douses the smouldering embers and which only needs a spark to rage once again.
"Tufail's killing in 2010 was one such spark, there have been others since and, given the fact of neither the political conflict being resolved or even the killers being ever given punishment, unfortunately, there will be other such sparks in the form of killings or other abuses. But Tufail also became a symbol, that of Kashmiri youngsters being killed by a brutal military regime calling itself a democracy and of a younger generation becoming the spearhead of resistance against the state of utter brutality," said Mubarki.
Ashraf said, "When 120 youth were killed after my son's killing, the parents of those youth decide not to fight the case because they were aware that they will not get the justice from the government. I decided to fight the case as I was believing and I was a staunch supporter of democracy…Today when they meet me, I told them that your decision of not fighting the case was right as justice seems to be elusive to me as well," he said.
Referring to notes from his son's case file, Ashraf said that it takes a lot of time for the common people to even register an FIR.
"Our application was rejected by the Police and they accepted it only after court's direction and when it comes to probing, they do it in a way that culprits are saved and the court hearings are stretched so long that the victim gets exhausted and he ultimately gives-up the case" he explained.
"Investigation in Kashmir is a cruel joke; they do it to hush-up the case that is why I rejected the recommendations of the Justice Koul Commission of Inquiry, which had recommended a CBI investigation into the killing," he said.
"I am the father of the victim and the points I had raised in my letter before the (Koul) commission were not even touched and thus the real perpetrators had been let off," he alleged.
He is buried at two places, his body is buried at martyrs graveyard in the old city and the fragments of his brain that lay scattered on the ground were gathered by locals and buried nearby. "This haunts me all the time," says Ashraf.