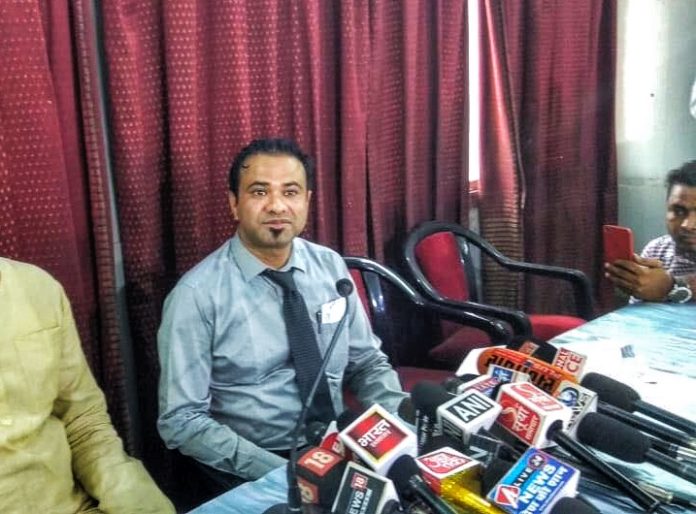 By Siddhant Mohan, TwoCircles.net
A week after Kashif Jameel was shot by unidentified shooters in Gorakhpur, his brother Dr Kafeel Khan organised a press conference in UP Press Club in Lucknow in which he alleged that Kamlesh Paswan, a member of Parliament from the Bhartiya Janta Party (BJP), was the man behind the attack.
Kamlesh Paswan is the MP from Basgaon seat. His business partner Satish Nangalia was also named by Dr Khan during the press conference on Sunday. Khan alleged that Paswan hired shooters to kill Kashif Jameel as Paswan had been trying to grab a piece of land belonging to Dr Khan's uncle.
However, Kamlesh Paswan conducted a press conference immediately after the allegations came out in media and called them 'baseless'. He added that he had nothing to do with the piece of land in question. Paswan accused Dr Khan of framing him to grab headlines.
Kashif Jameel, the younger brother of Dr Khan, was shot in Gorakhpur on June 9 night at around 10 pm. Khan was shot near the famous Gorakhnath Temple by two unidentified gunmen who approached Kashif on a Honda Activa. One gunman was wearing a helmet while the other had a towel wrapped around his head. Kashif sustained three bullet injuries: on the right side of the neck, right shoulder, and right forearm.
He was taken to Star Hospital, Gorakhpur for treatment. But as Police delayed the surgery of Kashif for medico-legal procedures, his condition worsened. He was taken to King George's Medical University in Lucknow, where his condition is improving.
Dr Khan is a paediatrician from BRD Medical College Gorakhpur who was jailed even though he tried to save children in August last year when the medical college ran out of the oxygen supply. He was granted bail last month after spending more than eight months behind bars.
According to Dr Khan, Kamlesh Paswan and his associates Satish Nangalia, Nikahat Ara, and Numan tried to grab the land — which originally belongs to a maternal uncle of Kashif and Kafeel — in February this year. Kashif's family registered an FIR in the case, and Kashif, along with his cousin and uncle, was pursuing the lawsuit in the court.
Dr Khan alleged that Kashif was threatened by Paswan's men just a few days before the attack, in order to make them withdraw the case and to sell the land to Paswan. Otherwise, he would be killed.
Dr Khan further alleged that it was Kamlesh Paswan's decision to chose such a spot for the attack which was about 400 meters away from the Gorakhnath temple so that fingers could be raised on Chief Minister Yogi Adityanath who was resting in the temple that night.
While addressing the delay in his brother's treatment, Dr Khan accused City SP Vinay Kumar Singh and Praveen Singh, CO at Gorakhnath for violating the Supreme Court guidelines and the Police Act by delaying the surgery of his brother for about four hours. Kafeel demanded the removal of both the police officers.
He further demanded a CBI probe or investigation under the supervision of a High Court judge, otherwise, the case could be affected given the power of Kamlesh Paswan.
According to local sources, the land in question is worth Rs 25 crore. Kamlesh Paswan and 12 others were booked under 147, 148, 149, 323, 504, 506, 427, 447, and 120-B of the Indian Penal Code for land grabbing and violence on February 18 this year.