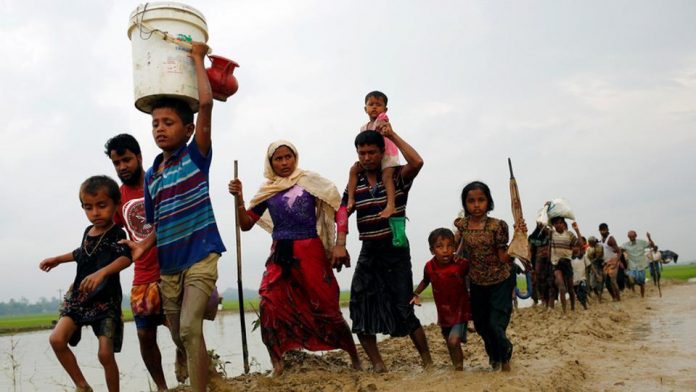 New Delhi (IANS): The government on Friday told the Supreme Court that India is already facing a "serious problem of infiltration" because of its porous border which is the "root cause of spread of terrorism" and it would not be in national interest for the court to issue a direction to stop the Rohingya refugees' deportation.
Filling an affidavit on pleas seeking to halt the alleged "pushback" of Rohingya refugees at the borders, the Home Ministry told the court that securing the country's borders is essentially an "executive function" and urged the court not to direct it and the state governments to allow foreigners to enter illegally.
"Securing the border of any sovereign nation, in accordance with law, is an essentially executive function and this Court would not issue a writ directing not only the Central government but all the state governments having a common border to ensure foreigners enter the territory of India," stated the affidavit.
The Central government also refuted allegations that the Border Security Forces (BSF) was using chili and stun grenades to push the refugees back, saying that these claims have been found to be "completely false, incorrect and far from the truth".
"The steps being taken by any border guarding force is strictly in accordance with the law, in larger public interest and in the interest of nation… All agencies tasked with the function of guarding the borders of our nations are discharging their duties strictly in accordance with law and complying with the human rights in larger national interest," it said.
The apex court had earlier asked the Centre to respond on the pleas filed by Mohammad Salimullah and Mohammad Shaqir, two of the Rohingya refugees, seeking a halt to the pushback policy of the BSF at the border and for improved living conditions in Rohingya refugee camps.
Responding to the pleas, the Central government said that India is not a signatory to the United National Convention of 1951 relating to the Status of Refugees and the Protocol of 1967 issued thereunder.
"The obligation of non-Refoulement is essentially covered by the provisions of the aforesaid convention to 1951 to which India is not a signatory. It is submitted that considering the very peculiar geographical situation existing namely India sharing its land border with China, Pakistan, Bangladesh, Bhutan, Nepal, Myanmar, it is not in the interest of national security for this Court to issue a direction as sought for," it said in its affidavit.
The petitioners had earlier said that Rohingya refugees be extended the same facilities that were being made available to Sri Lankan Tamil refugees who have arrived in Tamil Nadu for safe shelter.
The government, however, opposed the plea, saying that the comparison with Sri Lankan refugees was "ill-founded and misconceived".
It also submitted that government cannot issue any identification cards to the Rohingya refugees, as India is not a signatory to the Convention.