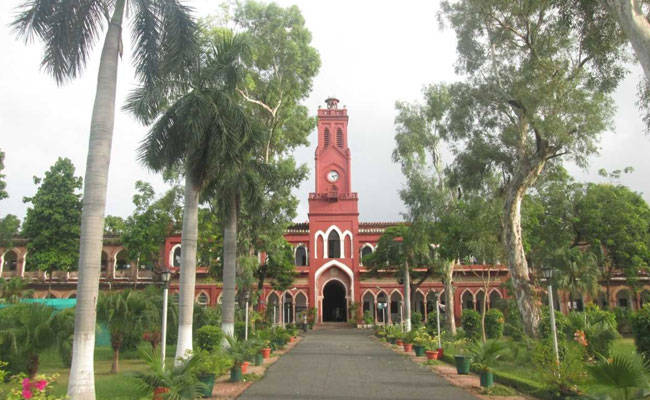 TCN News
M Salman Imtiyaz, Ph.D. (Social Work) was declared elected for the post of President of  Aligarh Muslim University Students Union late night on Saturday.
Earlier, polling for AMUSU and Womens College Students Union on Saturday. Counting of votes began from 9:00 PM and the results were declared by midnight.
Salman Imtiyaz, a resident of Aligarh itself defeated his nearest rival Mohammad Ghaznabi by a margin of 2547 votes. Salman polled 5705 votes while Ghaznabi got 3158 votes. Ghaznabi is brother in law of Cricketer Mohammad Shami and hails from Amroha.  The other three contestants for the post of presidentship included Alauddin (2477 votes), Mubashir Shar (873 votes) and Asad Murtaza (41 votes). Imtiyaz, got support from students hailing from all regions and led in most of the faculties.
In his final speech on November 1, Imtiyaz had promised to set up a community radio service of AMU on lines of Oxford University.
For the post of Vice President, Hamza Sufyan (5577) defeated Yaseen Ghazi (2280) by a margin of 3297 votes. Sonveer Singh, the lone Non Muslim candidate finished fourth among five candidates and polled 1216 votes.
For the post of Secretary Huzaifa Amir Rashadi, with 5730 votes defeated Gufran Ali (2912 votes) by a margin of 2818 votes. Huzaifa is son of Rashtriya Ulema Council Chief Maulana Amir Rashadi of Azamgarh.
Besides this ten members for the Cabinet of AMUSU were also elected. Among them Syed Shahrukh Hussain victory was most overwhelming as he campaigned single handed with no supporters earning respect from the students. Another candidate Ferdous Ahmed Barbhuiya also won being the first candidate from Assam to make entryin AMUSU. Nishant Bhardwaj also was elected, he was in forefront defending AMU during the Jinnah controversy. Two girls Fakhara Khan and Maryam Batool were also elected as cabinet members.
Apart from these 11 representatives to AMU Court from the students were also elected.
Apart from the main campus, Women's College Students Union was also elected. Afreen Fatima was elected president, Nahid Asad as Vice President and Maimoona Ansari was elected Secretary along with eight other cabinet members. The elected members stressed on the ending the step motherly treatment given to Women's College from the main campus. Surprisingly there were 12 candidates for eight posts of Cabinet Members in WCSU. Four candidates were non Muslims but they all lost. Outgoing president of WCSU Naba Naseem wrote on her facebook wall, "It's a matter of utter disappointment that not a single Non-Muslim candidate has won the election even for the post of cabinet in WCSU(2018-19). Majoritarianism is not the essence of democracy. Moreover ,this sort of representation makes them feel alienated and leads to communalism".