By Najiya O, TwoCircles.net
Shajila A came into limelight when the 'Mathrubhumi daily' carried a photo of her in tears yet continuing her duty covering the violent protests during the state hartal on January 2 in Thiruvananthapuram. She was badly attacked by the protestors while capturing the visuals of the Sangh violence and sprained her neck. Shajila spoke to TwoCircles.net about the unforgettable experience of her life.
Shajila, cameraperson of the 'Kairali People' channel in Thiruvananthapuram, went to the protest site (samarapandal) of the BJP to get the reaction of its leaders at the entry of two women at the Sabarimala temple. BJP state leader MT Ramesh came there and she, along with the other media persons, covered his reaction too. They were about to leave the place when they saw a protest procession coming towards the site.
"The march was aggressive when it was approaching," said Shajila.  "They were destroying all flex boards other than the BJP's on the way of the procession. When we began to capture those visuals, they began to take on us. I evaded them and moved forward with the procession and shot the visuals of the protestors destroying flex boards. Then they turned towards me and began to abuse and threaten me using very bad language. As I had already captured the visuals, I did not mind them and instead moved forward. When I was capturing them beating up my fellow media persons, somebody tried to pull my camera from behind. As my grip on the camera was hard, they couldn't take it off and they pushed me off to the ground. The camera was on my shoulder and during the struggle, I sprained my neck," she added.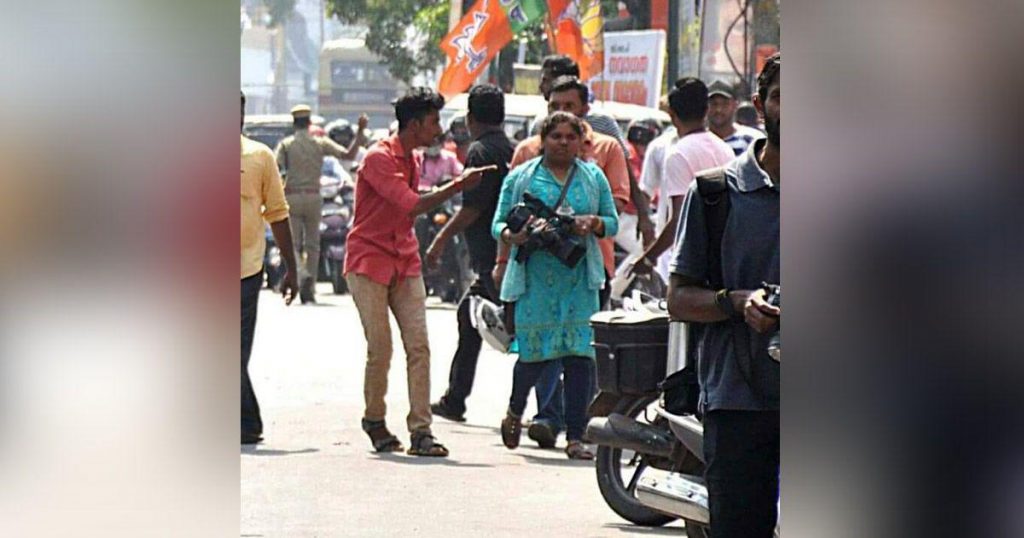 Other media persons nearby came in to help and console the lone female cameraperson at the site. Shajila's camera's alignment had changed. She changed the battery and restarted it, and got back to work. "And then I felt sad and my eyes welled up", said Shajila, "I felt bad because of my camera as I couldn't take any visuals at that time, for my camera assistant who was also attacked, for all those who came to help me and were beaten up. All the frustration that we couldn't do anything when many people closed in and beat us up…  And I moved closer to my camera so that nobody else sees my tears. That was when Unnikrishnan of 'Mathrubhumi' captured it," she added.
Shajila came to the field of camera around five years ago.  After doing a degree in philosophy from the Government Women's College, Thiruvananthapuram, and PGDCA, she joined Kairali TV as DTP operator. After working at the news desk for seven years, channel MD John Brittas asked her to join the camera team knowing her interest in news. Though confused at first, she took up the new opening with the blessings and advice of her father Abdul Rahim (who passed away last year). Ever since, she has covered several programmes, elections, protests etc but this one was different.  "Normally we shoot all sorts of visuals of protests – people protesting, beating or getting beaten up by police etc. Usually, protestors do their job, police theirs and we ours. But this protest and attack against us look well planned," she added.
When asked about the future, the 34-year old was all hopeful and confident. "I will continue with Kairali TV. The doctor has prescribed me rest for five days. After that, I will get back to work.  I will cover the programmes of these same people if required." She also shared her concern about the present situation in Kerala.