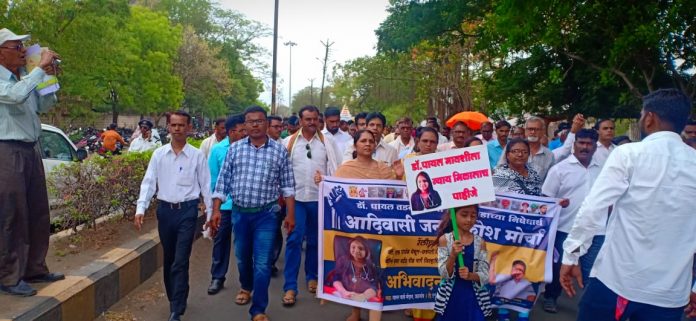 By Imran Inamdar, Twocircles.net
Jalgao (Maharashtra) 
---
Support TwoCircles
---
With the intention to send a strong message to the government authorities, as many as five thousand Adivasi activists including family members of Dr. Payal came on road on Wednesday morning to demand capital punishment to all the three accused for abetting suicide to Dr. Payal Tadvi.
The march was organized under the banner of Adivasi Vikas parishad and Adivasi Yuva Kranti Dal and the leadership Bamcef leader Vaman Meshram.
Dr. Payal Tadvi, a 26-year-old Post Graduate Student at Mumbai's famed BYL Nair Hospital in the Obstetrics and Gynaecology Department of Government run Topiwala National Medical College was driven to suicide after facing discrimination and harassment at the hands of three of her senior colleagues, Hema Ahuja, Bhakti Mehar and Ankita Khandelwal.
The March started from Shiv Ratna Chowk at 12.30 pm and concluded at Sagar Park. A memorandum was also submitted to Additional collector signed by Presidents of various NGOs.
Through the memorandum, the activists demanded CBI enquiry, cancellation of degrees of all three accused, action against dean and concerned Head of the Department of Nair hospital, financial assistance of Rs. one crore to the deceased's family.
Female doctors and women from other community registered notable participation. They were holding placards demanding justice for Dr. Payal.
Moulana Mujaheed Suratne (President of Adivasi Yuva Kranti Dal) informed Twocircles.net that Adivasi people from nearly 40 villages of Jalgao District attended the protest. He said, it is quite satisfactory that our brothers and sisters are coming on road to fight for justice and protection of their democratic rights.
Moulana says, The Adivasis like Tadvis have been facing discrimination and atrocities from a very long time. "Now we will continue our fight till justice is done. We are planning a protest march in Mumbai soon," he added.
Dr.Payal Tadvi, hailed from Jalgaon district in the North of Maharashtra. Tadvi, belonged to the Bhil Tadvi Community, part of this population is Muslim. Dr. Tadvi was a practising Muslim and had kept her Roza for the month of Ramadan that day, 22nd May, when she hung herself in her room unable to bear the harassment of her seniors.
The Bhil Muslim Tribal Community are classified under Scheduled Tribes in states like Maharashtra, Gujarat, Madhya Pradesh and Rajasthan. According to the 2010 census the Tadvi Bhil population in Maharashtra is 1,818,792.
SUPPORT TWOCIRCLES
HELP SUPPORT INDEPENDENT AND NON-PROFIT MEDIA. DONATE HERE