By Nikhat Fatima, TwoCircles.net
Rehana Khan, the daredevil stuntwoman, from Chhattisgarh was in Hyderabad last month February 2019, and we met up with her to know about her journey in a field that is still predominantly a male bastion.
Like most people, Rehana Khan's first experience with the "Maut ka Kuan" (Well of Death) was during her childhood when she saw bikers in her village. She remembers the thunderous applause from the audience. She was so impressed by the daredevil stunts that she decided she would also do the same.
Rehana learnt how to ride a motorcycle when she lived with her parents in Etah, Uttar Pradesh. Her father, being a mechanic, used to have several bikes of his customers at his garage. And it didn't take long for Rehana to learn to ride one.
But all that stopped when she got married after her 12th and went to live with her husband in Chhattisgarh. She settled down in a married life trying to be the dutiful daughter-in-law and the wife that she was expected to be.
And after one year of marriage, the couple had a son. And Rehana's dream which preoccupied her most of the time had turned into a passion she wanted to pursue at any cost.
Thankfully, her husband, Riyaz Khan decided to support her. But Rehan's parents and in-laws were not sure about the idea of her riding a bike and that too as a stuntwoman. Even women taking up jobs in the public sphere was unheard of in their household.
But Riyaz did not want his wife to give up her dream. So he allowed her to ride his bike, a Bajaj Pulsar, now and then. Slowly, the people of the town began noticing the lady biker. Riyaz had also managed to convince his parents. And together they convinced Rehana's parents also to allow her to pursue her passion.
But finding an instructor was the next big task. Riyaz used his contacts in all the places and finally, they found one through a friend. And the next challenge was to convince the 'Ustad' (teacher) that Rehana has the mettle and all else that takes to be a stuntwoman.
Once the teacher saw her riding the motorcycle confidently and with ease, he agreed. In a conversation with TwoCircles.net, she said, "I was a bit nervous. I was thinking 'if I don't do well, the ustad may give up on me'…but I gave it my best."
She was a committed student and it took her just one month to master the art.
"The main thing needed to perform these stunts is to remain totally focused all the time while maintaining the speed of the bike and having absolute control over the bike. It is important to be unafraid of heights and also not feel dizzy as they have to race across the silo drome in circular motions. I used to ride in circles, round and round on the ground first to overcome the feeling of dizziness before riding on the silodrome."
The bikes used by these stunt persons do not have brakes which helps them maintain the speed without feeling the need to apply the brakes. "Applying brakes would mean we fall off the wall. " she further explained.
"For my first show, I was nervous despite the training. I was feeling what if something untoward happened and I lost my balance? What if I fall? What if I fail? But somehow I steeled myself and raced my bike.
And after the show, I was a changed person. I was a success. I was jubilant," she said, laughing, as she recalled her very first show in a village in Uttar Pradesh.
In the beginning, the other bikers who were all young men felt uneasy seeing a woman around them. But later they got used to it. "And now we are all comfortable with each other," Rehana explained.
"My husband travels with me everywhere. He is my manager, my friend and my biggest support".
Rehana Khan, now 26, began when she was just 21 years old. And now after 5 years of biking, she has given successful performances in Jharkhand, Kolkata, Madhya Pradesh, Uttar Pradesh, Chhattisgarh, Andhra Pradesh and now Telangana.
This was the first time she was visiting Hyderabad to perform in the 'Maut ka Kuan' at the annual consumer exhibition popularly called as 'Numaish' –started by the Nizam in 1938.
Rehana was the crowd puller for the Gudiya Maruti circus who runs these stunt shows. This was the first time that a lady biker has been hired by the circus. Having Rehana in their show has proved to be profitable for the Gudiya circus proprietors.
The show began with Rehana riding her 'Yamaha' motorcycle on the vertical walls of the silodrome in full throttle waving her hands in the air, letting go of the handles and sitting cross-legged on the bike. The crowd went wild yelling and clapping in excitement. But it doesn't stop there. Following Rehana, six other bikers start vrooming on the vertical walls, waving their hands and doing all kinds of stunts that make the crowds gasp. And then Rehana comes in one of the 4 cars that join the bikers. As the cars speed, she leans out of the window with her arms and a leg out even as she is lying on the car. Looking at her calm smiling face, one can see that she is completely at ease performing all these dare-devil stunts.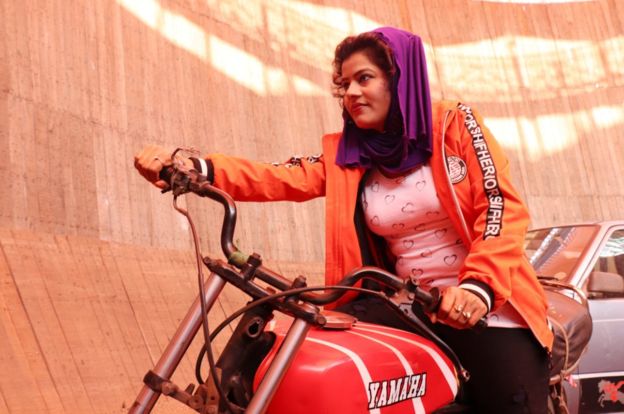 As the bikes and cars speed in circular motions on the wall of death in a wooden structure which rattles heavily making the spectators feel as if it is going to collapse any moment which actually adds to the crowd's excitement.
And after a good 10 minutes, all the stunt persons come down on the ground from the rattling wooden structure of the wall of death. And the audience heaves a sigh of relief and happy that it was a show worth watching.
After the show, young girls and children came up to meet Rehana, to shake hands with her and even take a snap with her. Rehana, dressed in a tee-shirt, jeans and boots and a hijab is all smiles. And many of the girls who come up to meet her are burkha clad.
"The girls in the burkha are particularly impressed with me maybe because I wear a hijab and they can relate to me in some way," she said. "More than the monetary benefit in this profession, it is the admiration I get from the spectators I enjoy. Even though in the sound of our motorcycles we cannot hear the claps of the audience, we know they are clapping and cheering us. And it makes us happy." She told TwoCircles.net
About her experience in Hyderabad, she says, "Hyderabad is a nice place. I took the time to go out and see the Charminar. I would like to come again the next year to perform here".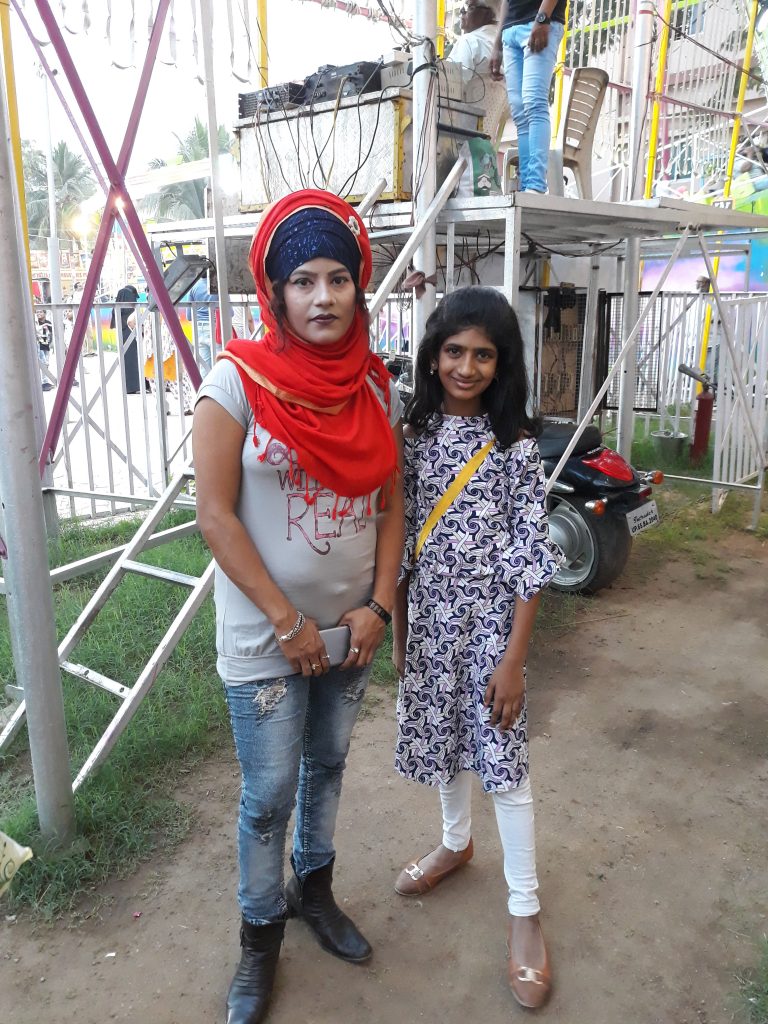 Leaving behind her 7-year-old son is not easy for her especially when she is away for months. Her in-laws take care of the child when her parents are away.
Rehana has no concrete plans for the future. She says, she will keep on riding and doing the daredevil stunts as long as she can.
And to all the girls who are in awe of her, says, "If you want to do something, you just need to have a 'Junoon' (passion) for it. It all depends on how badly you want to do it. If your passion is strong enough then you will find a way. Be strong; don't ever feel you are inferior".