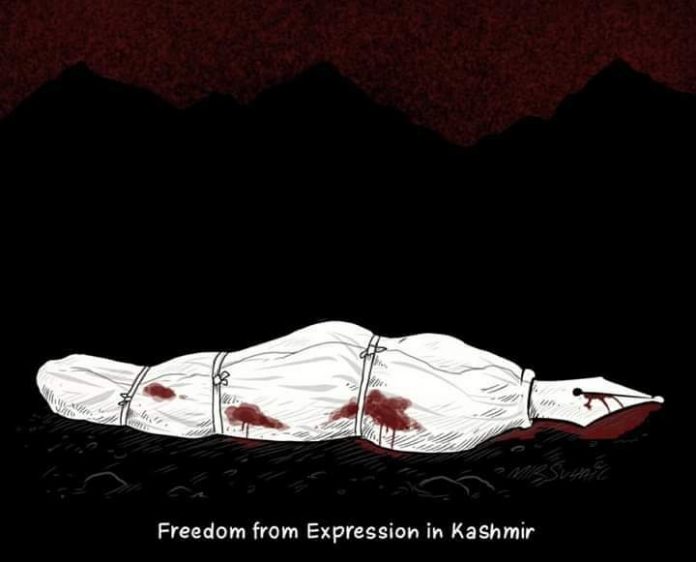 TCN News
Srinagar: Condemning the ongoing offensive against journalists launched by J&K Police, the Kashmir Working Journalists Association (KWJA) Wednesday said that journalists in Kashmir won't succumb to tactics of thought policing and intimidation.
"Journalists in Kashmir have always worked under perilous conditions, holding up values of press freedom in the face of dangers to life and liberty" KWJA said in a statement.
At least 3 Journalist have been booked in the past three days under various sections that many deemed "draconian".
On Tuesday, Journalist and author Gowhar Geelani became the latest victim of the FIR spree in the erstwhile state. The cyber wing of J&K Police booked Geelani for social media posts deemed "prejudicial to national integrity".
The case against Geelani comes a day after a female photojournalist Masrat Zahra  and Peerzada Ashiq, a correspondent of a national daily were booked under various sections of the IPC and the stringent Unlawful Activities Prevention Act (UAPA).
"KWJA understands that authorities in Kashmir are in no mood to allow a democratic dissent or expression of opinion, and have adopted the policy of muzzling the press as a governance measure. However, we would like to remind them that the efforts to silence the press, and by extension of the populace, will only prove counterproductive," KWJA General Secretary Samaan Lateef said in a statement.
"Journalists will not to succumb to the tactics and will continue to call hold the authorities accountable," Samaan added.
According to data released by the International Federation of Journalists (IFJ) in December, at least 21 journalists have been killed since 1990, often in targeted killings or because of being caught in the cross-fire, while attempting to cover the conflict in Kashmir.
Scores have been detained, beaten, kidnapped, intimidated, and harassed for their work. The situation has become worse after August 5 when the Indian government scrapped the special status of the erstwhile state.