By Musheera Ashraf, TwoCircles.net
Telangana: After offering the customary Fajr (morning) prayers thirty-eight-year old Syed Jalaluddin Sheikh from Hyderabad starts his day by burying dead bodies. When a country wide lockdown was enforced to combat the growing COVID-19 pandemic, Jalaluddin along with his team members from Youth Welfare Telangana started distributing dry ration and medicine at doorsteps of people.
While carrying out the relief work amid rising cases of deaths due to coronavirus, Jalaluddin felt the need that the dead bodies need to be provided dignified last rites.
"Every person has the right to be buried according to their religion," Jalaluddin told TwoCircles.net
Jalaluddin said that he has been working for the burial process for over 50 days now. "Till now we have performed the last rituals of 99 bodies including 8 Hindus and 1 Sikh," he adds.
What inspired him to carry out the work of burying the COVID affected bodies, Jalaluddin said, "I was moved by the incident in which one of my friend's dad died of COVID-19 but he ran away because of the stigma and didn't even touch the body."
The incident moved Jalalludin so much that he took upon himself and his team to give dignified burials to dead people who die due to the virus. Jalalludin's team now has 50 volunteers in Hyderabad and around 150 across Telangana.
People contact them directly through social media or on phone.
"People are giving us dead bodies outside the graveyard or they just inform us and we manage to get the bodies from hospital after all the legal process and NOC's by the hospital," he said.
"We take permission from the family and then proceed with the funeral prayer and a burial," he adds.
Jalaluddin said that they don't take unclaimed bodies because of the legal purposes. "If the government provides us the NOC that we can take unclaimed bodies, we can do it. We want to do this work legally," he said.
Asked how his team managed the financial toll required to bury the dead bodies, Jalaluddin said that the team contributed their pocket money for this work. "We felt a need to have a vehicle to carry dead bodies and a kind lady provided us with an old sumo car with which we carry dead bodies. But we need a vehicle of our own," he says.
While offering last rites to the dead people, the team takes full precaution by wearing PPE's and use of sanitizers.
"It takes around 6 PPE kits for one body," he said.
Jalaluddin said that the pandemic has revealed a bitter picture of exploitation as well. "Not GHMC as a whole but GHMC drivers have started their business. They are charging 25000 rupees per body to take it to shamshan ghat and burn it," he said.
Jalaluddin claimed that he is a witness of many cases where people are not taking the bodies due to the lack of money. "They just take the death certificate and leave," he said.
Describing one incident of a young boy who lost his father due to coronavirus. Jalaluddin said that when the boy's father passed away, their landlord categorically told the boy to not bring his dead body to their home and face eviction if he did.
"The boy was roaming around the Hyderabad city for 4 hours with a dead body looking for someplace where he can perform the rituals. He finally managed to call me and we performed his father's last rites," he said.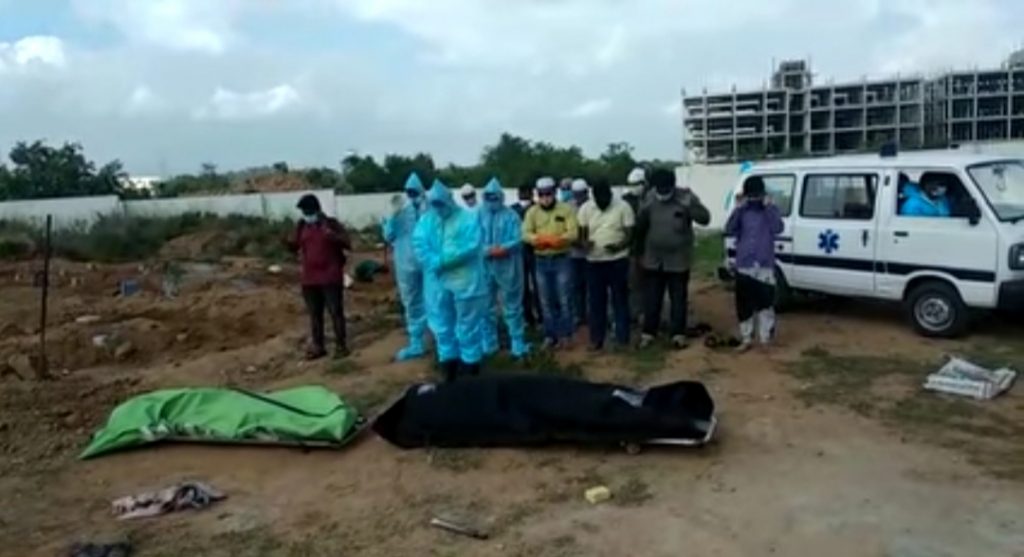 Jalaluddin remembers another distressed incident in which family members of a deceased COVID patient left the body near the graveyard and ran.
"We were worried what shall we do with the body," said Jaluluddin, and added, "As we enquired, we came to know the family is afraid and doesn't want to be a part of the funeral. We finally offered the funeral prayers ourselves and buried the body."
Jalaluddin said that there is a stigma in society against people who contract coronavirus or die from it. "Every day we hear a new story," he adds.
Jalaluddin said that while doing relief work and closely observing the situation, the situation is worrisome. "Even the non-COVID patients are being left behind because of stigma."
"We were once denied by a graveyard administration to bury a non-COVID patient which they wrongly thought was a COVID patient. We had to take him back and bury him at another graveyard," he said.
Jalaluddin said that he finds it upsetting that children are not performing their duties towards their parents if they the latter die from COVID-19. "Every parent wants their children to perform their last rites but the children are not ready to do it for them," he said, adding, "We are doing this work (performing last rites) for the sake of humanity."