Editor's note: The story is the second part in a three-part series on the three youth from Rajouri district of Jammu and Kashmir, who were killed in a 'staged gunfight' in Shopian on July 18. The series profiles the three youth and tells who they were before the unfortunate journey took them to Shopian. Read first part of the series here.
By Ayushi Malik, TwoCircles.net 
Rajouri: Around 40 kilometres from Rajouri district in Jammu and 5 kilometres uphill walk mapping two hills, Kathuni village of Dharsakari panchayat, is home to Mohammad Imtiaz and Mohammad Abrar, two of the three missing relatives killed in an alleged fake gunfight in South Kashmir's Shopian district on July 18.
Abrar, youngest of the three at 16, studying in Government Higher Secondary School, Peeri, had recently passed 11th standard exams and promoted to 12th. A sense of gloom has fallen on the inhabitants of the village mourning the death of these two youth, who in search of labour work, went to neighbouring Shopian district and never returned.
It takes almost two hours to cross the steep path leading first to Abrar's home and few meters uphill is the house of Imtiaz.
Imtiaz was working as a labourer in Shopian and had called young Abrar (16) and his brother-in-law Abrar (25), for joining him for working in apple orchards in Shopian.
The family members of young Abrar said that this is the first time he had left home to work in Shopian, in hopes for saving money for admission in 12th class.
With schools closed amid COVID-19 lockdown, he would help his family with household chores – mostly by cutting grass and grazing cattle, his cousin Mohd Saleem told TwoCircles.net.
Saleem said Abrar was a sharp student and had passed his 1oth standard board exams with decent marks (279 out of 500).
Abrar's mother Safin Jan, states that he would tell her, "Mummy mere number zyada hain. Woh kam kar diye hain unhone (Mom, I did better in exams. The board has given fewer marks.)"
When young Abrar's mother Safin last talked to him on phone on July 17, she was in Dhok (a place at top of the mountains where they go in summers to graze their cattle). Her eyes yearning to see her son again, have become swollen now, remembering the last phone call with him.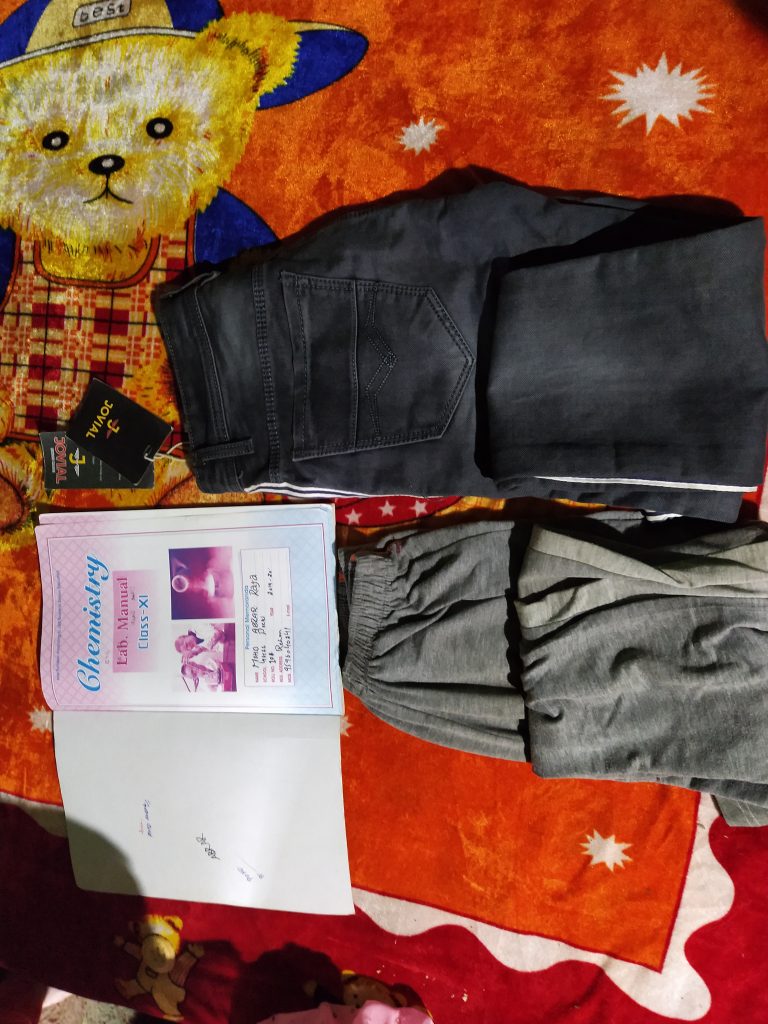 The family said that he called her mother at around 4 in the noon informing her that they have reached, rented a room and would call again at night. But, at 8, her mother's phone died just after the call was connected. That was the last she heard from him. The family speculates that the duo must have left to have lunch and bought ration, which was later found in their rented room.
With schools closed since March 20 due to coronavirus lockdown, young Abrar's schedule would involve helping her mother with household work.
Abrar's cousin Zulfikar Ahmed, says that "Abrar was way too mature for boys his age."
"16 sal ki umar main ghar sambhale hua tha. Kaun sochta hai ki mere papa ka paise savings main jayega aur main mazdoori karke apni padhayi aur ghar ka kharcha chalaunga (At just 16, he would take care of his household. Tell me, who other kid thinks that his father's income should be saved while he would do labour work to support his family and save money his education?)"
Zulfikar adds that Abrar would always be the first kid to arrive at any function help with the work.
According to family members, Abrar went to Kashmir hoping to earn some money needed for admission fee in 12th standard. "Uske jiju bolte the ki maine bhi plaster karana hai ghar ko, main ja raha hu akele, tu bhi chal admission ke paise aajayenge (His brother in law, Abrar would tell him that I also have to plaster my new house, you can also come with me and earn some money for your admission)," said Saleem.
Abrar's family of six include his father Bagha Khan, mother Safin Jan, sisters Nisreen Akhtar & Shareen Akhtar (married to Abrar Ahmed), brother Imran. The family is dependent on father Bagha Khan's income for survival – who is working as a labourer in Saudi. Bagha Khan used to work as a labourer in his village before leaving for Saudi two years ago.
"Do saal lag gaye karza utarne main. 2.5 lakh Rs ka karza tha. Abhi January main hi sahi chalna shuru kiya tha. Fir 1 lakh ka check dash diya Shareen ko (It took two years to clear the debt of 2.5 lakhs. Things got better in January this year. We also paid 1 lakh as dowry for Shareen's marriage)," say's Abrar's mother.
Hearing about the tragedy of losing his son, Bagha Khan is now planning to come back from Saudi. Abrar's young brother, Imran is in Dhok, unaware of the news. Young Abrar had gifted a fridge to Shareen for her new house and promised to gift a TV too.
"Usse ghar banane ka bahut shauk tha. Kehta tha ki dekhna Mummy, main banaunga ek acha sa ghar aapke liye (He wanted to build a house for his mother, he would tell her often that he would build her a nice house)," his mother Safin said while wiping her eyes.
The family lives in a traditional mud house comprising of a room, kitchen and a store. All that's left of him are his cricket bat, books, clothes, and few pictures. The family sleeps in one room containing 2 beds, a trunk, chairs, and a wooden Almirah, with Abrar Chauhan Painted on its door.
I lay out his recently bought pair of jeans with its tag still intact. The cries of his mother break the eerie silence of the room, as she grabs hold his clothes and starts crying. Abrar's cousin takes out an old album, runs his fingers through a photograph of the family taken on their verandah. Young Abrar, aged six in the pictures dressed in brown Kurta pyjama is beaming his mischievous smile. In his almirah, Abrar had kept the essential paperwork of the family, "Bank ka kaam bhi wahi karta tha (He would handle all the bank related work too), said his cousin.
Saleem took out Abrar's cricket bat, reliving the cheerful moments they shared while playing cricket. The ground where they played cricket is atop the hill, 1.5 hours walk away. All cousins, including Imtiaz, and friends would play cricket weekly. "Abrar enjoyed batting," said Saleem.
"The young Abrar left on the morning of 16 July on foot," said Saleem, adding, "his mother woke up at 1 to pack him food and a bottle of milk for the long tiring journey." Dressed in navy blue pants and sweater, slippers, goggles and mere 1000 bucks and carrying his school bag, he set on the unfortunate journey. In the photograph doing rounds on social media, he can be seen wearing the same clothes which helped in his identification.
Abrar left his phone with his mother and kept his SIM card with his brother-in-law. "Apni maa se kaha humne bahut achi photos keenchi raste main, snowfall main. Hum aapko bhejenge par wahan tak baat hi ni pahunchi (He told his mother that they have clicked many nice pictures in the snowfall on the way and will send you later. But that couldn't happen)," said Saleem.
Taking out his phone, Saleem scrolled through the gallery showing me young Abrar's photographs. "Abrar loved getting clicked with his goggles on. The same goggles were found at the rented room in Shopian along with masks and Vaseline," he said.
"Fauji banne ka bhi bahut shauk tha use. Hamari family main sabse pehle domicile usi ne banwaya ki main wahan (Shopian) jaunga, wapas aunga, tab tak koi bharti wagehra bhi ayegi to sabse pehle mera hi number ayega (He wanted to serve Army that's why he was the first in our family to make his domicile certificate. He would say that when he came back from Shopian, he would enroll in Army)", Saleem said, while showing me his Domicile Certificate dated 4 July 2020.
"Barah din pehle hi bana hai Certificate us key jane sey pehle (Domicile Certificate was issued to him 12 days before he left)," Saleem added.
People from the entire village are visiting their home to console the grieving families and pay their respects. Abrar's sister Nisreen is busy with taking care of the guests.
Nisreen says she talked to him before he had left. "He stayed in Dhok till June and came back to help Shareen's husband, Abrar, in building his new home," she adds.
Saleem said that Abrar was a dedicated son. "He would take care of his 10-year-old brother, and 15-year-old sister Nisreen when his parents were in Dhok. He would cook for all them too," he adds.
Despite all this, Abrar would manage to devote time to his studies.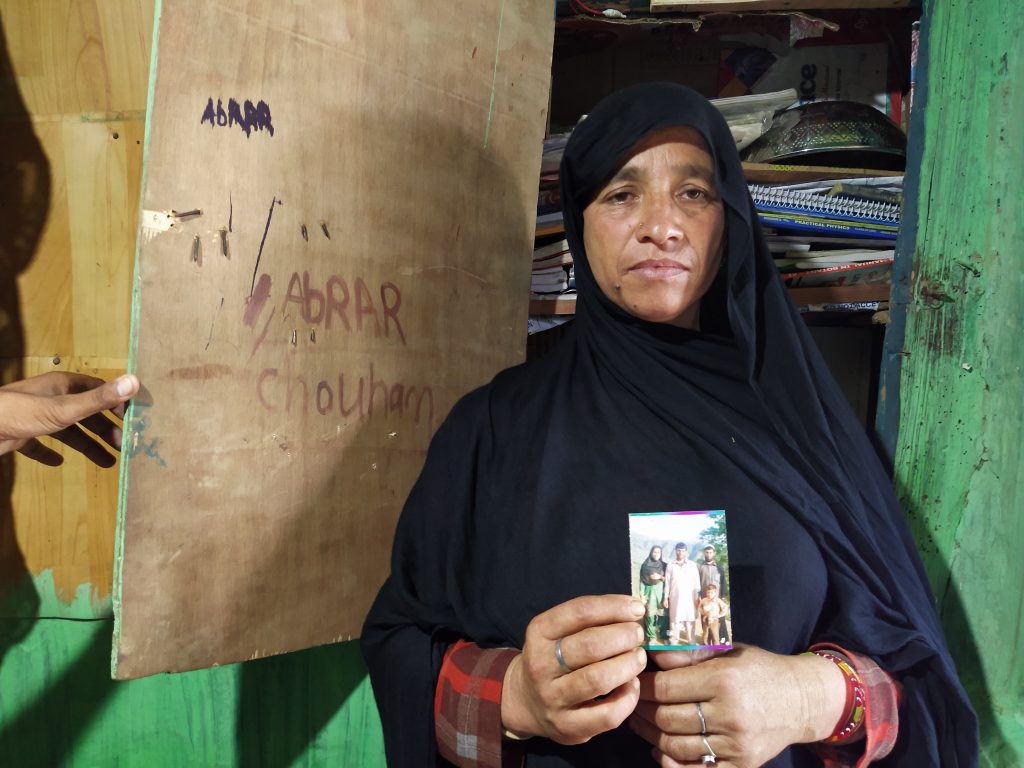 Government Higher Secondary School Peeri is almost 2.5 hours walk from Abrar's house, with no proper infrastructure.
Pointing towards 10-year-old Waseem, another cousin of Abrar, Saleem says, "Iski umar 10-12 saal hogi. Yeh jayega chalke aata chakki main pisaw ke aayega, tabhi khana banega ghar main. Idhar bacho ko to mauka hi ni milta hai ki city jayen, ghum kar ayen, padhayi bhi mushkil hai, sab dukaan niche hai aur khadi charayi hai (He must be 10-12 years but only after he will walk downhill to grind the flour, food will be made here. Children here don't get time to visit cities and enjoy. Its a struggle to even study here because we don't have any roads and have to climb steep heights back and forth)."
The employment opportunities are also meagre in the village, with most of the young boys turning towards labour work to make ends meet.
After the incident in Shopian, most of these youth working as labourers in Kashmir have been either called back by their parents or have returned willingly out of fear.
Boys as young as 14 years of age turn to labor work to support their families, "Har ghar se ek banda jata hai labor ke liye Kashmir. Jab koi bhi bacha hosh sambhalta hai to uska struggle shuru ho jata hai (At least one person from each house goes to Kashmir for labor. As soon as they start to mature children start supporting their families)", said Zulfkar.
The family wonders what must have their children done in a single night that they were killed? Helpless and kept in dark till now, the family says "Jhootha daag laga hai inper. Itni umeedo se padha likha kar bada kiya. Jiske sar par ghar chal raha tha wahi chala gaya (He has been falsely accused of being a militant. He was solely responsible for his family. And now he is gone.)
Saleem, who has filed a case in Jammu, states that the trio had rented a room 100 metres away from the army fence thinking they would be safe but encounter took place 14 kilometres away from there. "How did they reach the encounter site 14 kilometres away from their room when the front door of the room was locked," he questions.
The police have taken the DNA sample of the family on 11 August whose results will come on 25 August. "We demand a judicial enquiry and want justice. If it's proven that they were militants, then it's fine otherwise we demand to know why were they killed," the family demands.