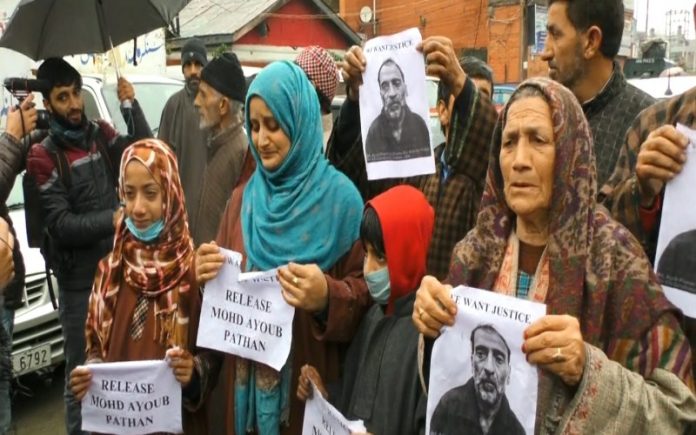 By Auqib Javeed, TwoCircles.net 
Srinagar: "I fear that the fate of my husband should not be like those Kashmiris who were implicated in fabricated cases and later on acquitted after spending decades in jails," laments 40-years old Shaista Akthar at her home in Nasrullah Pora area of Central Kashmir's Budgam district in Jammu and Kashmir.
Akthar's husband, Shabir Ahmad Gojri is among the two other Kashmiris namely Reyaz Ahmed Rather and Muhammad Ayoub Pathan who were arrested by the Special Cell of Delhi Police from Shakarpur area of Delhi after a "brief encounter" on 7 December.
The trio were arrested, along with two Sikhs from Punjab, in New Delhi for their alleged links with ISI and Khalistani groups.
The Delhi Police added that following the encounter, arms and ammunition were recovered and banned drugs were also seized from the possession of the accused.
"Three pistols, 2 kg of heroin and Rs 1 lakh in cash have been recovered from their possession," DCP Special Cell Pramod Kushwaha told the reporters in New Delhi.
The arrests came amid the ongoing farmers protest against new laws liberalizing agricultural markets. The farmers from the northern states of Punjab and Haryana, neighbouring New Delhi, have been at the vanguard of the agitation since last month, and have set up protest camps in and around the capital.
The DCP Special Cell, however, maintained that the case has no connection with the ongoing protests at Delhi borders.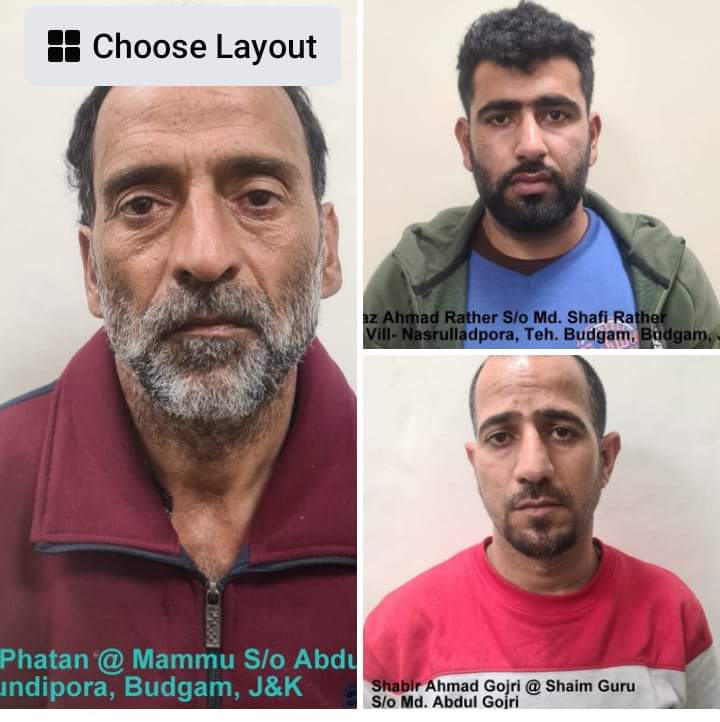 It may be noted that the arrest of the trio came just two weeks after Delhi Police's Special Cell arrested two suspected Jaish-e-Mohammed (JeM) militants from Sarai Kale Khan area in southeast Delhi.
Abdul Latif Mir (22), a resident of Doru village in Baramulla district, and Mohammad Ashraf Khatana (20), a resident of Hat Mulla village in Kupwara district, were arrested on November 17 by the police.
However, the families of the arrested youth strongly contested the police claim's saying their sons were not 'remotely connected with militancy.'
Earlier on 8 March, the Delhi Police special cell detained a Kashmiri couple from Okhla for alleged links with IS Khorasan module—claim that the family has contested.
The detained couple were identified as Jahanjeb Sami (husband) and Hinda Bashir Beg (wife).
The couple had links with the Islamic State's Khorasan Province module, the police alleged and were also involved in "instigating protests" against the Citizenship Amendment Act (CAA). The police also claimed they had seized objectionable material found in the couple's possession.
Back at home at Budgam, the families of the trio vouch for their innocence and alleged that their male members are being "framed" in "fabricated" cases, like "they did with many innocent Kashmiris".
Reyaz Ahmed Rather and Shabir Ahmed Gojri are residents of Nasrullah Pora, while Muhammad Ayoub Pathan hails from Gondhipora village of Budgam.
Not only the family members of all these arrested men but their neighbours also pleaded for their innocence.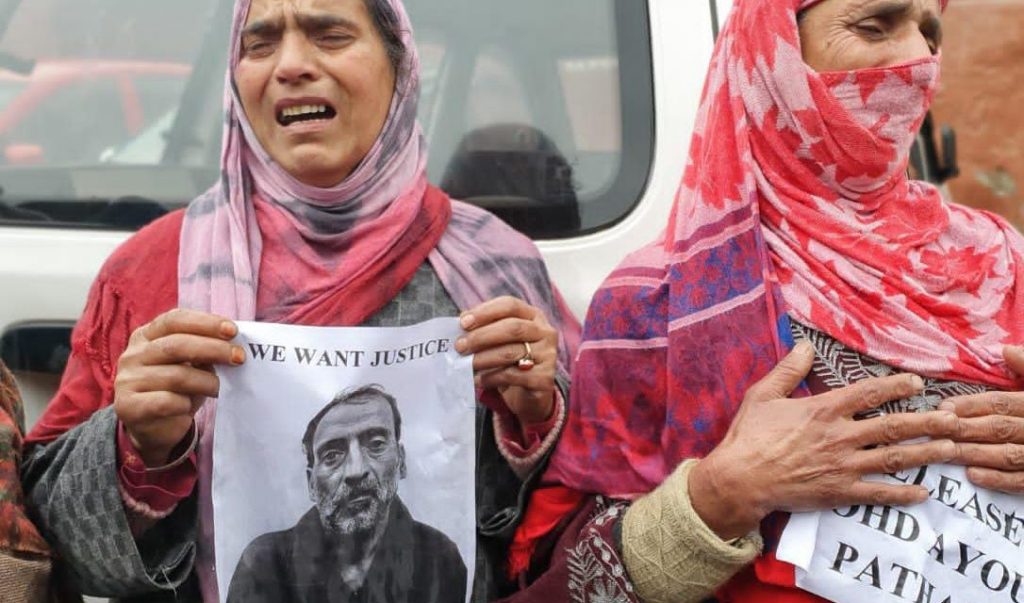 Shaista, the wife of Shabir Ahmed Gojri, a tipper driver, said they pay obeisance to Ajmer Sharif every year but due to some health issues she could not make it this year. So her husband decided to go along with two other people from his village, who had to buy some stuff from New Delhi related to their business.
"They left on Saturday in our car (Maruti Swift). We were in touch on the phone till Sunday late evening." Shaista told TwoCircles.net on the phone, adding that she was shocked to know the claims made by Delhi police.
According to his wife, Gojri is the sole breadwinner of the family of six, which include his old parents, wife and two kids.
"My world has fallen upside-down. I know the person for the last 10 years and he does not even smoke cigarettes, how can he be involved in this?" Shaista questioned.
Saleem Ahmad Rather, cousin of Reyaz Ahmed told TwoCircles.net that Reyaz had gone to Delhi to purchase some welding stuff. Riyaz, 23, is unmarried and lives with his parents, and three siblings.
"Since the welding material is available at cheaper rates in New Delhi, he said he will go to Delhi along with Shabir in his vehicle," Saleem told TwoCircles.net, adding that Shabir has a clean police record and has never been arrested for any wrongdoing.
A police official confirmed to TwoCircles.net that the trio has no FIR in the Budgam district.
Another accused Muhammad Ayoub Pathan, a resident of Gondhipora village of Budgam, as per his family had gone to Delhi to purchase construction material.
Pathan runs a bandsaw machine near his home and is aged above 60, his family said. "Pathan is a father of four (three daughters and a son)," they said.
"Ye chu zulm, tale chu ne Kashren nebar gasnui (This is oppression. Can't we Kashmiris travel outside)," Hameed, sister of Pathan told TwpCircles.net, adding that Pathan travelled to New Delhi for the first time.
On Tuesday, braving cold and incessant rains, the family members of the trio emerged in Press Enclave Srinagar and staged a protest against the arrest of the loved ones and demanded their immediate release.
The family members stated that their sons have been wrongly framed in the case and should be released.
The family members of all the men while seeking the intervention of Lieutenant Governor of Jammu Kashmir UT Manoj Sinha and Director General of Police Dilbagh Singh appealed Delhi Police to release them.
"We urge the Lt Governor Manoj Sinha to intervene without any further delay so that our dear one is released soon," they said.
Recurrent trend
The arrest of Kashmiri men in different parts of India is a recurrent trend and has been witnessed for many years, where these men would be allegedly framed in fabricated cases. They would walk free after courts would find no evidence against them, but only after these men had languished for many years in jail.
On July 23, the Rajasthan High Court acquitted three Kashmiris – Lateef Ahmed Baja, Ali Bhatt and Mirza Nisar of all charges relating to the 1996 Samleti blast case.
All three Kashmiris were released as the prosecution failed to prove their involvement after holding them for over 23 years. They all walked free and innocent, but it took the courts 23 years to pronounce the verdict.
In another verdict, on May 20, 2017, a court in Uttar Pradesh's Barabanki district acquitted another Kashmiri Gulzar Ahmed Wani of all charges in the 2000 Sabarmati Express blast case.
The court of Additional Sessions Judge MA Khan acquitted Wani and co-accused Abdul Mubeen of all the charges due to lack of evidence not before spending 16 years behind bars.
In a different case, on February 16, 2017, Delhi's Patiala House Special Court, acquitted two Kashmiris Mohammed Hussain Fazili and Mohammed Rafiq Shah of all charges as the prosecution had failed to establish any link between the three accused.
The families of the three arrested Kashmiri men from Budgam insist on their innocence and worry that the fate of the trio should not be the same as scores of other Kashmiris who were falsely implicated and later acquitted.