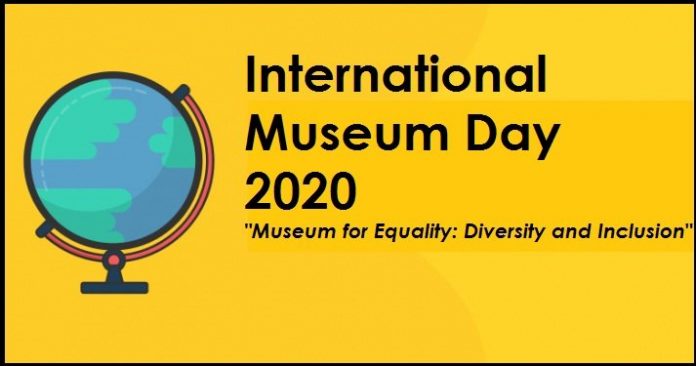 Dr Fatma Faheem
Every year on 18 May since 1977, the International Museum Day is observed to raise awareness among people about museums, which are an important means of cultural exchange and development of mutual understanding, cooperation, and peace among people. The International Council of Museums (ICOM) organizes an event annually on this day.
---
Support TwoCircles
---
However this celebration is not only about museums, it is also an occasion to learn about the fascinating diversity that unites us in our differences.
It is about the communities of museum enthusiasts, the occasional visitors, and even those who have never ever entered a museum before. It is about strengthening the bonds that tie them together and establishing new ones. It is a huge celebration of our collective memory, our histories, and traditions. Therefore, generally, this day focuses on the important role of museums in the development of society.
On this 43rd International Museum Day, 2020, the theme proposed by ICOM was "Museums for Equality: Diversity and Inclusion", which is an ultimate need of the hour. The topic was in itself a statement on redefining the important role of museums that have come to play in the future of our societies.
The concept of museums as known from the ancient Greeks has changed in many ways today. The functions and roles of the museum have always been improved and developed. Initially, they were used for collecting artefacts from the olden times, which has been shifted and replaced by conservation, research, and communication in course of time. As we are living in a great divided historical moment, we still need a new museum concept to be evolved. And fortunately, ICOM is playing a pivotal role in this respect.
The term "Museum" is getting redefined which can be easily seen in the latest definition of a Museum proposed by ICOM in Paris, in 2019. ICOM's Extraordinary General Assembly (EGA), which was held on 7 September 2019, in Kyoto, Japan, postponed the vote on the new definition of a Museum. Critics say the text is too political for most museums to employ. The new proposed definition of Museum is, "Museums are democratizing, inclusive and polyphonic spaces for critical dialogue about the pasts and the future. Acknowledging and addressing the conflicts and challenges of the present, they hold artefacts and specimens in trust for society, safeguard diverse memories for future generations and guarantee equal rights and equal access to heritage for all people", which can be clearly correlated with the current year International Museum Day theme "Museums for Equality: Diversity and Inclusion". Although it is important to review the proposed definition, one can still appreciate that it helps us to know about the phenomenal effort museums are doing towards the issues of society, which are directly or indirectly brought up into existence by human behaviour.
Before proceeding towards the theme further in detail, firstly it is important to understand the term "Diversity". Generally, Diversity means 'a range of different things'. India is known to be one of the mega-diverse countries in the world. Diversity can be anything, such as diversity of cultures, of traditions, of attires, of languages, of food/cuisine, of festivals, of religious beliefs and practices, and, very importantly, "diversity of thoughts". Hence in terms of cultures and arts, the Museums Association released a report in 2016 on "Valuing Diversity: The Case for Inclusive Museums", where Diversity is defined as, "any characteristic which can differentiate groups and individuals from one another". This includes the protected characteristics as defined by the 'Equality Act 2010' as well as others, such as socio-economic background and status. Moreover, it also includes and values the diversity of perspectives and life experiences.
The next is "Inclusion" which is also a very important term and is paired with Equality. Inclusion is not about you and me but it is about "them' (a disadvantaged individual/ group/ culture). In every country, there are individuals or groups who confront difficulties or barriers that prevent them from being fully participating in their nation's political, economic, and social life. These groups of people are excluded not only through legal systems or land laws, but also through attitudes, beliefs, and perceptions, which can be clearly seen in the latest proposed definition of the Museum by ICOM, 2019. The new wordings stress 'the importance of human dignity, social justice, global equality, and planetary wellbeing'. The root cause of such issues is 'human behaviour'; whether it is environmental issues or societal issues, human behaviour is massively responsible.
Generally, inclusion means 'to include' or 'to get into its borders. The term Inclusion used in the museum context refers to a feeling 'that you belong', or it is something 'to be a part of', or 'their (a disadvantaged individual/ group/ culture) voices are counted'. We can say, it is not about tokenism, it is about a different type of a person, differently coloured person, an able or disabled person, which is usually meant just to check off a box. It is actually a 'feeling of belonging'. In the same report of the Museums Association published in 2016, the definition of Inclusion in terms of the museum was given as, "Inclusion recognizes that people need to feel connected and engaged. Inclusion can be defined as a state of being and feeling valued, respected and supported. Practising inclusion is necessary for diversity initiatives to work effectively".
In the context of the museum the definition of "Equality" is also given by Museums Association in their previous report, 2016 that, "Equality recognizes, every individual should have equal opportunity to make the most of their lives and talents. It recognizes that certain groups of people with particular characteristics that have in the past, and today, experienced discrimination".
It is evident that our museums can play a crucial role in explaining the notions of Equality by empowering notions of Diversity and Inclusion within our institutions of art and culture. This needs re-imagination and re-evaluation of building our future museums based on Equality, Diversity, and Inclusion. Turning to the above definition of the Museum in my view, 'Diversity'and 'Inclusion' must necessarily be paired with 'Equality'. This new and modern concept of museums can be possible only by providing "equal access to all", "equal representation of every group", and 'sharing the power of every individual", which has unfortunately denatured from the word 'Diversity'. This futuristic concept of museums can help in improving the ability, opportunity and dignity of those who are disadvantaged on the basis of their social identity, which is a task not as easily attained by the formal institutions.
All of this process requires a systematic change which cannot be achieved alone, but through the collective efforts of all museum communities. We need decisive, meaningful action even from museum funders and sector bodies if we wish to make a real difference on these issues for future generations. As we are facing a divided historical moment, the museums and museum-like institutions can help to see each other in a much better world. We will have to rethink and develop such a vision for our future museums. A change of such nature may not be visible immediately but may take much time, perhaps two or three generations, to materialize.
Dr Fatima Farheen is at Department of Museology, AMU Aligarh.
SUPPORT TWOCIRCLES
HELP SUPPORT INDEPENDENT AND NON-PROFIT MEDIA. DONATE HERE